The 3rd Annual Tournament of Turns Returns to Thredbo Resort – Banked Slalom
July 18th, 2016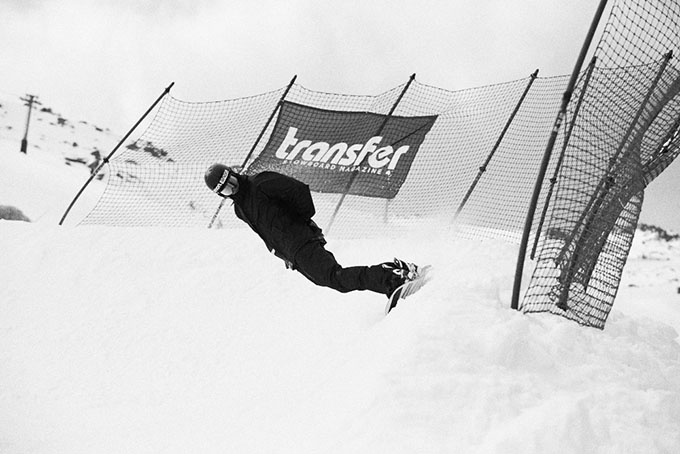 Speed, speed and more speed is the secret to success. Image:: Fawcett
Transfer | The Banked Slalom
At Transfer, watching the Banked Slalom evolve over the last two years has been like watching the birth of our first born child. From one small deadline conversation, the Banked Slalom has now evolved into an event that has assumed its own identity, its own character and now its own reputation as the premiere not-to-be-missed event on the Aussie snowboard calendar.
In its second year, the event progressed even further. With a killer crew of builders assembled by Thredbo, the banks arose into mounds of stoke that pin-balled riders down the hill, allowing them no rest until they fired over the finish line. With new features, a revised path that took full advantage of the fall line and a four-foot Aussie slab that wouldn't have looked out of place on Kirra point the course turned up the leg-burning fun-factor to all new levels.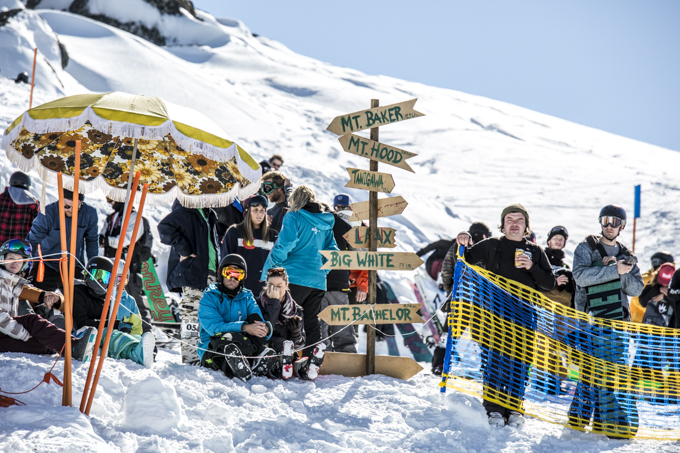 Soaking up the scene at the top of the course. Image:: Horvath
In 2016, we're going to be doing it all again and we couldn't be more excited. At the recent 30th Anniversary of the Legendary Baker Banked Slalom, Mt Baker's Gwen Howat described the importance of that event like this: ""There's something to be said about this Banked Slalom. The Banked Slalom has been an ember. Maybe it sounds a little corny, but let's call it that—an ember in the industry. And it's burned on through all the big pipes, through all the big airs, through all the free-ride competitions, through all the things that have been tried." If there's one thing that we hope the Transfer Banked Slalom can bring, it's this sense of community identity that all too often lacks in today's snowboard events. We don't claim the concept to be our idea, but it's an idea that matters.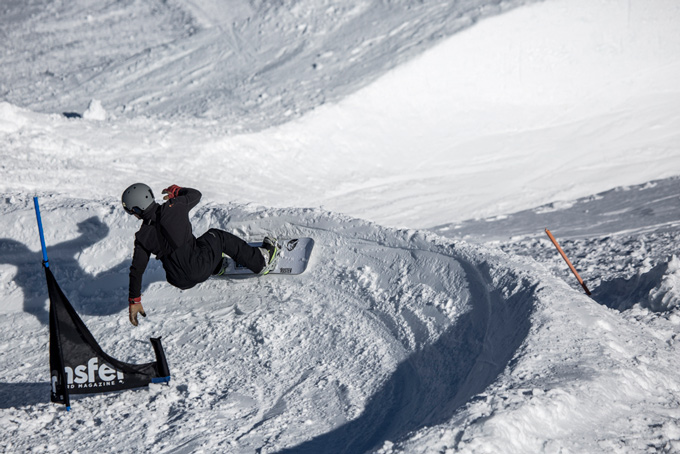 Reigning champion Mathieu Crepel will be returning in 2016, local talent will have him in their sights for sure. Image:: Horvath
Next month, on August 13 and 14, the Third Annual Transfer Banked Slalom will return atop the mighty Thredbo Resort for a day of high shredability with all generations of Australian Snowboarding turning out to rip the course and party into the night.
For those who don't know, the Banked Slalom sends snowboarders down a hair-raisingly long course of winding banked berms, icy rollers, through a leg-burning gully and then slingshots them out of the bottom of the course where they are awarded a time of somewhere between 1:20 and 2:00 minutes. It's a unique test of snowboard skill, and one that's looked forward to by our top professional snowboarders and weekend-hacks alike – it's an event format that is proudly unique to snowboarding.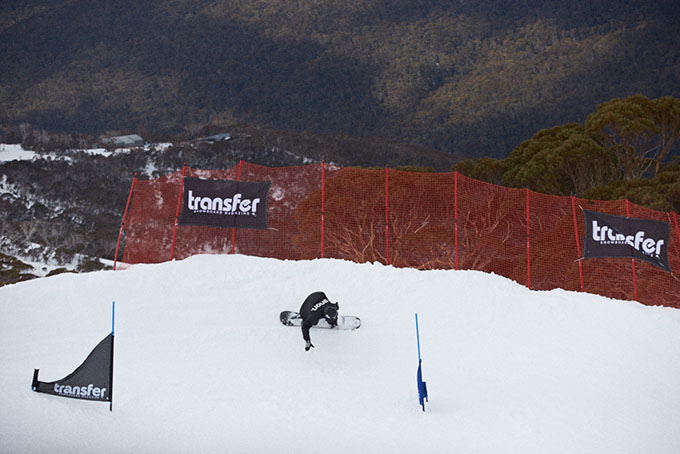 Fast and loose was the winning combination in 2015. Image:: Horvath
On the Saturday evening, the after party is set go off with the Thredbo Village Concert Series featuring The Jungle Giants from Queensland, Lime Cordiale and Paper Hearts – all thanks to Corona.
This year's entry fee is $55 and includes a rad day shredding, an exclusive Transfer x Oyuki Shnig, plus loads more giveaways and good vibes. Limited spots are available, so get yours here.
Special-rate Lift Passes:
1 Day (Saturday 13th August): Adult – $65 & Child – $35
2 Day (Sunday 14th August): Adult – $130 & Child – $70
Divisions
Open Men, 18 years and over
Open Women, 18 years and over
Veteran Men, 35 years and over
Junior Men, 14 to 17 years old
Junior Women, 14 to 17 years old
Grommie Boys, 13 years and under
Grommie Girls, 13 years and under
Thanks to our sponsors:
Quiksilver, Lib Tech, Dragon, Oyuki, Red Bull, Corona, Mammoth Mountain & Thredbo