The Aspen You Thought You Knew – Travel
March 18th, 2015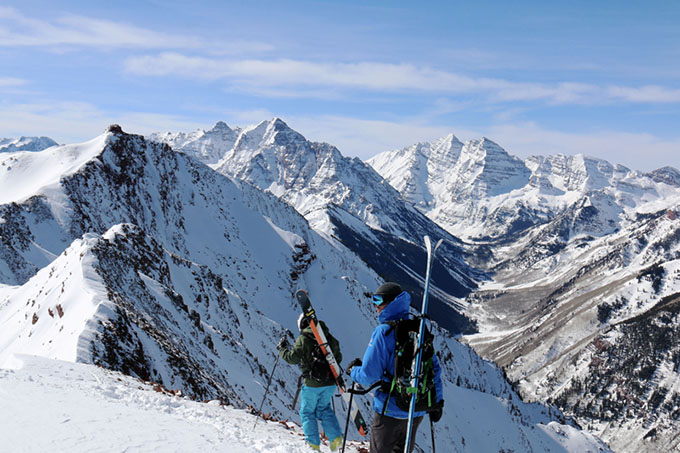 Nick Hill and Watkin ventured off to suss some terrain out beyond the Highlands bowl. Image:: Nic Stevens
Mountainwatch | Watkin McLennan
I first met Joerg in the hotel lobby at breakfast. He had long, bleached, blond hair and a smile that reflected a life well spent. He wore Ed Hardy-like clothing. "I need a coffee," he said. I asked what he was here for. He replied in a strong German accent: "Snowboard carving".
"Really?" I replied as my coffee-starved eyes stretched a little wider in surprise. "Yes, we are here to touch our hips on ze ground."
Aspen is known for many things, and I suppose in certain circles it is known for its fun carving. Joerg had travelled all the way from Switzerland and he had brought a whole team with him. On the other hand, I was here to explore the freeskiing. My theory was that Aspen was too obvious of a choice for the 'core skiers' that like to get after it. So as a result, all the fun terrain would be left untouched; unlike other freeski hotspots in Wyoming and Canada that get tracked out faster than most Australian ski resorts. Aspen, I was told, has pockets of terrain that never get skied – you just need to sniff them out. Not to mention the vast backcountry on offer in one of the most spectacular regions of the Rocky Mountains.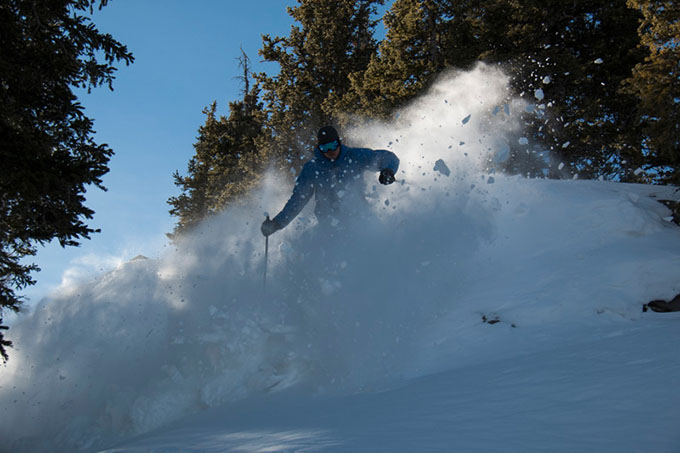 Aspen hadn't had much snow for several weeks, yet powder was still on the cards. Image:: Nic Stevens
Joerg finished pouring his coffee and I started filling mine up. We talked a little more about the ski resort we'd both found ourselves in. Joerg was stoked on the Colorado groomers: long and chalky. I was stoked on the Colorado peaks: gnarly and massive. And we were both stoked on the mimosas on offer at breakfast.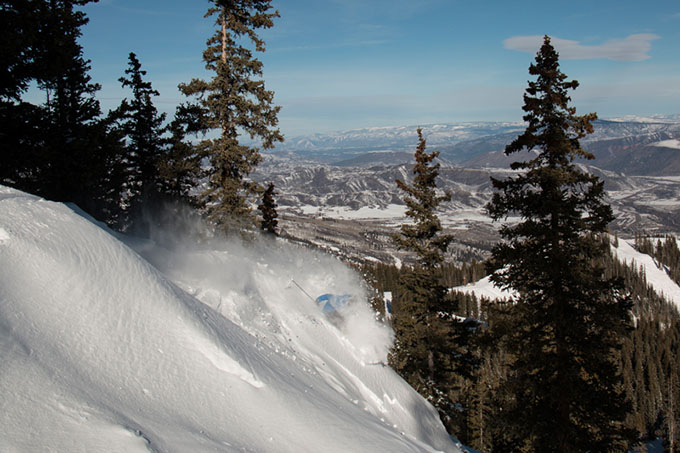 Aspen Mountain is a maze of groomers, moguls, trees and spines all the way down to the town right at the base. Image:: Nic Stevens
It is true, Aspen has some amazing terrain and very few people get after it. In fact, very few people get after anything, the place isn't crowded at all. But there is a small group of skiers, some might call them ski bums, but they don't seem to be bumming it. Some of them discovered the place decades ago and now have families. Others just arrived, like this Argentinian I met. She had spent the season before lifting, this year she instructed and next year she wants to move to Aspen for good.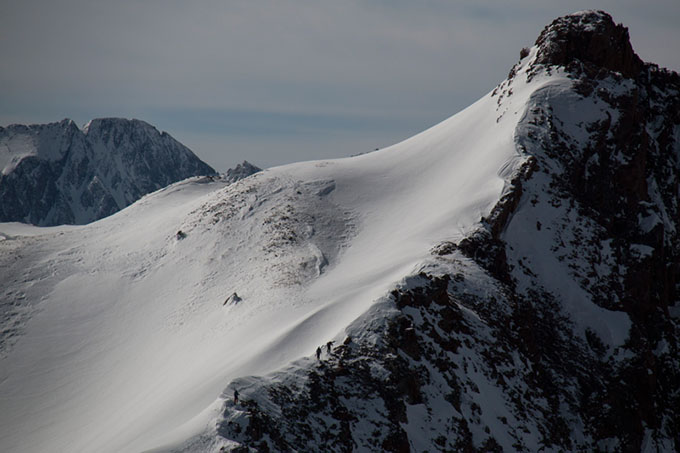 Some adventurers climbing deep into the Rockies. Aspen Highlands continues beyond the ski resort boundary along a sharp ridgeline with fantastic backcountry skiing on both sides. Image:: Nic Stevens
It occurred to me that this group of ski bums had found a lifestyle most of us long for; one that is elusive in most parts of the world. They had stability and adventure; work and play; money and free time. Rueben – Aspen ski bum not bumming – was a ski instructor, or ski pro as they like to be called in Aspen. He told me about a music festival inspired by Burning Man that he and a few friends were organising. The next day I saw him on the hill. I asked what he was up to. He had just 'up-hilled' to the café. This is Aspen talk for ski touring within the ski resort. He was going to continue to the top and jump off. "Ahh, like paragliding?" I queried. "No, speed flying" he replied. Wow, I thought. I had never met a speed flyer.
"That shit is crazy," I said in disbelief. He smiled.
Aspen seemed to be a place of contradiction. Snowboarders carve; ski instructors jump off mountains and everybody drinks mimosas for breakfast, yet still manages to get stuff done.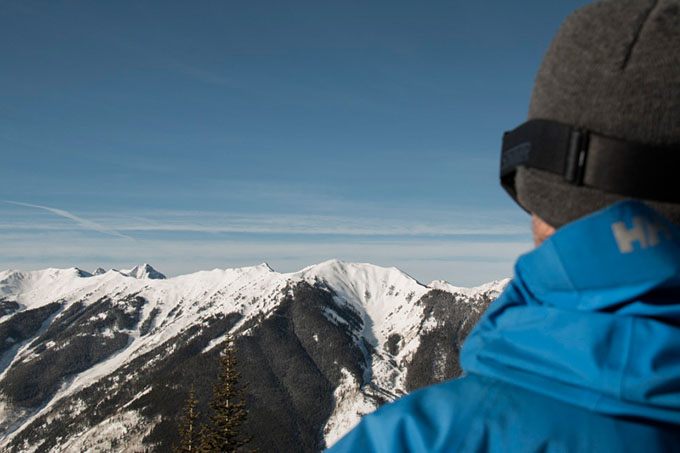 Watkin looking over to Aspen Highland with the Highlands bowl and a vast backcountry beyond. Image:: Nic Stevens
ADVICE:
• Stay in Aspen, not Snowmass.
• Drink and eat at restaurants that'll make you think you're in New York or back in Melbourne or Sydney. No burgers necessary.
• Get off the groomers. Look around. Aspen's powder deteriorates slowly and it gets tracked out even slower.
• There are some incredible slack country runs that lead off the backs and sides of all the 4 mountains and end up in valleys with a skin or taxi back to town. Get a guide and find out where to go.
• Keep your eyes and ears open for characters like Joerg and Rueben.