The Best Beds In Niseko – World Class Accommodation and World Class Snow
June 20th, 2017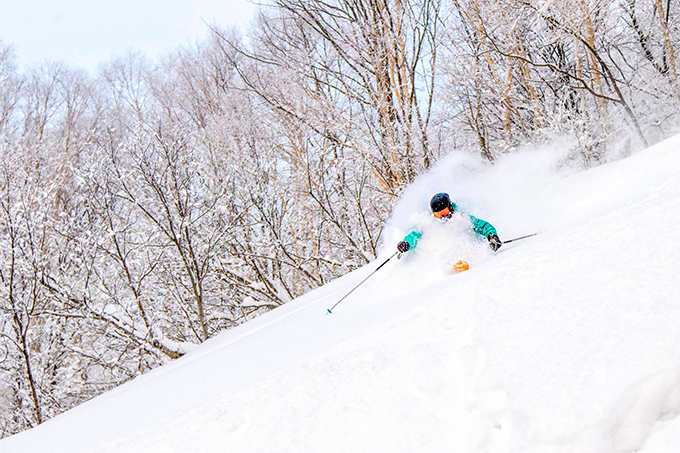 Skiing Niseko's world class pow all day is taxing on the body, at some point you'll need to exit the white room and get some rest, here's a guide to the best beds in the region. Image:: Niseko Photography
Mountainwatch | By Reggae Elliss
When I first went to Niseko in 2003 the snow was amazing but the accommodation on offer was pretty basic. There were a couple of three-star hotels, limited self-contained apartments and a variety of hostel-style accommodation.
A lot has changed over the past 15 years and now there is four and five-star accommodation, equal to anything you'd find in a North American resort. Back then I travelled with Ski Japan one of the earliest Australian operators in Niseko, which started taking tours to Niseko in 1998.
When Ski Japan founder Peter Murphy first went to Niseko to check out its potential for ski/snowboard tours he quickly realised he was on to something special, but he also knew he needed to make the experience easier for westerners. In the early days Niseko was a small Japanese resort with basic facilities, a limited ski school, little English spoken and no English menus in the restaurants. Deep and reliable powder, tree skiing and an authentic Japanese experience would attract core skiers and boarders. However, to cater for families and a wider snow market, Peter knew he had to make it more western friendly while maintaining an authentic Japanese feel.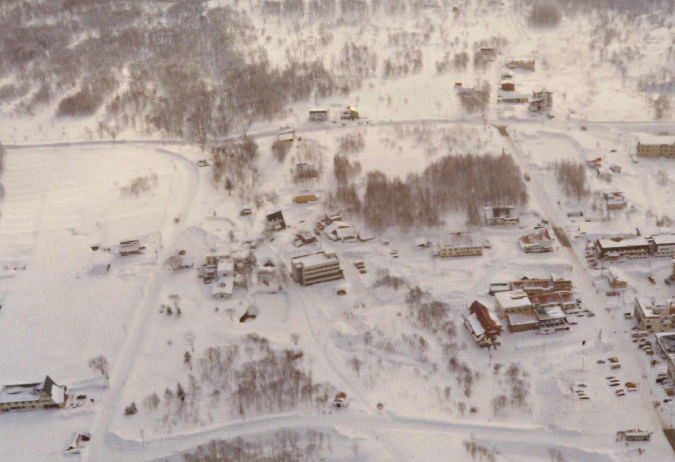 The early years – an arial shot of Hirafu, Niseko circa 1970s. Image:: Niseko Hakuunso
In a story in last year's Chillfactor magazine Peter reflected on those early days: "We engaged with the local community and the Japanese managers, explaining what foreigners needed. Restaurants started adding English to their menus, the town introduced a better bus service and we set up good relationships with accommodation suppliers. There was a lot of work in the early years."
The result is Niseko now looks and feels like a true alpine village, not just a few flash hotels spread out on the side of a hill. Of course, one of the attractions Japan offers for many is the food, and the local cuisine is just as amazing as it was when I was there in 2003. The main difference now is in most restaurants the dishes are described in English. For those who aren't adventurous with their food and a lot of families who travel to Niseko have fussy kids in tow – there are now plenty of options for western food.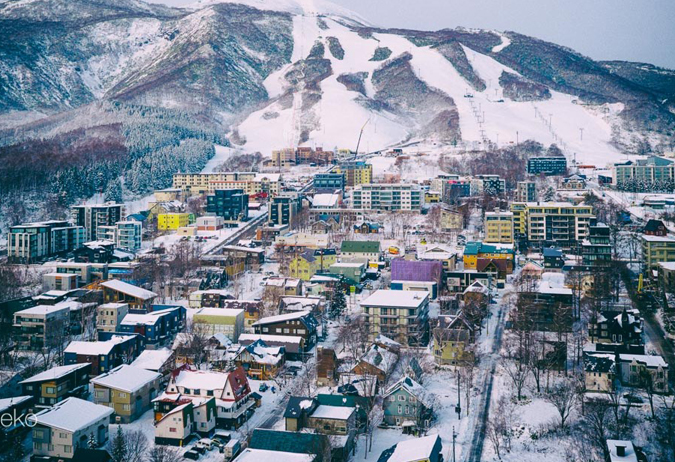 The modern years – a more recent shot of Hirafu, Niseko, 2015. Image:: 360 Niseko
As we said earlier, accommodation is the area where there has been significant change since the early '90s. Ski Japan caters to all tastes and budgets. However, one thing the properties all have in common is comfort, the perfect set up to unwind after a big day of shredding knee-deep dry Niseko powder. There's a lot of choice, so here are four of our picks:
Alpen Ridge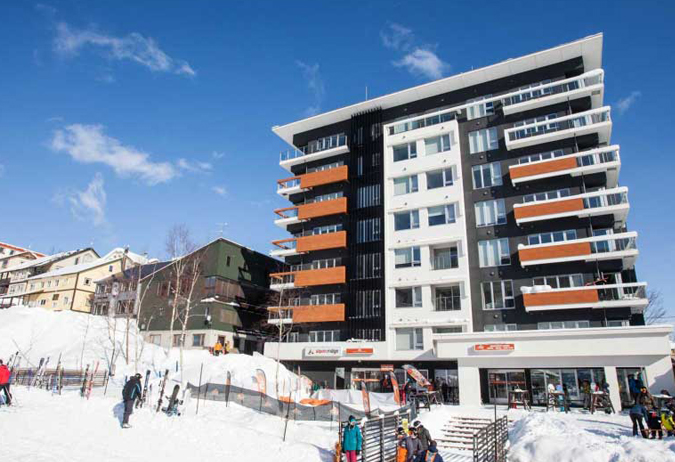 If it's luxury you seek, look no further than Alpen Ridge. Image:: Ski Japan
True ski-in / ski-out access and the very best in premium western style accommodation in the heart of Hirafu Village. Featuring one, two and three bedroom apartments and exclusive Penthouses with four to seven bedrooms, all designed with carefree living in mind. Offering wonderful views and onsite facilities of Ski School, Rental and Retail Shop, Reception / Concierge, café and secure ski locker. Within minutes to village conveniences, including supermarkets, restaurants, nightlife and onsens.
More info here.
Kamui Niseko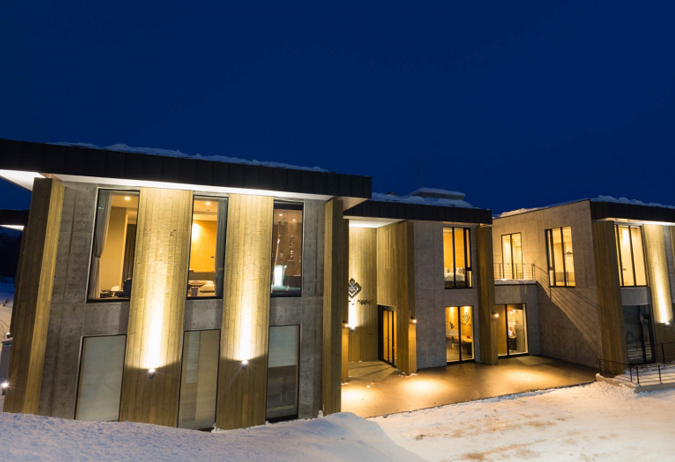 Kamui Niseko embraces the natural surrounds and is sure to heighten your Niseko experience. Image:: Ski Japan
An exceptional five-star property, thoughtfully designed to capture the essence of the beautiful natural surrounds. An onsite concierge team to assist guests holiday needs and and full daily transport service for absolute convenience, to and from local chairlifts and restaurants and between An'nupuri and Hirafu Village. Kamui Niseko offers an exclusive four bedroom penthouse, superb one, two and three, bedroom apartments plus Studio options for the ultimate relaxation in a true alpine setting. Michelin Star sushi restaurant, Sushi-Shin, open for dinner and lunch.
More info here.
SNOW DOG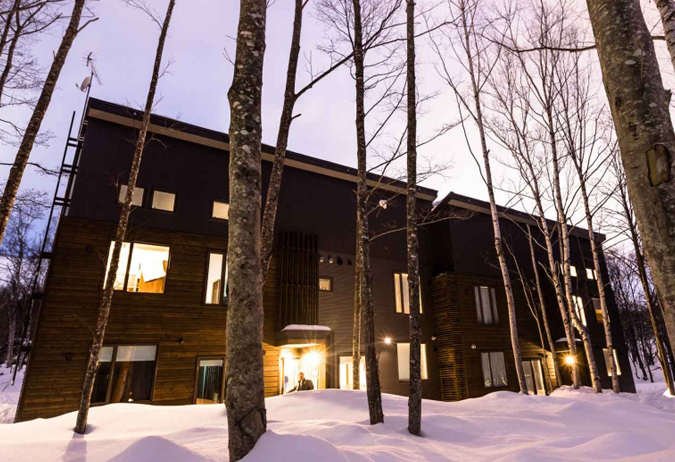 Afforability and style. You got it. Snow Dog is amongst the newst hotels built in Niseko and it merges the best of both worlds. Image:: Ski Japan
The latest addition to Niseko Village accommodations, Snow Dog Niseko, was brand new for last season, opening in February 2017. A quality modern apartment sanctuary nestled in a tranquil forest setting. Stylish, fresh design with contemporary furnishings, fittings and appliances. Suited for couples and small families in an affordable price range with a choice of self-contained apartment options from studios, one, two and three bedrooms. Within five-minutes walk to the nearest chairlift, and the convenience of a daily guest shuttle service into Hirafu Village.
More info here.
Haven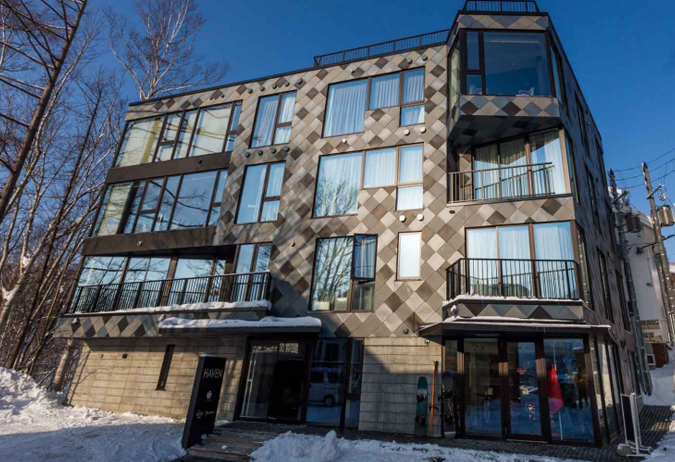 You wanted the best, you've got the best. Haven is Japanese for heaven in Niseko – not literally of course. Image:: Ski Japan
Another property that was new for the 2016/17 winter season, opening in December 2016, Haven Niseko is an exceptional luxury boutique chalet-hotel positioned spectacularly and located conveniently in middle Hirafu Village. Haven's spacious living and dining rooms enjoy floor-to-ceiling panoramic views of Mt. Yotei and Grand Hirafu ski runs. Presenting four-bedroom Sub-Penthouse, two and four bedroom Apartments plus Studios in an exclusive complex. With premium appointments and first class onsite services, including village transports, Haven delivers five-star alpine living at its best.
More info here.
It is now June and the Niseko ski season will be underway in six months and one thing that hasn't changed in Niseko over the past 20 years is the snow. If you want to experience some of the best powder on earth now's the time to check out what is on offer and take advantage of SkiJapan.com 30% discount when you book by June 30.
Niseko forecasts,
snow reports and
live snow cams.