The Transfer Banked Slalom FAQ – The 3rd Annual Tournament of Turns
August 9th, 2016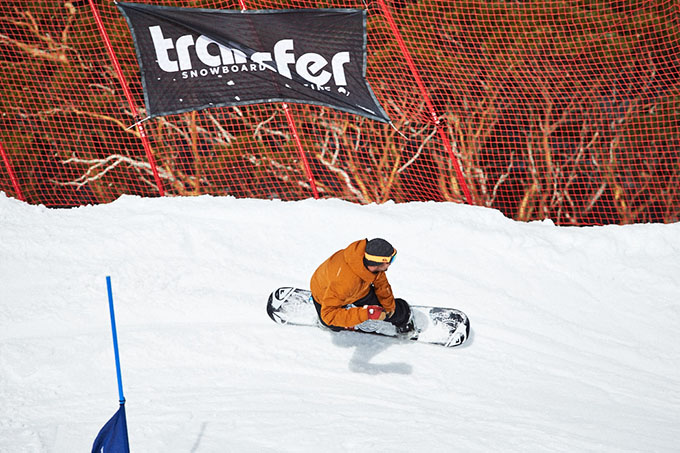 Last year's winner Matt Crepel is returning to defend his title. With speed like this he'll be hard to beat. Image:: Fawcett
Transfer | Banked Slalom
It's time to warm the waxing irons as the Transfer Banked Slalom is now only a few short days away. With snow on the horizon, the team at Thredbo parks are well underway with course construction and this year's course will not disappoint.
Make sure you keep an eye on the forecast over the next few days here. We have Sunday the 14th lined up as a bad weather day if the event cannot be run on the Saturday, although at this stage it's unlikely we'll be shifting the date.
If you missed last year's epic event, you might be left wondering how it all works? To make it easy, here's a list of frequently asked questions that should make your weekend as smooth as possible…
FREQUENTLY ASKED QUESTIONS:
Do I need a pass?
Yes. Thredbo have provided a specially discounted pass for event competitors.
Competitor Lift Tickets:
1 Day (Saturday 13th August): Adult – $65
2 Day (Sunday 16th August): Adult – $130
*2 Day pass can only be purchased up until 8.30am Saturday 13th August (end of bib collection)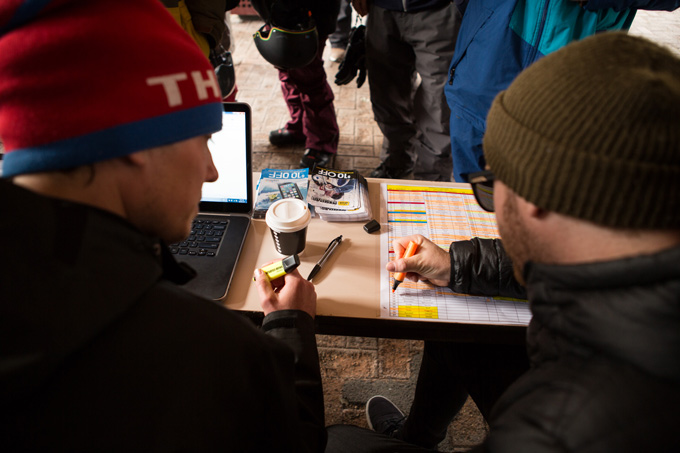 Registration is important, don't miss it Image:: Warden
Where do I register on the day?
Bib collection and final registration is from 2-6pm on Friday at the Thredbo Valley Terminal.
Where do I pickup my bib if I am arriving late on Friday night?
There will be final bib collection from 7:30am – 9:00am Saturday at Thredbo Valley Terminal. Please note: There will be no bib collection out of these hours & registrations will not be taken.
What is the schedule on Saturday?
Bib Collection: 7.30am to 9.00am at Valley Terminal
(There will be no bib collection out of these hours & registrations will not be taken)
*Course Inspection: 9.30am to 10.30am off Conrod Straight to the left of Sponars T-Bar
Race Run 1: 11.00am
Course BBQ: 12.00pm to 2.00pm
Race Run 2: 1.00pm
Presentation – Village Square – 5.00pm
Corona Presents Thredbo Village Concert Series featuring The Rubens – 6.30pm to 9.30pm
After Party – Keller Bar – 9.00pm to late.
Can I switch categories after registration?
Any changes will need to be made on the Friday afternoon. Alternatively, please phone Thredbo directly.
Where is the course?
At the top of Sponars T-Bar. Best way to get there is to upload Kosi chair and traverse across. Alternatively intermediates/spectators may want to make their way across from Antons T-Bar, accessible from Gunbarrel Chair.
When can I ride the course / practice?
The course WILL NOT BE OPEN before the official course inspection from 9:30 am at the top of Sponars T-Bar.
You said it's 2-days of peace love and snowboarding?
The Sunday is our weather day. If we have to move the event then everything will proceed as planned on Sunday. However if it is running on the Saturday, Sunday will be an open jam session and BBQ on the course.
Where can we get food and water?
Transfer will be providing everyone with a free BBQ lunch. Closest amenities are located at Black Sallees Restaurant, located at the top of Snowgums chairlift; or Frostbite Cafe, located at the base of Antons T-Bar.
Can I still register?
Final tickets are available here. Please note that some categories are sold out.
Thredbo forecasts,
snow reports and
live snow cams.