Transfer – Issue 25 – First Look
June 15th, 2017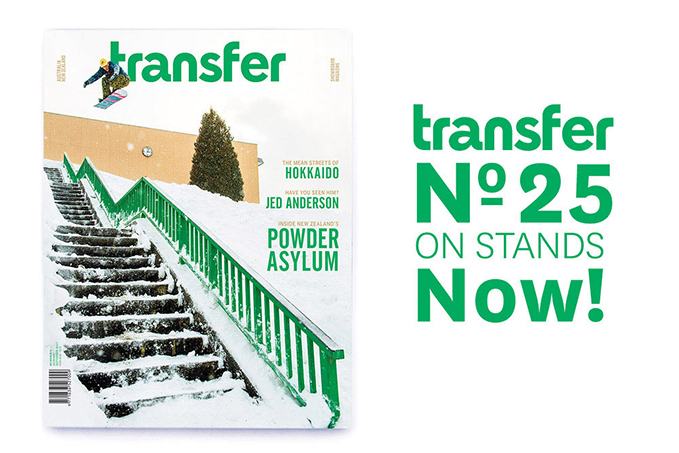 Jye Kearney takes the leap of faith from one rail to another, by Aaron Jamieson
Transfer Snowboard Magazine | Issue #25
The 'then', the 'now', the 'future' – this is snowboarding culture on paper.
The Mark of The Underdog
From the mean streets of Hokkaido, we're we sit in on a successful street heist with some of snowboarding's most progressive street riders to the strange a quirky tales of Temple Basin – New Zealand's most revered club field. This isn't your average snowboard jaunt, rather it's an otherworldly trip into a refuge for the terrain-insane.
We venture past the Powder Asylum and meet up with Morgan Schofield, heard of him? Neither had we. In an interview that'll become the linchpin in a long and successful snowboard career, we discover the unrealised potential of snowboarding working class rider.
The blanks continue to be filled as we put a name and face to the most important snowboard graphics of all time. Meanwhile, Transfer tracks down snowboarding's thought-leader and style-icon Jed Anderson in an exclusive interview on what went down in one of snowboarding's most controversial deals.
Metallica might have the 'Black Album' but Transfer has the 'Green Issue'. This is the 'then', the 'now' and the 'future'. Add it to the stack.
Featuring:
The Strange and Quirky Tales Of Temple Basin: An otherworldly trip into the NZ's powder asylum for the terrain-insane.
Snowboarding's Working Class: Getting gritty and taking that next step into stardom with Morgan Schofield.
The Streets of Hokkaido: The ins and outs of a well-performed street heist.
Days Like These: Exploring a lunar landscape under a rising sun with Will Jackways.
Behind Secret 99: Filling in the blanks behind Jed Anderson's Absence from snowboarding.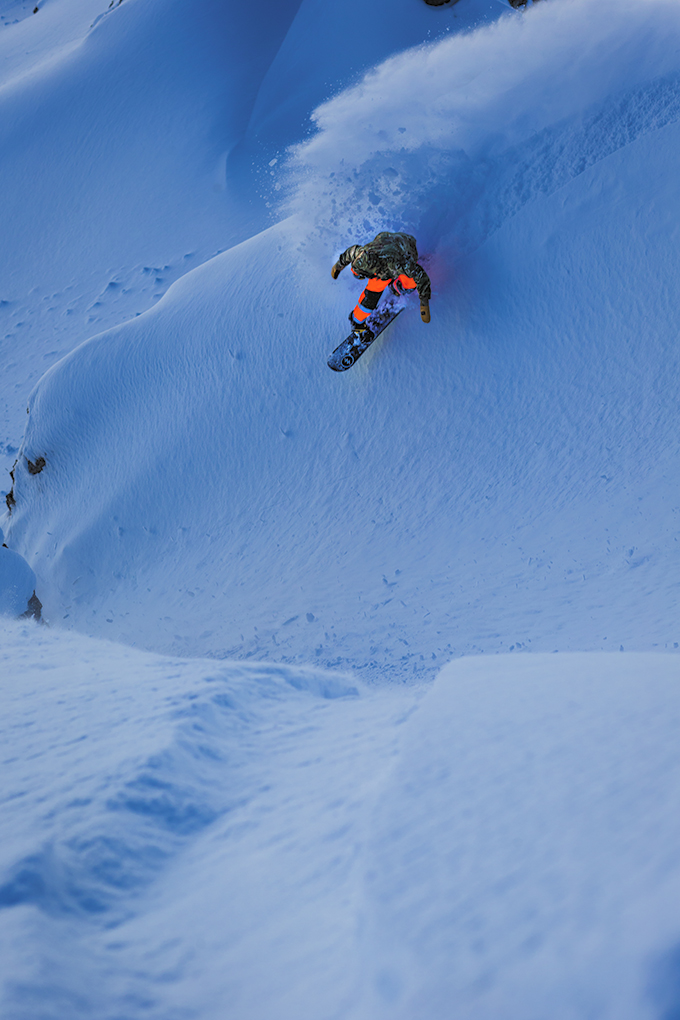 Mahi Mains lights up a shadowed chute in Temple Basin. Image:: Jake Mein