TRAVEL FRANCE – Chamonix – Where Humility Is Your Kindest Companion
November 26th, 2012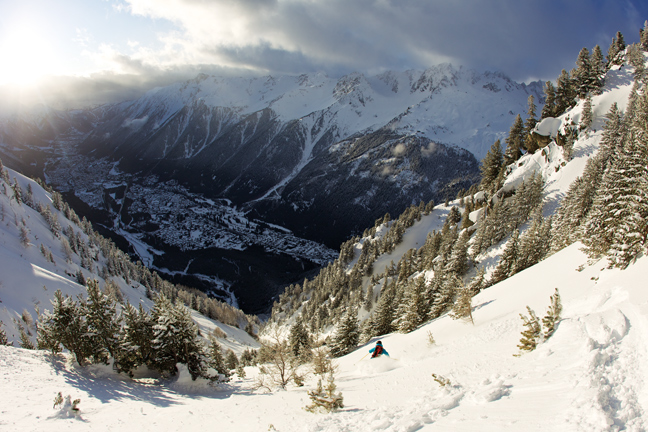 Mountainwatch | Alex Horvath
As an adventure loving snow enthusiast who has never been game enough to grace the beast that is Chamonix, I have always perceived it to be one of those towns that carries an air of mystique and an almost surreal reputation. As Boothy puts it below, "Chamonix is hostile…"
Chamonix-Mont-Blanc is a french 'commune' nestled deep in the Rhône-Alpes region in the south-east corner of the country. Chamonix is huge, covering approximately 245 km2 it encompasses multiple resort areas that offer up anything from bunny hills to steep, deep, fall-and-you-might-die chutes and couloirs.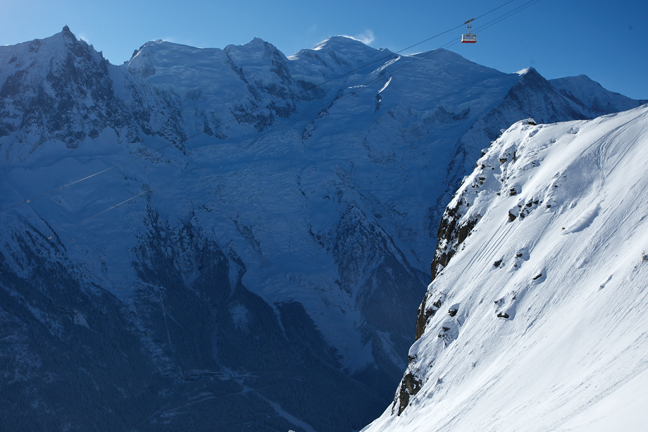 With this much epic terrain on offer it is no wonder that Chamonix lays claim to the title of adventure-sport capital of the world. With this in mind ski gentry (AUS)Chris Booth, (NZ)Sam Smoothy and (AUS)Tony Harrington went out there to check it out, upon return Boothy reflected on what he thinks of the mountain, here is their story…
Chamonix – Where Humility Is Your Kindest Companion By Chris Booth, photos by Tony Harrington…
Driving up La Route Blanche towards the town of Chamonix, the reading on my dashboard said -23 degrees. Next to that my fuel gage was flashing red. I stopped at the next petrol station and got out of the car – it was cold. I went to fill up and stopped, my fuel cap was frozen over. Great. I hadn't even made it to the mountains yet and already I needed my ice axe.
Chamonix is hostile. There is a feeling that hits when you arrive – a fierce, intense and sudden feeling – like a confrontation you've been trying to avoid has arrived. The first thing that comes to mind when you arrive in the town is, where do people ski here? The second thing that comes to mind is, who would actually want to?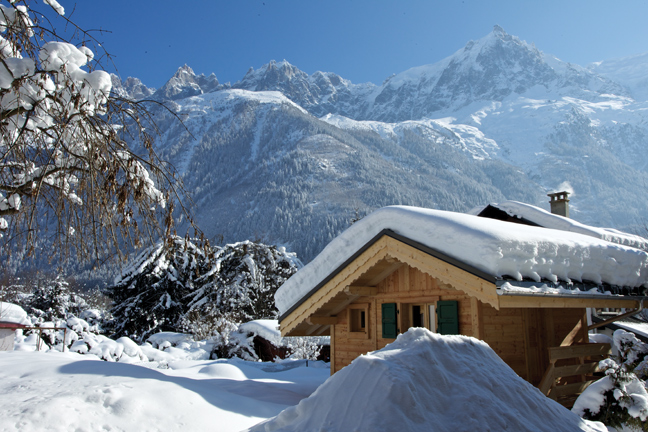 Unlike many of the grand, sweeping, skiable domains in France, where you can ski powder for a week after a snowstorm, you need to be up early to get the goods in Chamonix. If not, you'll miss out. Another thing that separates it from other ski areas in France is that it isn't linked – Chamonix is broadly populated by eight independent non-connected ski areas. If you are going skiing for the day you have to choose the one area it is you are going to go and ski. This means that you need to know where to go. The difference between knowing and not knowing is skiing on powdered northerly aspects or crusty sun-drenched faces. Generally though, the ski areas can be grouped into two categories: friendly resorts and extreme resorts. The 'friendly' resorts – Le Tour, Les Houches, Les Contamines and Vallorcine – offer nice pistes and pretty views. The 'extreme' resorts – Les Grands Montets, Brevent and L'Aiguille Du Midi – offer long, high angle terrain, exposure and terrifying views.
The Grands Montets and Brevent ski areas are accessed more or less by a single lift that brings you to the 'start' of the skiable terrain. Perhaps this is what makes it feel like a race every morning in Chamonix, as on any given day, the difference between arriving at 8.45 and 9.00am can mean up to an hour's wait at the bottom in the queue.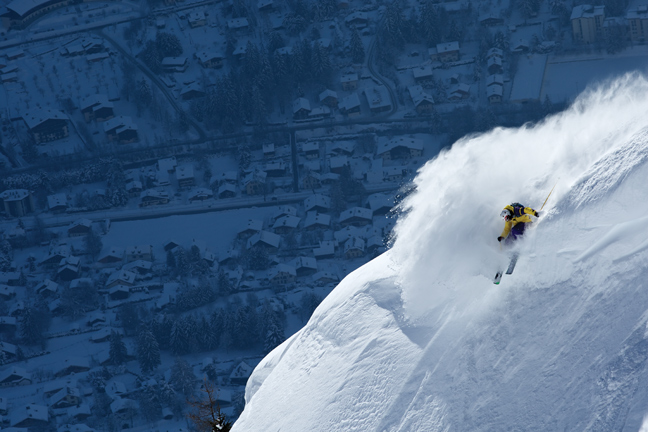 Brevent has the appearance of a giant mountain amphitheatre. As you alight from the Plan Praz gondola you are confronted by the enormity and ferocity of the terrain, (almost) all of it accessible by lift. The terrain goes from groomed runs to freeride terrain to extreme terrain to near death, to certain death and beyond, on an infinite spectrum of vertical drop outside the limit of a skier's perception. There is no backstop, no hand brake. It's gnarly.
With few markings or ropes to indicate big terrain or danger, the extent to which some find themselves in a potentially bad situation is the extent to which that person measures their skiing ability. Humility is your kindest companion in Chamonix, as skiers with too much confidence can easily find themselves at the point of no return. But I think the first thing you learn in Chamonix is that the most dangerous characteristic a skier can have is a little bit of knowledge about the place, it can get you into plenty of trouble. That's why the guide system thrives here. Only with years of training and personal experience in these mountains can you really expect to navigate them with any hope of doing so safely.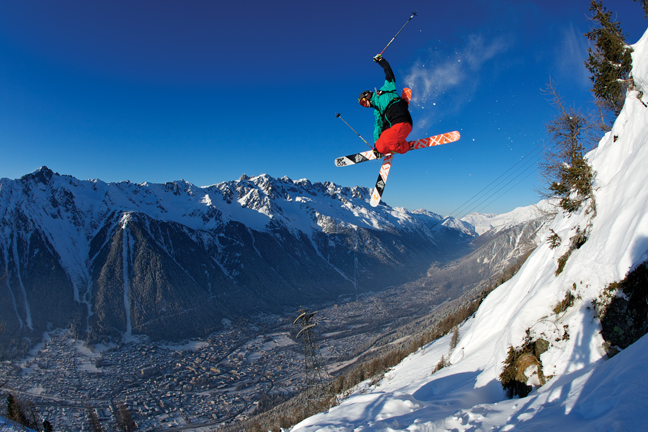 Sam Smoothy describes Chamonix as a freerider's paradise. While I can see where he is coming from, I'm not sure if I agree with that. In my view freeriding is the act of imposing a level of dominance, a level of ownership over a given piece of terrain. It's only on a mountain that permits a skier to ski with a certain confidence and safety that a skier can 'freeride' on it – that is, use the terrain in a creative way. In Chamonix the faces are consistently steep. One must respect the mountains here and ski 'to' the terrain, not play with it. Another thing I discovered is that not only is the terrain steep in Chamonix, but there is no relief. From the top of the mountain to the town of Chamonix, it's relentless and unforgiving. There are no run outs, no safe zones, no time for a breather. This is also part of what makes Chamonix such dangerous avalanche terrain.
On one of our days skiing together, Sam Smoothy and I made laps on Brevent's Col Cornu – a chair servicing some very accessible terrain. Some 30 cm of snow had fallen the previous night, and yet the Siberian temperatures had rendered the mountain eerily empty. It was bizarre – a sea of cloud cutting us off us from the town below, and not a breath of wind – we skied pluming pristine powder on perfect pitch, with only the menacing hombre of the Aiguilles across the valley as company.
Just before midday we came upon the prettiest little face of the day: a rolling, powder-filled incline with some slightly technical points. As always, there was one line that was begging to be skied. At once photogenic and safe to ski. Behind it was another similar looking line, filled with powder at the top, but funneling between some large rocks at the bottom followed almost immediately by a 10-foot bergschrund. Smoothy, with first dibs, opted for the first line and skied it with matching beauty. The light snow sloughed hard for such a small slope, something I needed to take into account. I dropped my line and made a few turns (breathtaking fairy-floss over head powder turns) then turned to shoot through my exit before being funneled between the rocks at the bottom to avoid the slough/bergschrund combo. What followed was my next discovery about Chamonix – it bites. Below the super light pow, at the one critical turning point, was a sheath of shale-rock that caught my left ski hard, breaking it under the foot and sending me – in the slough – tomahawking down the chute towards the bergschrund. Thankfully, I managed to self-arrest before the ten foot drop added extra insult, but still I was left with a broken ski and a nasty pain in the knee on which the ski was worn – causing me to miss the following, and best, day. With a fall so disproportionate to the small-scale slope, I learned that in Chamonix, nothing is ever as straightforward as it seems.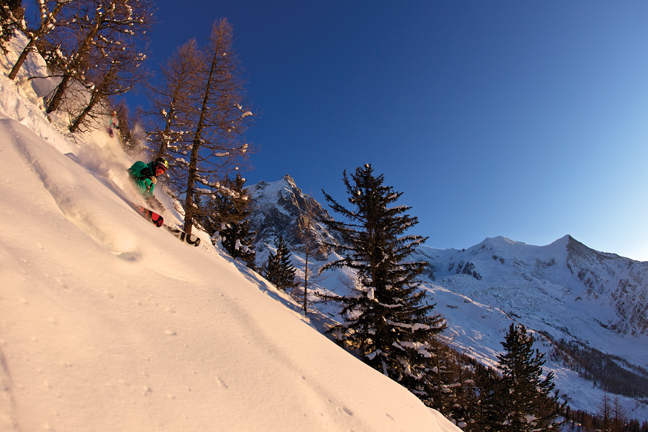 But I had made a classic mistake. I skied my line without first having a clear visual plan as to what was going to happen next. I knew the slough would come hard and I would need to stay ahead of it to exit, what I didn't have was a 'what if' escape, and when I hit rocks unexpectedly the game was over. And that's what you call a rookie error.
In many ways Sam Smoothy is perfect for Chamonix. At over six foot tall, strong and full of self-confidence, he not only has the bravado to take on Chamonix, but the physical prowess to pull it off. At the time of writing, he was ranked number one on the Freeride World Tour, having already entered big mountain legend after winning the Chamonix stop with a decisive run built on aggression and following it up with a second on the Italian side of Mont Blanc in Courmayeur three days later and then a third in Roldal, Norway. Right now the judges look favourably on his brand of no compromise charging, but whether he has the professional nous to stay at the top for the remainder of the tour, and in winters to come, will determine whether he truly etches his name into ski legend.
It's great to take a few runs with a skier at the top of his game, to enjoy the contagious self-confidence it brings and also admire someone performing at their peak. There is a beauty to it, being around someone who is so in tune with himself, who second-guesses nothing and who takes risks because they don't see them as risks. It's an ego in hyperdrive, a throbbing giant beast that juggernauts. I was at once jealous and in admiration, a fellow competitor taking steps beyond the horizon I knew, onto a whole new level.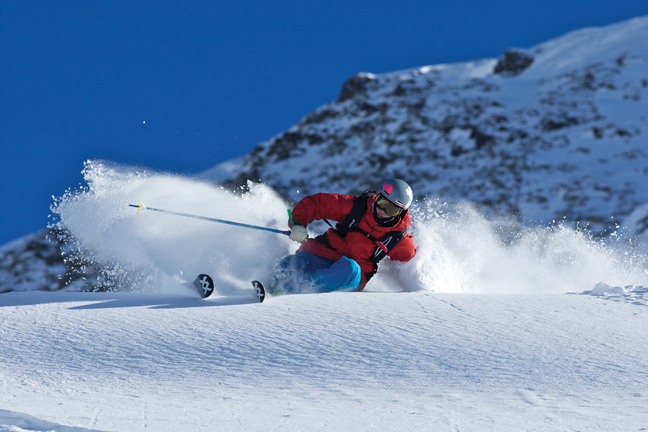 Returning to Brevent two days later, it was amazing to see how the conditions had changed. What was once powder-filled and fresh was now brutal, sparse and wind-packed, thanks to 100km/h winds overnight. I had been oblivious to this down in Chamonix town, nestled deep in the valley. I guess that's part of life in the biggest part of the Alps though, you have to deal with the extremes.
Later in the afternoon we skied from the mid-station of the Aiguille Du Midi on the other side of the valley, finding some beautiful fresh snow in sheltered areas on our descent to the town below. The town really is below you in Chamonix, it's like Google Earth. Just before reaching the forest line, Sam set off a small fracture, about 20 metres across, that slid about the same distance downhill. It was a gentle warning that the conditions weren't the same as earlier. The forest itself carried similar peril, being a mandatory passage between you and the bottom that has the nauseating effect of a thousand mazes. As we struggled through a thickening malaise traversing above forested cliff tops, I wondered how some of the people I saw in our cable car ride up – complete punters who had no idea where they were or what they were doing – were faring. That's the thing about Chamonix, for as many rescues as there are, there are 50 times as many miracles happening at that very moment. I don't know what these punters do to survive; uneducated, lost, no equipment, no harness and no experience, but somehow they do. And you see it every day.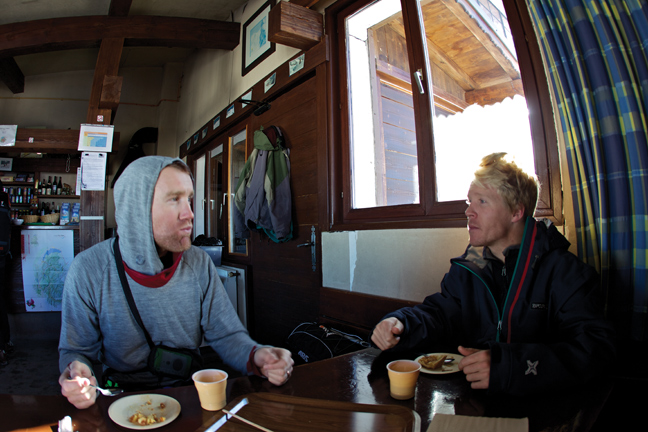 Nothing is a given in Chamonix. Unlike many other resorts across Europe, you can't see a great deal from the lifts, so it's never easy to descend knowing where exactly you are on the slope. It feels like my time skiing there was spent skiing very carefully, not knowing what was below, and I'm not sure if I like that. Chamonix is also populated with the greatest number of glaciers of any resort in Europe. This means that if you want to ski almost anywhere here, you need to have (at a minimum) your harness, ice screw and rope.
The sound of the rescue helicopter overhead is a continuous reminder of how dangerous this place is. Or perhaps it's more a reminder of how many people there are out in the elements – similar to shark attacks. Australia has a high number of shark attacks mostly because there are always people in the water. Chamonix is the site of so many rescue operations because so many people are out getting in bad situations. And it's not just amateurs who are the ones getting evacuated from the mountains, everyone seems to find themselves in need of rescue from time to time. It's less a matter of if than when. But as with everything these days, they now have an app for that. The Chamonix Iphone app allows you to make an emergency call to the rescue service at the push of a button while also calculating your exact co-ordinants. So, if you are sitting at the bottom of a crevasse somewhere (with your harness on) they will know exactly where you are. It's hard to say whether it has saved lives or not, but hey, novelty sure is fun.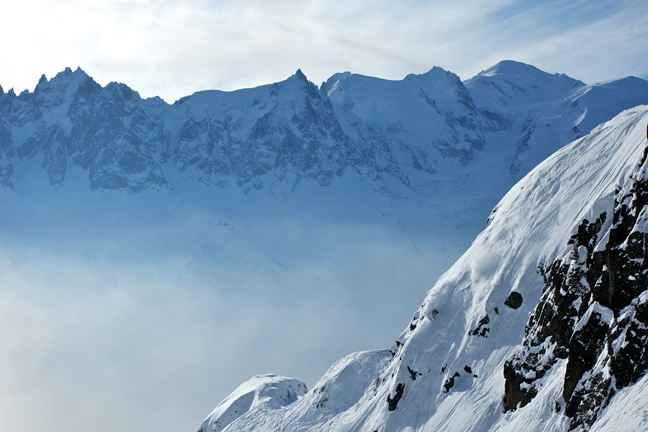 Chamonix is an improbable and difficult place. It is relentless and steep, it doesn't connect and in my opinion, it puts an element of danger between you and the sport of skiing. If jump turns and ice bridges are your thing then you will be thrilled, but if you like long turns on rockered skis then I can guarantee there are more rewarding destinations. I don't really like Chamonix. But there's something that draws me towards it. If I'm not here I feel like I'm missing out on something.
Chamonix has been called the Mecca of skiing, but I think it's more like the New York City of skiing – physically imposing, intense and full of action. But it also has its own gravity and I think there's something to that. There's something in the human spirit that draws us to the biggest challenges. And if you can make it in Chamonix, as they say, you can make it anywhere.