TRAVEL INSPIRATION JAPAN – Honshu, Nagano Prefecture
October 11th, 2011
If you haven't already booked your northern hemisphere snow-sliding adventure for this coming winter, time to get cracking. Having trouble choosing a destination? The Mountainwatch archives are an inspirational goldmine. These next few weeks we'll be reaching in and plucking out some of the best of our previous travel adventures…
This is Richard Hegarty's story of discovering some of Japan's lesser known gems. For more on the whole radiation situation in Japan check out SKIING & SNOWBORDING JAPAN 2012 – is it Safe? The Q&A
Snowboarding Japan | Richard Hegarty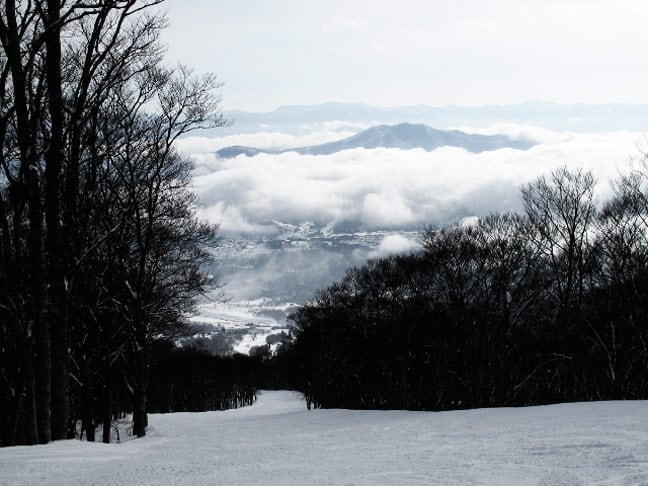 The view.
Snowboarding Honshu | Richard Hegarty
Images | Richard Hegarty
The biggest problem with being snow obsessed is conditions. Everyone that loves the snow knows the pain of getting your hopes up for months and then dealing with terrible conditions, be it the weather or be it the snow pack. In the perfect world we would all live in the mountains and wait for it to dump, take a day off work and go ride pow. But seeing that 99% of us don't live in that fantasy land and instead our days are spent working to pay the rent, the time we do get to spend in the mountains NEEDS to be good. So with an eight-day Northern Hemisphere trip budgeted, a mate and I decided to spin the snow condition roulette wheel. We placed $4,000 each on Japan and won big time.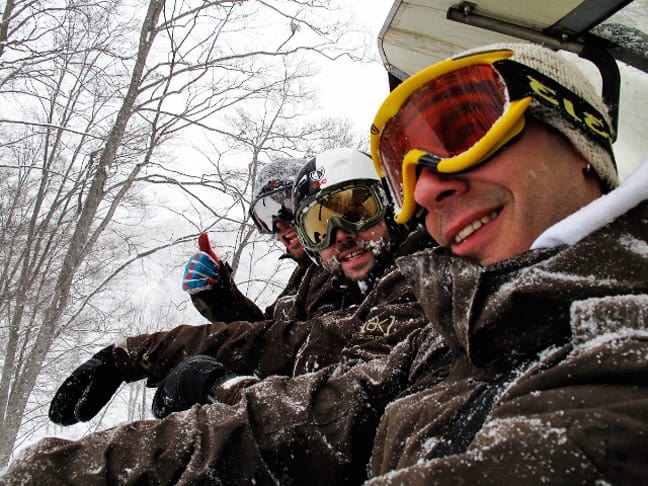 Chairlift buddies.
Why did we choose Japan?
With a bit of research it turns out that Japan has more resorts than any other country on earth and a larger skiing community to match. I had been to the North Island of Hokkaido before and followed the green and gold trail left by the masses that had gone before me to Niseko. So I thought for a change I would investigate the Japanese Alps near Nagano. I figure anywhere that has had the Olympics before must be worthy of a visit and the mountains must be long and steep if they can hold downhill skiing competitions. I had heard the snow was generally better up on the north island but when comparing perfect powder with almost perfect powder I look at other things, like terrain and length of the mountains, the south island of Honshu in the Nagano prefecture seemed to have everything I was looking for. Turns out that it had that and a whole lot more!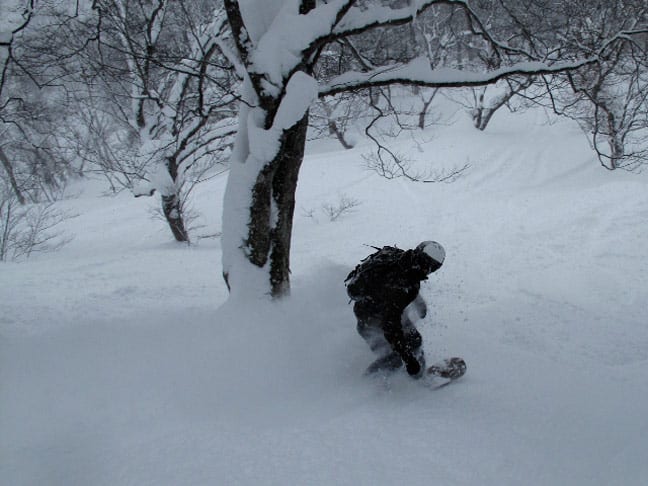 This speaks for itself!
How did we choose which resorts out of the 500+ options?
My two resorts of choice out of the seemingly bottomless list were Myoko Kogen and Nozawa Onsen; both are really easy to get to from Tokyo on the Bullet train and are within sight of each other. Each ski area is surrounded by other smaller resorts, making the options, once you get there, almost limitless. Some of the most incredible resorts you will ever visit in Japan don't ever make it on most Australian tour company lists, simply due to the volume of options. I chose these two because I knew they were easy to access, had really good access to terrain and because they are close to the West Coast they get an unusually large snowfall – which always seems to be about double the predicted forecast.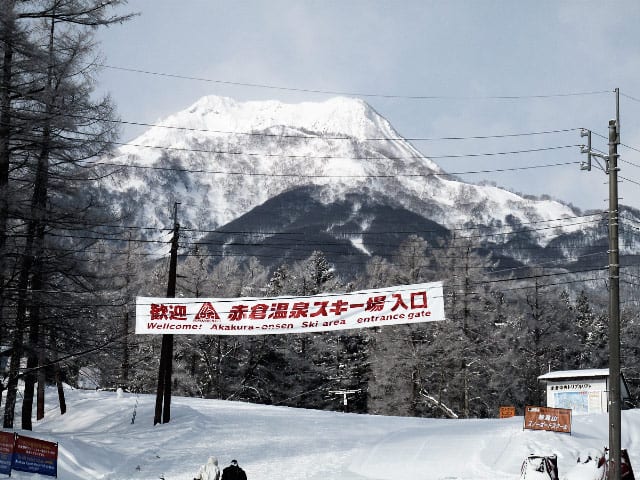 A warm welcome.
Myoko Kogen – Akakura Onsen
With four days planned in each resort we headed to Myoko Kogen first and stepped off the train into what I then thought may be the heaviest snowstorm I had ever seen. Not just snowing – dumping heavy enough to make seeing down the end of the road a challenge – heavy enough to know that we were in the right place.

Myoko is a small town with not much except a great mountain and a few hotels that do everything they can to cater to westerners. We stayed at the Akaura Hotel Annex, which had everything you need in a hotel and plenty of novelties that you don't to keep you entertained. Good food can be found at a number of places but for my money none was better than the downstairs restaurant on the corner in Akakura Onsen village opposite the Joy Box store. Bar life isn't the area's strong point but beer can be found almost everywhere, in vending machines and anywhere food is served, both on and off the mountain.
It is more of a lodge town, with each hotel having a small bar, and life revolves around relaxing in the onsens. The main attraction to Myoko Kogen is the snow: massive amounts of it and bottomless! But here is the best part. You can ski or ride basically wherever you want, so long as you know what you are doing. The standard issue out of bounds restrictions don't come into play, so – 'at your own risk' – you can ride neck deep powder better than you will find in almost any heliski location and it is all lift accessed and never busy. Too good to be true? Be very careful about avalanche conditions if you don't know what you're doing and heeding the avalanche warnings is a very good idea!

But with this in mind the main resort terrain is insane and there are four other resorts all on the same mountain to choose from. After four days of the deepest driest snow I have ever ridden we sadly left Myoko Kogen and headed for Nozawa Onsen.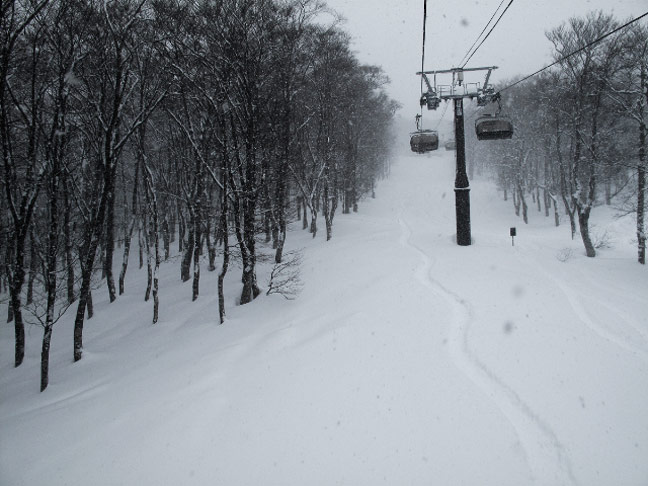 Snow for the taking.
Nozawa Onsen and its public onsens
Nozawa Onsen is an old onsen town steeped in history and tradition. The town is steaming with boiling hot onsen water flowing straight out of the Volcanic mountain and believe it or not – straight down the streets to keep the powder melting and roads clear. Old villagers sit on benches next to pools of onsen water, cooking foods in the near boiling water. 13 public onsens are scattered around town for the brave naked to bathe after the mountain – but be warned, they are bloody hot! Even the local Japanese hardened to the over 40 degrees public baths struggle to walk in off the snow-covered streets and get straight into the onsen water. There's plenty of laughing and screaming as bare skin first hits the steaming pools. But for some weird reason you go back and back for more so it must be good for some part of the mind and body.

Nozawa's accommodation options cater amicably to westerners, although don't expect what you would get at the typical Aussie hotel. It takes a little getting used to but once you get your head in the Japanese way of thinking everything they do makes perfect sense. Food is amazing, especially if you are open to a bit of experimentation, the people are the most helpful in the world so long as you are polite and follow their basic cultural rules but again the draw card is the mountain.
Nozawa Onsen resort is a big resort for any country. It has runs that are over 5km in length and it is steep enough to challenge anyone at any standard. There is enough variety of terrain, both groomed and ungroomed, to cater to families with kids as well as the most experienced of powder hunters. We found that despite first appearing as though all backcountry access is impossible, there are many areas with great widely spaced trees, which can be accessed without the standard Japanese ski patrol chase and ticket repossession that goes with many of the resorts of Japan. There are areas you can't go into and ropes you can't duck but there are also huge tree zones so on a pow day you will be riding powder all day long till you can't walk any more.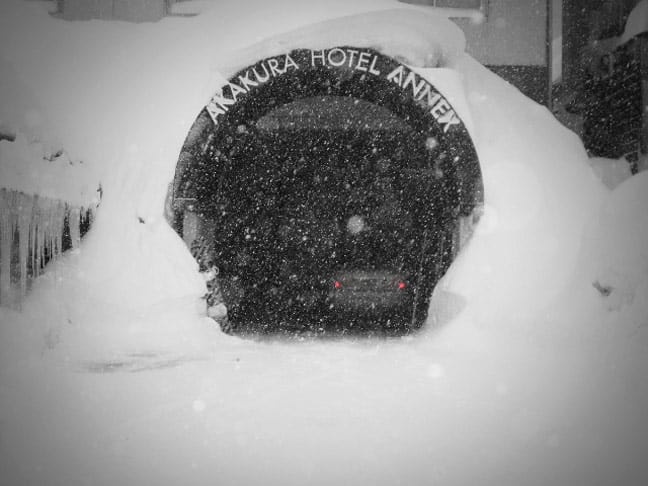 Enough snow?
Avalanche danger is especially high for the Aussie 'she'll be right' crew.
Be very careful, as there are areas that look so inviting and require breaking the rules and ducking ropes but may cost you your life. There are some amazing looking backcountry lines that are easily accessed from the lift but avalanche is a real threat in the Japanese Alps. We woke up on our last day in Nozawa to over 2m of snow up the top. Sure enough that afternoon the sun came out and we saw Aussies, none of whom looked equipped with transceivers or rescue gear, all ducking ropes to get into a zone more life threatening than going for a 5km ocean swim in Northern Queensland in the middle of Box Jellyfish season. Just be warned…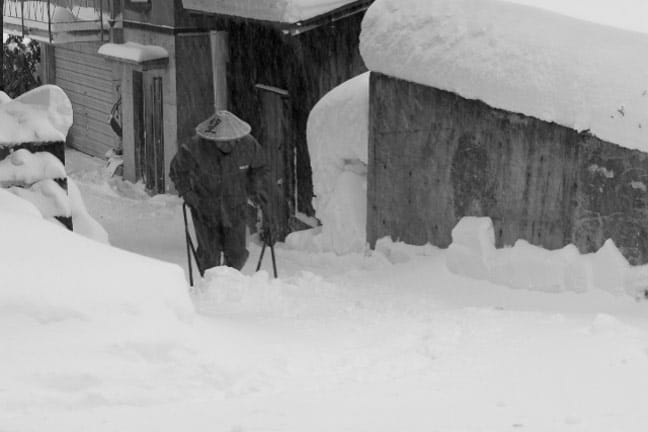 Traditional Japan.
Better powder experience than a Canadian Cat skiing operation at a 10th the price
So we had eight days on snow – eight insane powder days where knee deep was as bad as it got (only once) and above neck deep happened three out of 8eight days. I have snowboarded for over 20 years and spent a lot of those chasing powder full time. The only other place I've ridden with these kinds of powder odds are the Monashee Mountains in Canada and to ride them you need to pay top dollar at Cat Skiing operations. For the same snow if not better, a great cultural experience and lift access giving you countless more vertical in a short holiday I would put my money on Japan. Looking outside the box when choosing a from the many resorts is rewarding as the ones less travelled are always the best way to go.
We spun the wheel and nailed it.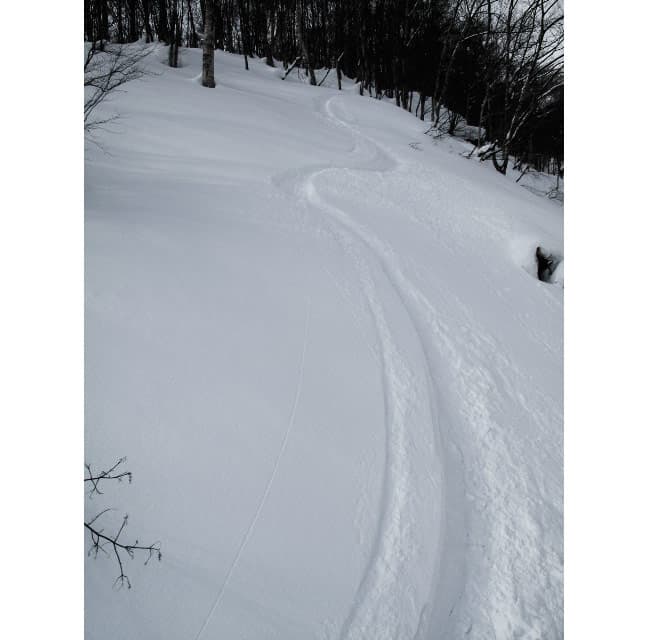 Freshies? yes please!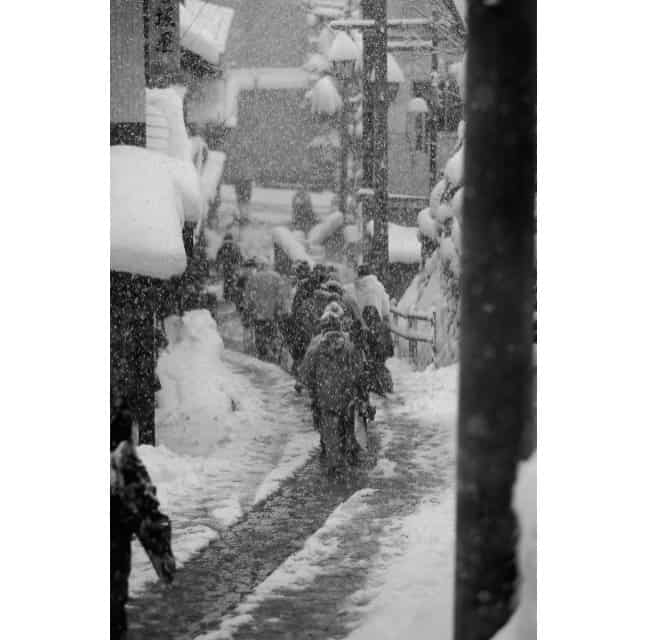 The morning commute.
Travel Notes:
When in Myoko we stayed at Akakura Hotel Annex and had a great time (be ready to duck through doors if you are tall) – http://www.akakura-hotel.com/
Check out the resort site – http://www.myoko.tv/foreign/english/ for options on accommodation and resort choices.
In Nozawa we stayed at Resort Hotel Chitose but there are also many other well-priced places to stay that cater to all of your needs.
Again check the resort site – http://www.nozawaski.com/winter/en/