TRAVEL USA Fresh Tracks with the Interconnect Backcountry Tour
September 13th, 2010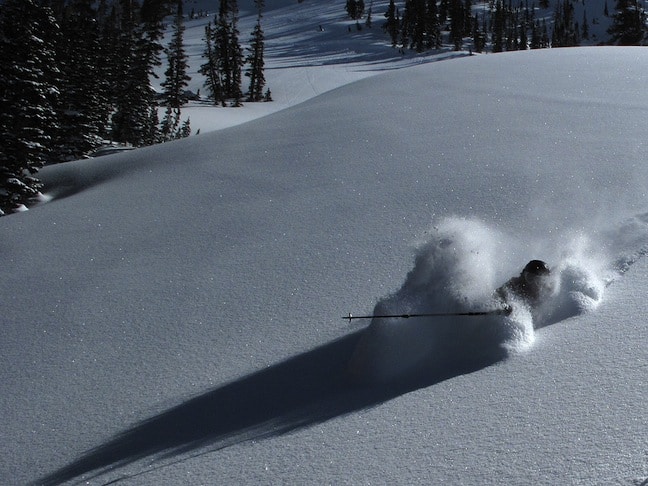 Utah is famous for its super dry powder. Image:: Ski Utah
Skiing Utah | Rachael Oakes-Ash
Utah's uber cool Park City resort town may be the training ground for snowboarding legends Torah Bright and Shaun White but try telling that to the skier-only zones of Deer Valley Resort, five minutes from town. Deer Valley is not alone in its desire to keep the snowboarding riff raff (tongue in cheek pun intended lest we offend the knuckle draggers) at bay. Cottonwood Canyon's Alta Resort is also a strictly snowboarder free zone.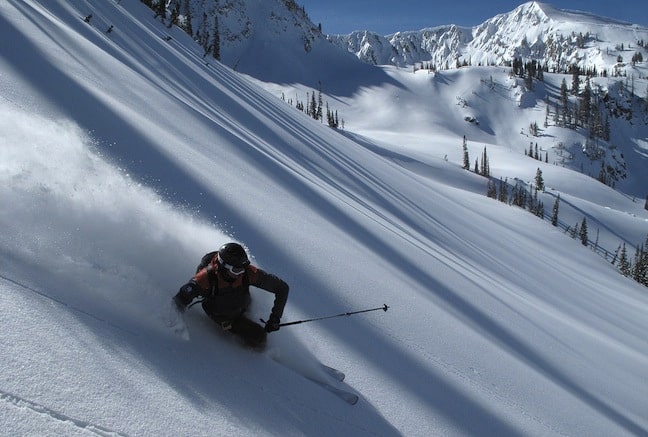 Pristine. Image:: Ski Utah
Ski Utah's Interconnect backcountry day isn't snowboarder friendly either, but before you kick up a stink there's good reason and not just because Deer Valley and Alta make up two of the six resorts covered in the one day guided backcountry tour. The endless traverse factor alone is enough to scare even skiers away.
Cottonwood Canyon is famous for Utah's super dry powder served by the bucketload. While Park City's swanky resorts of Deer Valley, Park City Mountain Resort and The Canyons get enough of the white stuff to keep resort skiers beaming for days, Cottonwood gets double or near enough. But be warned, once you leave the liberated confines of Park City you enter the Mormon zone.
The fun and games start at 7.00am which has never been a happy hour for this skier. Meeting our crew for the day at Deer Valley we're ingratiated with our avalanche beacons and day packs and meet the guides that will ensure our safe journey through what the Utah skies have kindly delivered – fresh powder.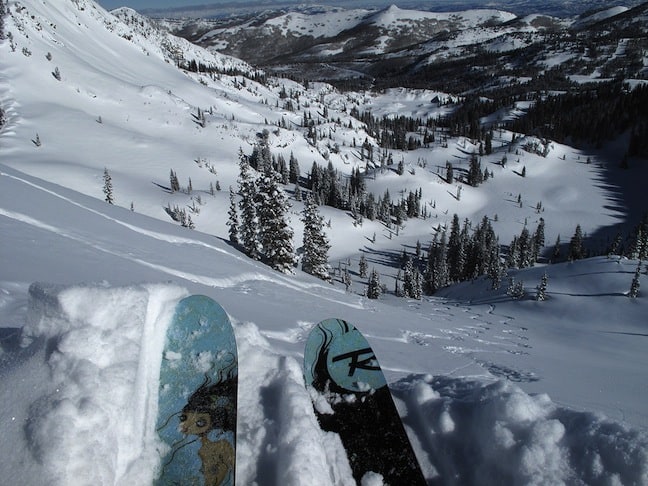 Ready set go into the Utah backcountry. Image:: Ski Utah
Yes, avalanche danger is high so we won't be taking on Alaskan style pitches but we're all pretty psyched with the conditions just the same. Debbie, our chief guide, has been with Interconnect for over twenty years and hasn't lost a client yet. She's a tough mountain woman who can get anyone down the hill.
Doug, our tail guide wears a uniform on his days off with a gun slung over the shoulder. Of course he does this for months at a time in the harsh desert heat of Afghanistan as Special Forces. Thankfully for us, this is his year off.
The group is made up of a blokes' tour from Chicago and a couple from Europe. We warm up on Deer Valley's super groomers and make our way up the Deer Valley chairlift to Lady Morgan Express chair to make the side step traverse to Park City Mountain Resort. Then it's down through the trees on McConkey's Bowl named after Shane's Dad and I make a silent tribute to the master.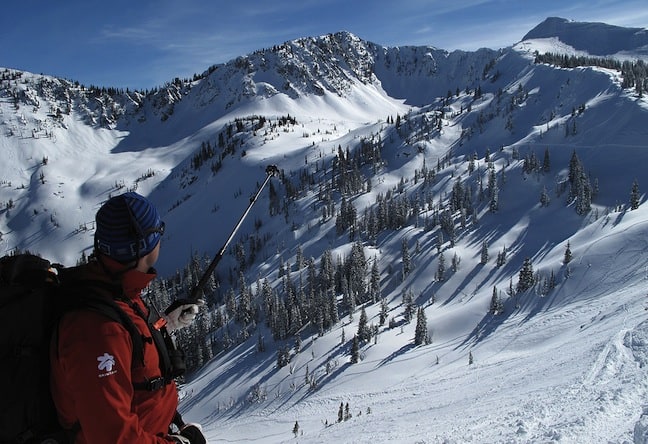 Terrain for the taking. Image:: Ski Utah
Doug and Deb do their best to give us as much off piste as possible, finding fresh tracks amongst the trees and herding us onto chairlifts back up mountains, pointing out landmarks along the way. We have been warned about Highway to Heaven, or rather Hell, a traverse and boot pack that will be taken after lunch to get to the really good stuff. In the meantime we throw our skis over the shoulder and make the trek up the peak of Park City Mountain Resort behind Scotts' Bowl, ducking under the ropes into our first open paddock of creamy powder and into the Cottonwood Canyon.
During summer these woods and fields are filled with roads and mountainbike tracks. Come winter the snow allows the roads to be skied and gives us access through private and public land down on the Guardsman Road. We stop for beef jerky and gummy bears amongst the trees before continuing on to the highway and a short trek across the road to Solitude.
Everyone knows Utah's snow is as dry as Japan yet it constantly surprises me how few people make the sojourn to this part of the world. Aussie accents are still a novelty in these parts. Solitude is named Solitude for a reason, there's not a lift queue in sight. We take a couple of runs from Solitude into Brighton through untracked powder, though sadly at a mellow pitch, crossing near a dam along the Sol-Bright trail. Again, we are alone.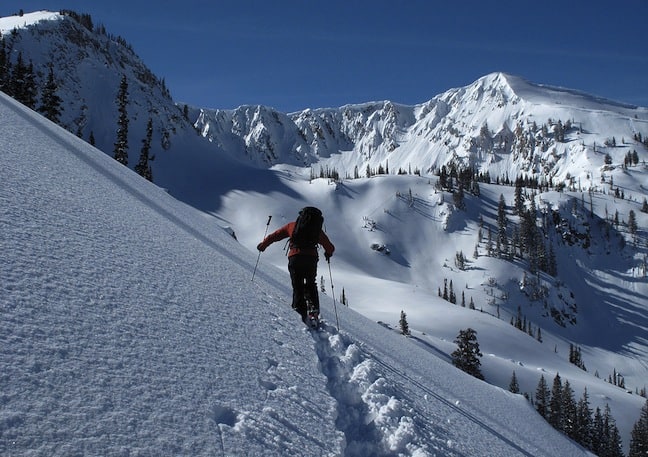 Minor boot packing gets you major skiing. Image:: Ski Utah
Lunch is quick and an opportunity to fuel up before the 'highway to Heaven' traverse from Brighton to Alta. It's long, about one hundred and fifty metres, with a sheer rock drop on one side in the middle and we do it one person at a time for safety reasons but it doesn't end there. A fifteen minute boot pack gets us up into heli terrain without the chopper fuel costs.
Then it's game on as we choose our lines and play in the trees, whooping like children at an amusement park and on down to Alta's terrain and across to Snowbird for some long steep ski pitches again through still untracked terrain, not bad for the end of the day.
But wait there's more, a forty five minute van ride back to Park City with a stop at the seven eleven for beers. That's gold.
At US$250 per person including guides, equipment and lunch, the tour offers great value for the adventurous snow traveller short on time but wanting the full Utah experience.
The Ski Utah Interconnect website
V Australia flies Sydney to Los Angeles direct and partner airline, Delta as innumerable flights to Salt Lake City. You can be on the slopes within thirty minutes from the International airport. www.vaustralia.com.au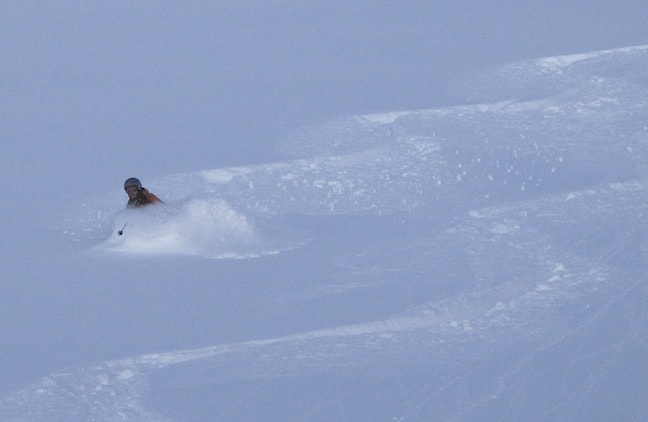 The Utah view. Image:: Ski Utah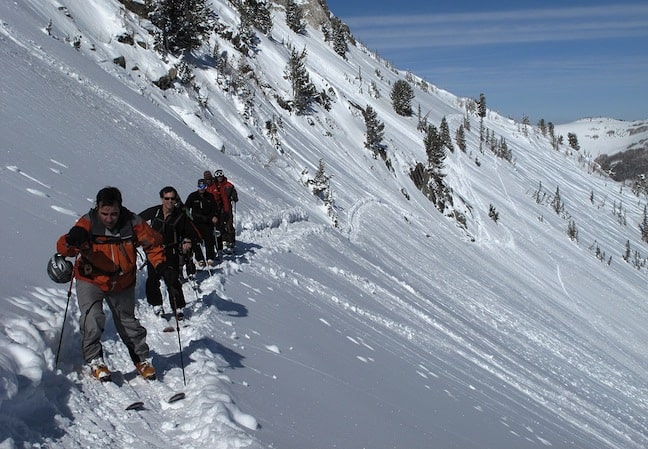 The highway to Heaven. Image:: Ski Utah
Park City forecasts,
snow reports and
live snow cams.