TRAVEL VICTORIA The Spring Fling Road Trip
September 13th, 2010
Road Trip! Image:: Elle Cook< Words | Tess Cook
What better way to squeeze very last bit of snow from the season than a spring snow road trip?
Us Aussie skiers tend to be a habitual bunch, we snow slide where we've always snow slid. So this season I packed a car with gear, and a travel buddy, and ventured south of the boarder to see what the snow was like in Mexico, otherwise known as Victoria.
With the Spring deals going around at the moment and the excellent Spring conditions now might be the perfect time for you to also venture forth into new territory, after all, the couch will always be there, but the season won't.

Mt Buller. Image:: Elle Cook
Mt Buller
Apparently Mt Buller suffers from a weather affliction, I wouldn't know, four more glorious sun filled days in the mountains than the ones we spent in Buller you would be hard pressed to find.
Snow wise we didn't see Buller at its best, but thanks to Awesome August, Buller is now sporting a lovely snow-coat, so all the tree skiing possibilities I was salivating over are now there to be enjoyed. Still, we had the pick of the super groomers, which in Buller are super wide, perfect for letting the skis run, we had some great cruising on the Little Buller Spur that really got the thigh muscles burning. A couple of runs with locals Zoe Jaboor and Watkin McLennan showed us all the possibilities in the terrain and the short hike up to the Summit for a sunset ski down to après is an absolutely fabulous idea at any time.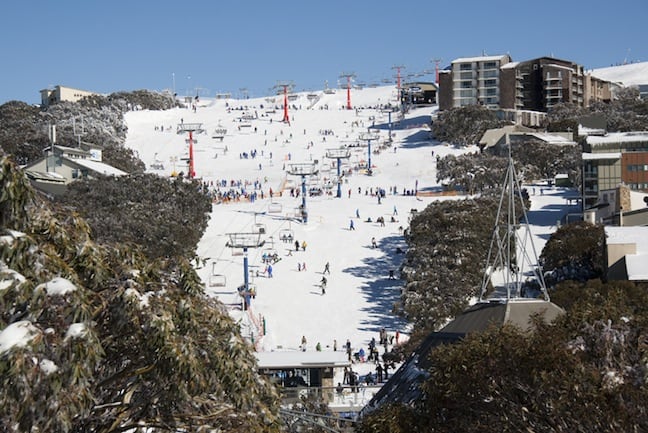 Mt Buller in perfect sunshine. Image:: Joey Corcoran
In Buller everyone and everything seems to have a chilled out, friendly vibe that instantly extended to include us, from the super chatty girls and guys in the various Buller Sports outlets to the ski instructors we met on the chairlift, some resorts can project a frosty aura of exclusivity but Buller welcomes everyone with open arms. Certainly Bourke Street, the beginner slope that runs through the village – a quaint setup that I loved, it brings all the action to the heart of the village – was embracing everyone on skis or a snowboard.
We stayed slopeside, looking out onto Bourke Street and its ever changing, always amusing parade of people learning to love the snow. The main Buller hub was just a short, snow covered walk away – so European, to be slipping and sliding through a snowbound village, more appropriate shoes may have helped us there – and we could ski-in-ski-out, what more could you want?
www.mtbuller.com.au for Spring deals and travel information.

Hotham. Image:: Elle Cook
Hotham
Two things I love instantly about Hotham. One, long runs, long, long runs, many of them steep. Two, a little touch of luxury. If Buller feels like coming home, relaxed and fun, Hotham feels like being away, exciting and invigorating.
For luxury you can't go past your own deluxe slopeside five bedroom condo, even if you're sharing it with five male snowboarders. Our deluxe condo was just a few short steps from the White day spa at Hotham Central and the delectable White Room restaurant where the lunch special would have you reluctant to put your skis back on if the allure of Hotham's terrain wasn't so strong.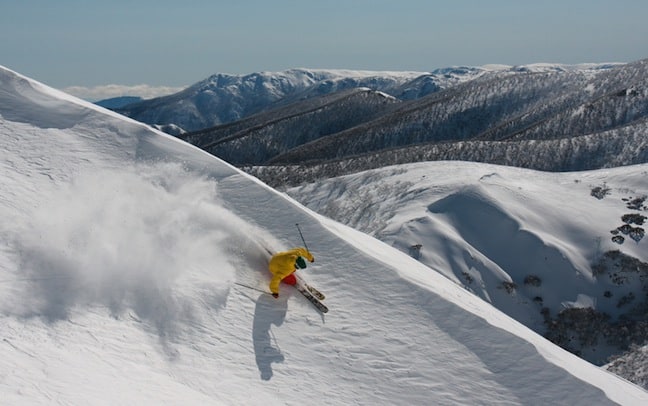 Local Drew Jolowicz enjoying the Hotham steeps. Image:: Jyothi Jaffray
Because of course we weren't there for facials or the lunch and the skiing was everything you could ask for. Once again we were lucky enough to get the locals tour, this time with Bill Barker, Hotham's Ski Patrol Manager. He had us skiing the terrain like it was a small slice of Gulmarg – where he runs guided trips each year.
Hotham's terrain does a great job of separating out the abilities. The Big D and Summit areas are great for beginners and the rest of the resort is a playground of long, steep pitches, and that's just the inbound terrain. The backcountry is the stuff of legend and although we could do little more than admire it from chairlifts, it's now chock-a-block full of spring snow. Hotham's backcountry seems very accessible, as long as you're with someone who knows what they're doing you can enjoy all the untracked you like without loosing sight of the resort.
Which makes the locals happy because they wouldn't want to waste a night camping out in the backcountry when they could be in a bar playing darts. Forget skiing, darts is the official sport of Hotham. Wednesday night is the big competition night, seemingly everyone in Hotham is in a team, be they competing in the A, B, C or D level competition – the D level is pretty social – and on other nights there are smaller competitions and friendly games and then most people have a dartboard in their house. Hotham locals love darts.
www.mthotham.com.au for Spring deals and travel information.
Falls Creek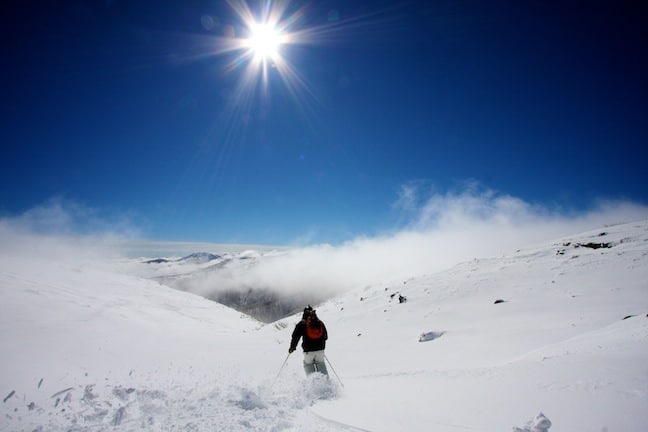 Sunshine in the backcountry with Steve Lee. Image:: Chris Hocking
Falls Creek, what a wonderful premise, a village that seemingly by pure chance happens to sit right in the middle of a ski slope. Falls Creek isn't a resort, it's a genuine little town with all the charm and atmosphere of a European mountain hamlet – and better food.
If you were so inclined, you could spend your time in Falls Creek going from café to restaurant to bar – the Japanese Oishii-Go gave us the best pork belly we'd ever eaten and the caramel slice from Tom Dick and Harry's was to die for. Even the hot chips at Julian's seemed tastier than regular hot chips!
And even better, when the village is snow-bound, you can pretty much ski up to any of them, as you can ski to your lodgings, wherever you happen to be staying. We were at Snowdrift, which in my opinion is just how a lodge should be. Snowdrift has a big communal lounge with a roaring fire and a small bar in the corner. Well-thumbed ski and snowboard magazines are scattered around the couches and you can help yourself to tea, coffee or hot chocolate at any time.
As the weather wasn't spectacular during our Falls Creek stay we made the most of those hot chocolates but as any Falls local will tell you, when the sun shines at Falls, it sparkles and there's so much more to do than simply strap on the planks – not that there's anything wrong with that! Snow biking for instance; replace the wheels on a tricycle with short sleds, take off the pedals and remove the breaks and you're on track to creating a snow bike; designed for sliding down hills, quickly.
On a good day, the Falls backcountry is the place to be and this year Steve Lee has made it that much easier, with his custom built sled using the local knowledge of a lifetime's residence the living ski legend runs backcountry tours for small groups, the sled can accommodate six passengers, all over the Mt McKay area. Unfortunately we didn't meet any favourable weather days during our Falls Creek stay, but I have the last minute dash planned to get a day of backcountry skiing in because this Spring has offered up the perfect conditions for it.
www.fallscreek.com.au for Spring deals and travel information.
And the good news…
Every resort is now offering spring deals to suit everyone and lower ticket prices for September. There's Kids Stay and Ski free, bonus accommodation nights and discounted package deals.
Falls Creek forecasts,
snow reports and
live snow cams.
Mount Buller forecasts,
snow reports and
live snow cams.
Hotham forecasts,
snow reports and
live snow cams.