TRAVELLER'S LIST – Top 10 Best Snow Travel Tips
September 21st, 2011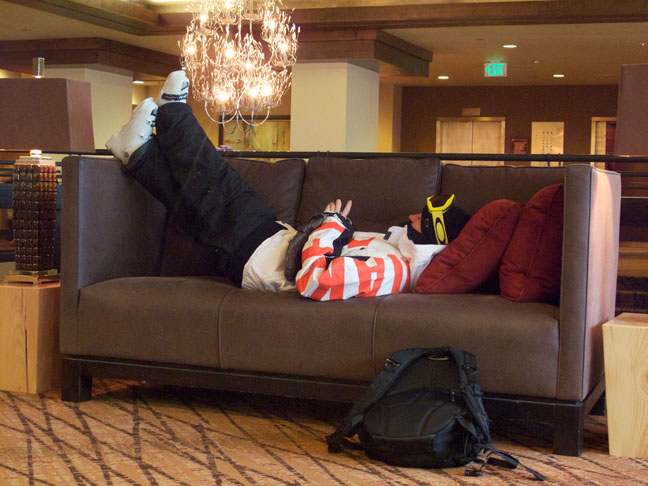 Get it right and snow-travel is as easy as lying on the couch…
Travel Tips | Tessa Cook
You only make the mistake of trying to snow-travel with a matched set of monogrammed trunks once before you realise, when it comes to getting to mountains in order to slide down them, convenience, practicality and simplicity are key. Sensible luggage is just one of a mired of tactics every snow-slider should adopt when heading off on a snow holiday. Here are some are some of the others…
1. TRAVEL INSURANCE. When taking out travel insurance make sure you have a policy that will cover you for all the activities you may partake of. Basic policies often don't cover off-piste riding, some don't even cover snowboarding and most won't cover things like sledding so shop around. On the plus side, some snow-specific policies cover extras like resort closure.
2. Choose luggage wisely. The best gear bags are middle-opening wheelie bags, large enough for all equipment with a few zippered compartments on one side for storing goggles, gloves and the like. Similarly, middle opening, wheelie suitcases with plenty of small zippered compartments not only keep all your items in order they also seem to fit far more than their compact size would suggest. And with a wheelie bag in each hand you can navigate airports sans trolley – genius!
3. Go for practical carry on. You'll have to half unload it for security, riffle around in it for pens at immigration (more on this later) lug it around duty free and navigate it down the isle of the aeroplane. All of this points in one direction: a medium sized backpack with handy outside pockets.
4. Pack a sensible carry on. Here's where we bring up the pen thing. Save two minutes of queue time by filling out the immigration form with your own pen, in the queue, rather than the provided pens, chained to the little tables. Also pack an empty water bottle and ask the flight attendant to fill it up once you're onboard- goodbye dehydration. As to the rest of the gear you lug onto the plane, consider carefully. Books, magazines, emergency changes of clothing, snacks…do you really need them? Most airlines these days provide both movies and snacks on demand – if yours doesn't, change carriers.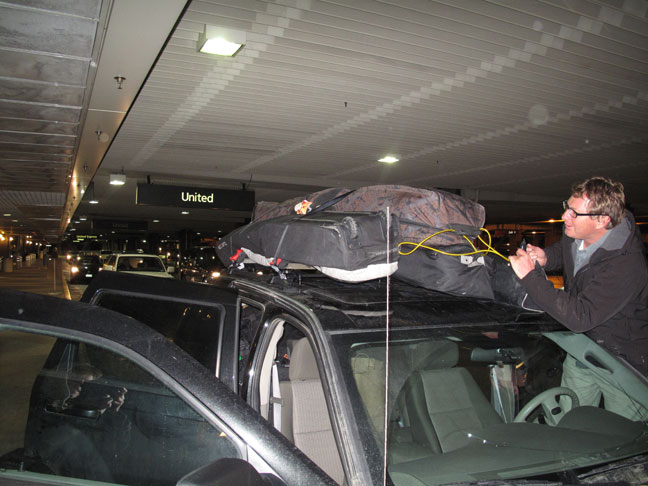 Avoid this, get a van
5. Safeguard your boots. Slightly disregarding the previous points, if you have multiple flight changes and you're not into the idea of hire boots, take your boots as carry on. If the airline accidently sends your luggage via Finland they'll cough up the cost of hire gear and you can score a more than decent demo board or pair of skis but nothing will ruin your first powder day more than trying to ride in rental boots.
6. Fly direct. Airports are just chances for your bags to escape on their own side trip to Mexico. If given a choice, opt to re-check your bags yourself when switching flights and if you're playing travel agent make sure you book domestic flights on carriers that wave the baggage restrictions for travellers with international tickets; on that, keep your international tickets on you when flying domestically to avoid nasty baggage charges.
7. Gadgets. Seriously consider a GPS. Whether you're traversing the snow-states of the USA or trying to get to your hotel from the train station in St Moritz having a GPS is super handy. TIP The GPS in i-products will work globally, even if you're not connected to the internet. You can download maps before you leave using an app like Maps2go then once overseas you don't need an internet connection, just a GPS in your device. Genius!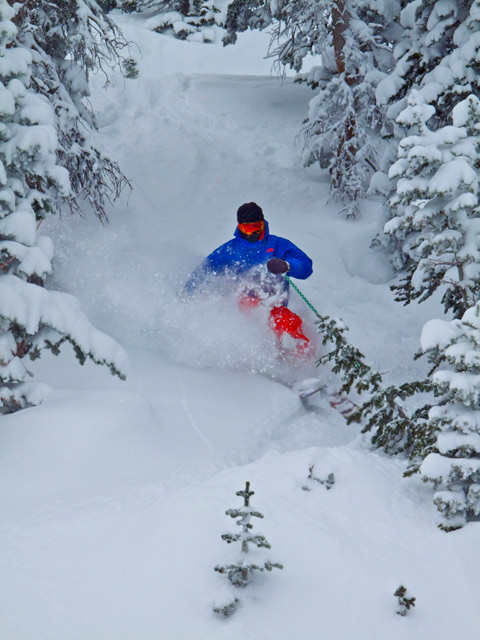 You want to be here
8. Pack less, specifically, pack less snow gear . Work on the one on/one off rule, or at most the one on/one off/one in the wash rule for snow socks and thermal base layers, have just the essential middle layers and only one jacket/pant combo. Thermal base layers can be hand washed and dried overnight, spare outerwear is only necessary in Australia where you're likely to be riding in the rain. This also frees you up to indulge in a few purchases if so tempted.
9. Stay in self-contained accommodation. While hotel breakfasts are lovely and turndown service lets you know you're on holidays having nowhere to throw together a quick dinner if you're exhausted to head out or make an after-riding snack gets old quickly. The good news is you can have turndown service and eat your dinner too, just stay in a hotel with kitchenette equipped rooms.
10. Consider a people-mover style van. They were the soccer mum vehicle of choice in the mid 90s and for good reason – huge internal space. They'll fit all your luggage and still have enough seating space for four or even five adults, no messing around with roof racks. And, because no one wants to look like mid 90s soccer mum, vans are usually cheaper than SUVs.
BONUS TIP. Need some new snowboard gear ? Consider where you will buy before you go. While shopping overseas has been favourable due to a price difference to Australia, this has recently changed. Aussie pricing is now almost in line for most brands and often you will find that brands launch in Australia ahead of the northern hemi, this means you will be buying fresh. Be cautious when buying online from foreign resellers, if you purchase via the US this often means you will have no Australian warranty. Many bricks and mortar retailers in Australia now sell online too, meaning that even if you reside away from urban centres you can still purchase online. Give Melbourne Snowboard Centre a go, they are Melbourne's biggest online snow shop .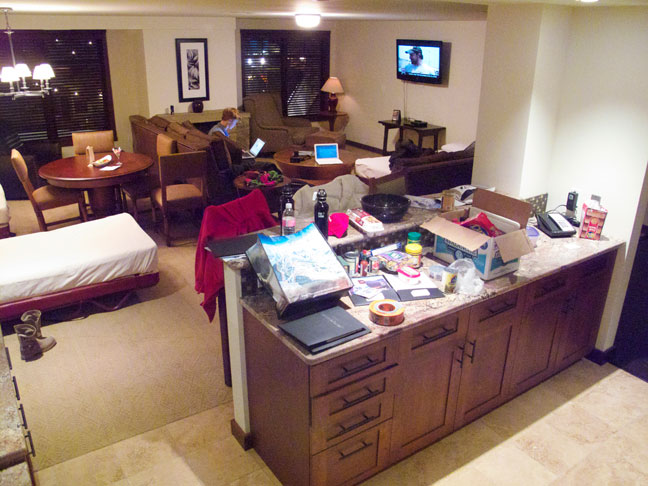 Deluxe hotel featuring kitchenette, the perfect snow-travel accommodation