UPDATE – Cold Air Means More Snow as Storm Continues – Snow Alert
July 21st, 2016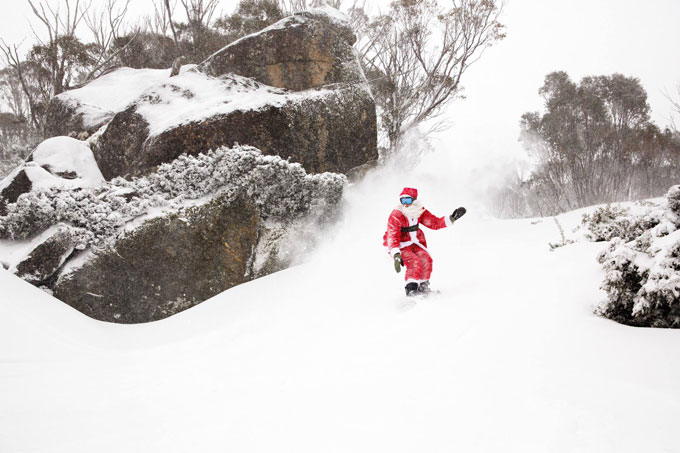 Christmas came early in the mountains over the weekend. Image:: Thredbo
Mountainwatch | Snow Alert
SNOW ALERT
Very High Confidence
Updated: July 25, 2016
What a weekend! In Reggae's own words, "After a weekend of fresh snow and awesome off piste skiing, last Friday's rain is a distant memory and it is looking very good out there with another 20cms overnight and it is snowing lightly now." I think most who skiied over the weekend would probably agree with that sentiment and the good news is that it's not over yet. Thanks to all this new snow most resorts are now looking much healthier after last week's warm period which means we're now back on track and ready for August.
In today's detailed forecast, The Grasshopper said: "Pretty white flakes will start falling from the sky this evening and continue overnight so be careful you don't slip as you stumble back from the Après Ski. However, you might want to consider an early night as between 20-30cm of snow down to 1300m is due to fall before sunrise tomorrow."
After that, the fun is still not over, he continued: "Tuesday will be cold with strong westerly winds and flurries in the fronts wake. It will be feeling more like -15c up top taking into account the wind chill so it's definitely the moment to whip out those ever fashionable long johns. The fun doesn't stop there kids. A low moving over Tasmania Tuesday night will bring even more snow through to Wednesday morning, about 12-25cm should fall to 1100m."
Following this week's snow we will see a return to fine and sunny weather which means that this coming weekend is shaping up as one of the best of the season so far.
Stay tuned for photos and vision as the storm rolls through the mountains.
——————————————————————————————–