UPDATED Powder Delivery to the South Island to Continue – NZ Snow Alert
June 30th, 2015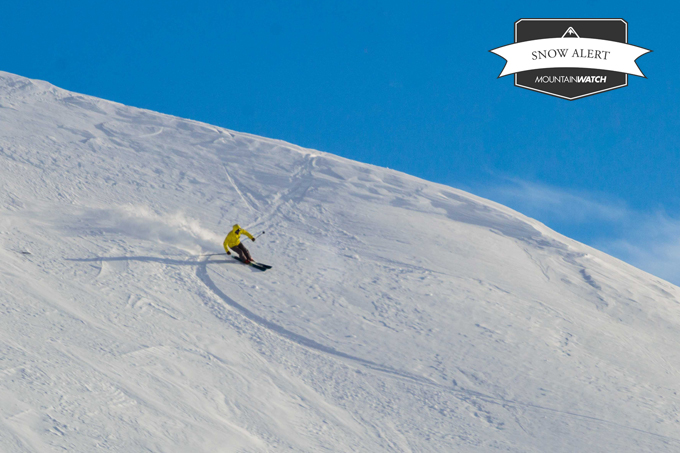 South Island skiers are in for a treat this week, with 10-20cm of fresh snow due to arrive from tomorrow Image:: NZSki
SNOW ALERT
 High Confidence, be ready.
Updated: July 3 2015
UPDATE
Well, as promised the powder has arrived. South Island resorts are reporting up to 20cm of fresh this morning, with Treble Cone leading the way. Resorts like Coronet Peak – that are lower in elevation and further from the divide – seem to have only copped about 5cm alongside a bunch of rain.
In today's forecast, The Grasshopper said: "Snow showers are set to ease through the morning and the winds should settle down as a ridge of high pressure briefly moves in this afternoon. By late tomorrow morning that ridge is on the way out and winds will rise during the afternoon as a cold front approaches."
Then, come Sunday, the snow will be back, he continued: "This front is going to bring another surge of snow showers that will last through Sunday. The Southern Lakes and areas of Canterbury near the divide are going to see another 20 to 30cm of snow, but further away from the divide it will be a fraction of that. The snow is set to continue on Monday as the winds gradually turn southerly and temperatures plummet."
So, New Zealand's South will now get even better. Time to book a flight?
——————————-
New Zealand continues to prove it's the place to be this winter as yet another cold front prepares to deliver a fresh round of snow. In today's forecast The Grasshopper mentions that Wednesday (tomorrow) should bring another day of strong Westerly winds as the front begins to take hold.
Following that, Thursday should go as follows: "Thursday will see north-westerlies rising, with snow in the morning tending to rain during the evening, then back to some decent snow, 10 to 20cm, with a cold change on Friday.
"Those Westerlies will generally continue through the weekend and next week, with more snow due Sunday/Monday. This is fantastic, just remember to check the wind forecasts as we get closer."
Stay tuned for an update on what to expect next week.
——————————-