UPDATED Snow to 1000m to Arrive on Tuesday, 25-50cm Likely – Snow Alert
July 8th, 2016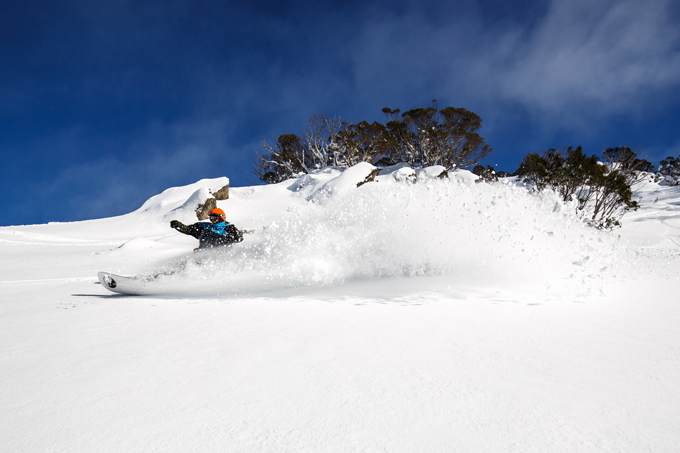 After the last two snow storms the base has been consolidating nicely. With more snow on the way this season is well underway and August is shaping up brilliantly. Image:: Thredbo
Mountainwatch | Snow Alert
SNOW ALERT
 High Confidence
Updated: July 11, 2016
Update
Buckle up and get those chains ready, cause the storm is bearing down on the mountains today. As is the norm of late, we're going to have to endure some pre-frontal rain today along with high winds, but it's no time to panic. In today's forecast, The Grasshopper said: "The snow that we have all been waiting for shows up tomorrow. The low will move to the south of Tasmania and throw a cold front our way. Gale force northerly winds will cause problems with wind hold all day. The front will touch down during the afternoon, heavy wind-blown snow down to 1200m will give blizzard conditions and cause snow drifts to form. Snow totals from Tuesday afternoon into Tuesday night should hit the 25-35cm range."
After that, Wednesday is going to bring some nice cold temperatures that will allow the snow to consolidate nicely. "The snow will taper to flurries and westerly winds will stay strong but gradually calm," he explains. "It'll be very cold with maximum temperatures only hitting -3/4º and taking into account the wind chill, it'll feel more like -15 to -20ºC. Some of the light snow showers and flurries could even get down to 600/700m. Moderate to strong westerly winds will continue on Thursday as the high takes control. It will be epic!"
So, if you haven't already made plans to head down this week it's time to bite the bullet!
Stay tuned for photos and vision as the storm rolls through the mountains.
——————————————————————————————–
Now it feels like we're being spoilt! In today's snow forecast The Grasshopper alerted us to the incoming storm that's due to arrive from Tuesday next week. He explained: "A cold front will sweep the Aussie Alps from the south-west on Tuesday as the low moves to the east of Tasmania opening the door to much colder air. Snow will start to fall during the early morning hours and continue for much of the day down to 1000m."
After that, things are going to get windy. But not to worry, they're also bringing a treat: "Snowfall totals for Monday and Tuesday will be in the 25-50cm range with VIC favoured for the biggest amounts. Snow will taper off to flurries on Wednesday as a high builds in from the west settling things down. It'll stay very cold so expect the snow guns to be on and for the grooming team to be out in force. A monster high will then dominate the weather out to next Tuesday."
Keep tuned in to the Daily Forecasts and drop back to this snow alert for more info as we near closer to the storm's arrival.
In the mountains this week? take some photos and send them to:alexh@mountainwatch.com