UPDATED – The Weekend Storm, up to 40cm Expected – Snow Alert Australia
July 21st, 2015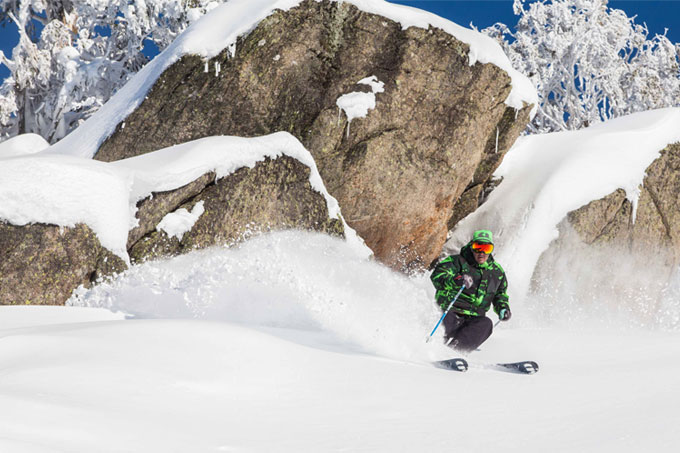 Haig Burbury lays out a super-casual powder turn through some fine Thredbo snow last weekend. Here's hoping for plenty more of this next week Image:: Alister Buckingham
SNOW ALERT
Snow Likelihood rating: High
UPDATED: July 22, 12:00pm
Last week turned this season around, this next storm should set us up splendidly for a solid early August.
UPDATE:
The first front has arrived and there is snow falling above about 1700m in the NSW resorts, and it's a similar story down in Victoria. Today, The Grasshopper discounted the chance of rain continuing tomorrow (Thursday), which is really good news. He's still pinning hopes on the front due to arrive on Saturday, he explained: "It now looks to be packing 10-30cm by Sunday night, with another 5cm on Monday." If this scenario unfolds as expected, then we could be looking at up to 40cm by Monday night.
Check back tomorrow for another update.
The Breakdown:
20-40cm across Saturday (July 25) to Tuesday (July 28)
———————————————————————————
First, the bad news
There's really two seperate significant weather events this week. The first is due through on Wednesday, but doesn't look too promising. In today's forecast, The Grasshopper explained: "Well today is going to be the last clear weather day for a bit, so get out there and make the most of it if you're a fine weather skiier. The next front is going to make itself known by about midday tomorrow, but it's still looking annoyingly warm. It's easy to feel hard done by after such a great run of snow last week, but let's not forget that even in a good season we are always treading that fine line of freezing levels."
"Right now it looks like we'll get about 5-10mm of pre-frontal rain before the freezing level drops on Wednesday night. If the best case scenario unfolds, then we should counter that with 5-10cm of snow above mid-mountain by Friday evening. It's still looking like a 50/50 shot."
Then the Good News
So after that is all done and dusted, the real action begins on Saturday afternoon. In the extended outlook he continued: "We're going to be dealing with the awkward cousin of last week's front for the next few days, but we're going to see a much cooler follow up arrive by Sunday. This one looks to be much colder, with a picture-perfect, cold south-westerly fetch. It looks to be packing about 10-15cm under the hood right now, but this could easily become 20-30 if the moisture lines up. We'll know more as the weekend nears closer. It's only a matter of time before we see a big August storm developing (he says hopefully). Stay tuned."