World Heli Challenge Launch Parties Presented by Corona
July 5th, 2011
World Heli Challenge
Mountainwatch offers you the chance to win a World Heli Challenge long sleeve T Shirt.
The first four people to email Tony Harrington on harro@worldhelichallenge.com and say they read this post on Mountainwatch will receive a free long sleeve World Heli Challenge T Shirt.
The first of the World Heli Challenge launch parties kicked off at the Kooroora Hotel last Saturday night and everyone had a blast viewing a series of short films and all night rocking to the legendary DJ Eddy.
Corona presented the evening, starting off with a series of captivating short films on the legendary event followed with some incredible skiing of Jono Braur and Craig Branch ripping big lines at the Points North Heli operation in Cordova, Alaska.
Last years "Fktor" Award winner, Australia's Charlie Timmin's, also featured on the big screen as part of the evening. The "Fktor" Award is given to the athlete who throws down the hardest, with the prize being a one week heli package at Points North Heli. One of the short films is dedicated to Charlie and his award and showcases why he won the award and what he got up to in his first ever trip to Alaska this past northern winter season.
The World Heli Challenge launch party presented by Corona will light up the Lake Jindabyne Hotel this coming Saturday night, 9 July. Short movies will fill the big screen and DJs MCRJ and DJ Perplex will spin up the tunes, definitely the place that you'll rather be this weekend after an awesome day riding powder at the surrounding resorts.
If you can't make it to the Lake Jindabyne Hotel, check out all the action on www.worldhelichallenge.com and thanks to Mountainwatch, the events official weather forecaster.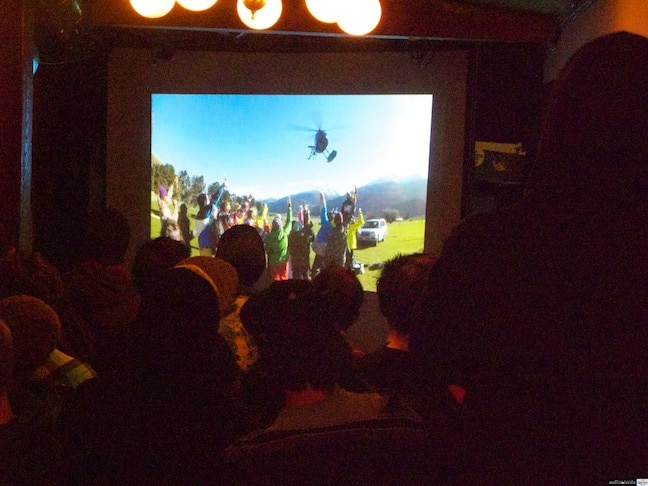 The crowd at the Korroora Hotel enjoying the WHC short films. Image:: Harro
Perisher forecasts,
snow reports and
live snow cams.
Mount Buller forecasts,
snow reports and
live snow cams.
Thredbo forecasts,
snow reports and
live snow cams.