Zoe's Blog – Road Trip
September 1st, 2010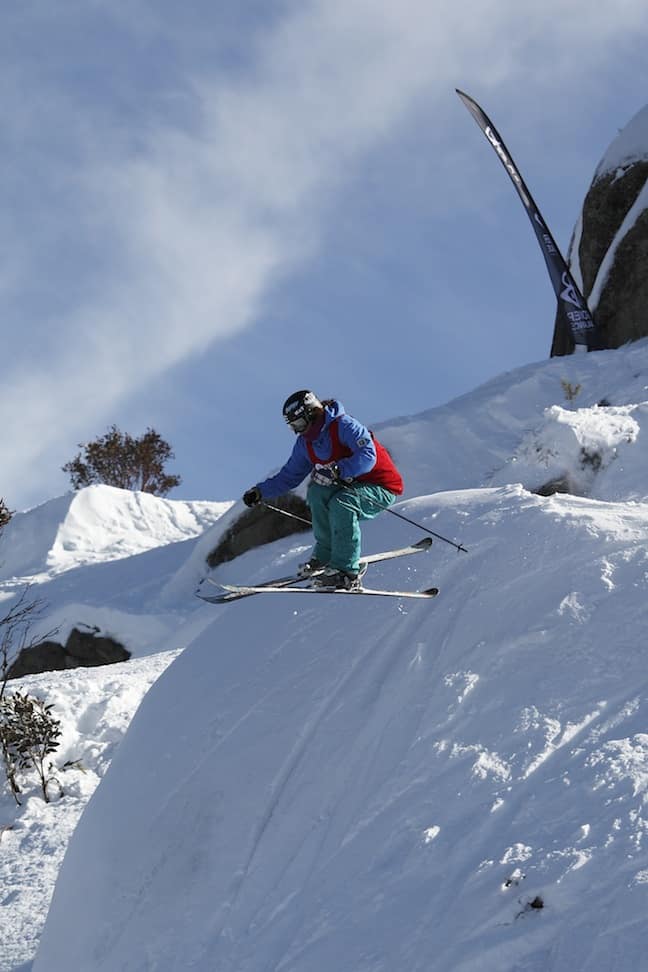 Nat Segal in the Rip Curl Pro. Image:: Hanno
Words | Zoe Jaboor
The first day back at work after a 10 day road trip around the Victorian and NSW snowfields is a massive reality check.
It all started the a few Fridays ago, I raced up the Princess FWY to meet up with my fellow roadies at a truck stop outside of Melbourne. Tori Hamilton-Wilson, Anna Segal, Nat Segal and I headed towards Falls Creek for our first stop – the Falls Creek Big Air.
Unfortunately Mother Nature didn't have a Big Air in mind and the event had to be changed to a Rail Jam at the last minute (which made my job as judge easier because we couldn't see!). This suited the Buller crew just fine as we might not have big jumps to train at Buller but we have plenty of rails to session!! Men's and Women's Skiing was taken out by Buller skiers with Coach Watkin McLennan finishing first and his athletes Riley Lucas and Olly Immurs coming second and third respectively. In the women's Tori took out first place with a stylish front-side switch up and Anna came second with a 270 off the rail. Nice work Girls!!
The following day we all headed to Thredbo for the Rip Curl Freeride Pro in a three car convoy, celebrating Anna's 24th Birthday on the way! Lucky for us it was dumping snow and so the boys, Nat and I all got an unreal day of Aussie powder on the Monday.
Tuesday saw the qualifying round of the Rip Curl Freeride Pro, a beautiful blue bird day with fresh snow on the bluff. We could look at the course but not touch it. It was sweet – sunny day, blue skies and the landing were not mashed …. yet!! The open womens category had some serious competition with US X-Games winner, Anna Segal, Olympic Skier-cross Champion Katya Crema, World Cup mogul skier Karinya Turnbul and Big Mountain Shredder Nat Segal, all competing.
The first round saw Nat, Katya and myself put down solid runs. The others had been caught up in the landings. On the second run I tried to get a bit creative by hitting a rock from the side and airing across the hill. This backfired when I came up 30cm short and landed on a traversing track! The other girls put down runs they were all happy with. Anna stepped it up spinning of rocks and lips built throughout the course.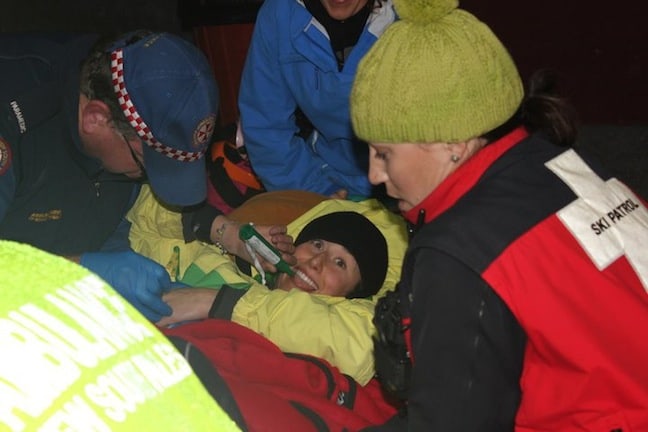 Anna enjoying 'the greenstick' pain relief! Image:: Zoe Jaboor
The Buller girls and Chicks with Stix skiers Anna, Nat, Katya and myself all qualified for finals which were to be held the following day. Unfortunately Mother Nature had a different idea and turned on 120km per hour winds. The Rip Curl Throwdown still went ahead in the wind and rain up in Thredbo Village. A fantastic set-up built by Charles Beckinsale and his team at Thredbo enticed all the competitors to face the weather and hit the features. Anna was going hard and throwing 270's onto the down rail over the channel gap. There is one thing about Anna – she always goes hard and pushes herself. She turned on her typical showmanship at the Throwdown and I don't think there was a person there that wasn't impressed with what she was doing.
Unfortunately one and a half hours in, she came a bit unstuck on the rail and when her ski hit the snow it didn't pop off and her body kept twisting. Anna broke her leg and went into surgery this week. Here's to a speedy and successful recovery Span!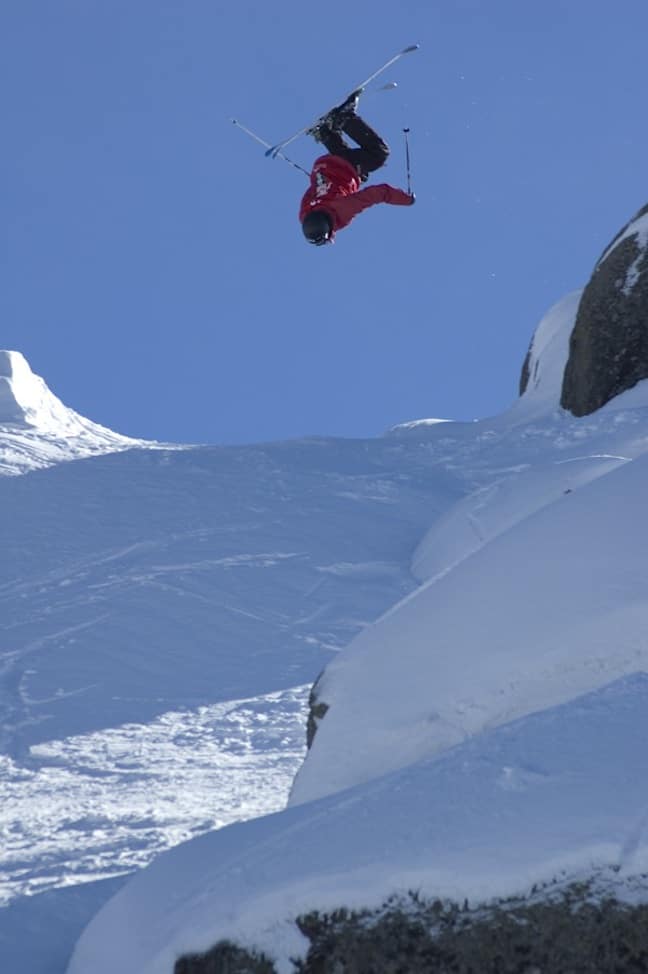 Watkin in the Rip Curl Pro. Image:: Hanno
It was a long night with Nat and Anna in Cooma hospital and just to finish off the bad luck, the finals were cancelled the following day and the qualifying results were taken. This meant that Nat finished 3rd, Anna 2nd and me 1st. In the men's, Watkin finished 1st, Johny Lipsker 2nd and Luke Kneller 3rd.
My week was finished off with judging the Australian Mogul Championships at Perisher. There was a strong field of competitors with Japan, China, Canada, USA and Great Britain's teams all competing. Young gun Brit Cox threw down a solid run on the second day to finish the first Aussie followed by Nicole Parks. Rowen Chapman-Davies had a smoking top to bottom with near perfect airs. He was the 1st Australian and finished an awesome 3rd overall. Great work!
My week was full on – there were laughs, tears, powder, giant cheques, rock drops, hospitals, rain, snow, and so many Km's of open road. I can't wait for next year!
Don't forget the Chicks with Stix Throwdown on this weekend in Buller! visit the Chicks with Stix Facebook page
Falls Creek forecasts,
snow reports and
live snow cams.
Mount Buller forecasts,
snow reports and
live snow cams.
Thredbo forecasts,
snow reports and
live snow cams.