Friday 17 August
Synoptic Outlook:
The latest snow depths at Spencer's Creek were measured yesterday. We're up at 203.9cm! That's above the long term average of 195cm. Hefty snowfalls this weekend will be the icing on the cake.
Cold westerlies tilt to the NW today, before the next cold front hits during Saturday. This is a nice juicy system and is backed up by a trough, so snow will continue to fall through Sunday, as does the freezing S-SW winds. We can expect 20-35cm or more snow to fall this weekend. WOW! A ridge starts to build later on Monday to settle things down.
Image Of The Day: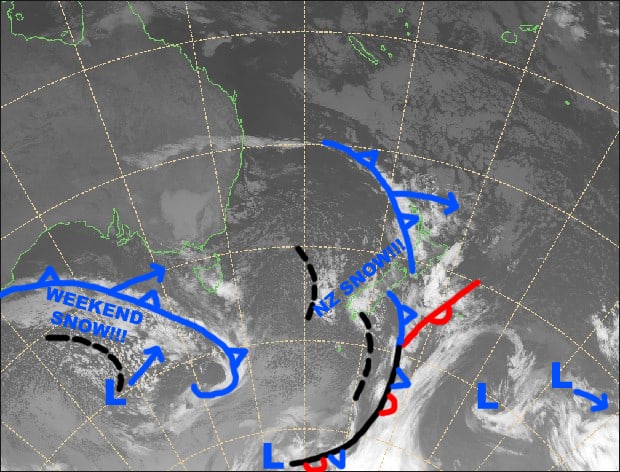 Not too bad a day up the hill today, but what we're really waiting for is the snowstorm this weekend. Source:: Metservice (vandilised by the Grasshopper)
Friday 17 August:
Partly cloudy with the odd snow flurry, while westerly winds turn to the NW.
Saturday 18 August:
A dumping of snow as the front passes through during the morning and gale NW winds change to a freezing westerly. Then we'll have snow showers for the rest of the day.
Sunday 19 August:
Snow showers continue as freezing gale SW winds turn to the south, brrr!
Monday 20 August:
Any remaining snow flurries clear early, but it'll remain rather cloudy as strong southerlies ease.
Extended Outlook:
There might be a wee dusting on Tuesday as a front grazes the Aussie Alps, then the ridge will continue to build during Wednesday. From then on, things look uncertain, but there is a good chance a low will track within the vicinity of SE Australia next Friday and possibly next Saturday. I will be able to shed more light on this scenario closer to the time, so keep checking in.
That's all from the Grasshopper. Wanna keep your finger on the pulse of all things snow? Join my weekly email list by filling in the box below. If you have a question or feedback for me, hit me up on facebook.
View More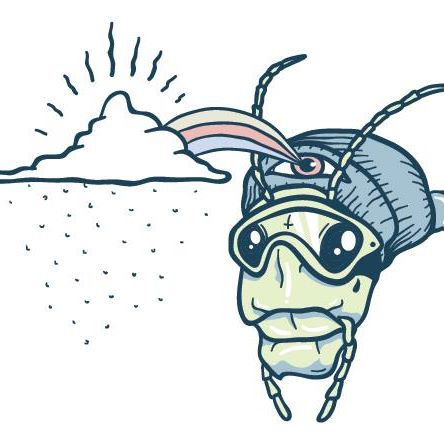 Follow The Grasshopper
Your Weekly Forecast Email