Saturday 18 August
Synoptic Outlook:
There's snow falling on Ruapehu today, while a southerly change sweeps up the North Island. It'll be an epic day on the South Island today after fresh powder fell yesterday and a ridge brings sunshine and lack of winds. The ridge continues over the North Island during Sunday, while northerly winds pick up over the South Island. A low approaches from the Tasman Sea during Monday and pushes it's front over the country with snowfalls for all. The low itself meanders over the South Island during Tuesday with another dusting of snow for Aotearoa.
Image Of The Day: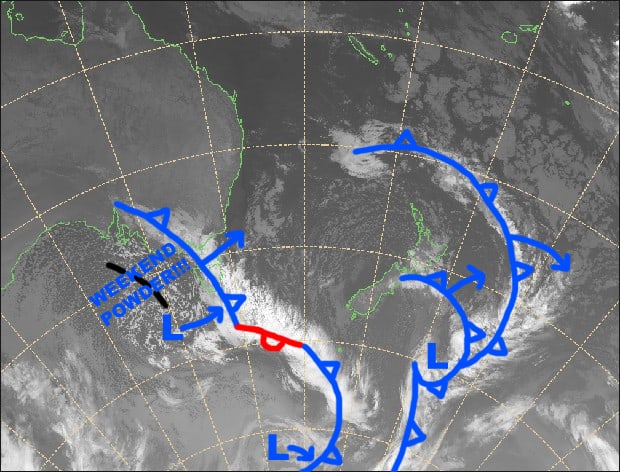 Clear, calm skies on the South Island today, with fresh powder to shred – perfect! Snow showers on Ruapehu today, but tomorrow it'll all be sunshine and smiles. Source:: Metservice (vandilised by the Grasshopper)
Saturday 18 August:
An amazing clear, calm day up South Island ski fields. Snow showers on Ruapehu will clear this evening, after westerlies change to the south this morning.
Sunday 19 August:
An epic sunny day for everyone! SW winds on Ruapehu dying out while northerly winds strengthen over the South Island.
Monday 20 August:
A period of snow for the South Island as the front passes over. Snow developing on Ruapehu with heavy falls, but it might be a bit wet and slushy on lower slopes. Strong or gale northerly winds, easing over the South Island later in the day.
Tuesday 21 August:
Snow showers and strong or gale NW winds. Mostly cloudy on the South Island with a dusting of snow. Light winds over the Southern Lakes, while NW winds over Canterbury die away.
Extended Outlook:
Another low crosses the country late Wednesday and Thursday, with healthy snowfalls for Canterbury and Ruapehu. A high should build over the country next weekend, bringing more sunshine and smiles.
That's all from the Grasshopper. Wanna keep your finger on the pulse of all things snow? Join my weekly email list by filling in the box below. If you have a question or feedback for me, hit me up on facebook.
View More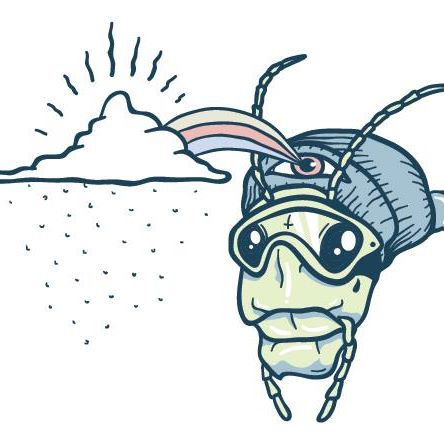 Follow The Grasshopper
Your Weekly Forecast Email