Monday 24 September
Synoptic Outlook:
Winter has returned! Snow is spreading up NZ as a low just to the east sends freezing S-SW winds over the country. Another cold front brushes the lower South Island during Wednesday with a wee bit more snow falling over the Southern Lakes, while southwesterlies will continue to drop snow onto Ruapehu through Thursday.
Image Of The Day: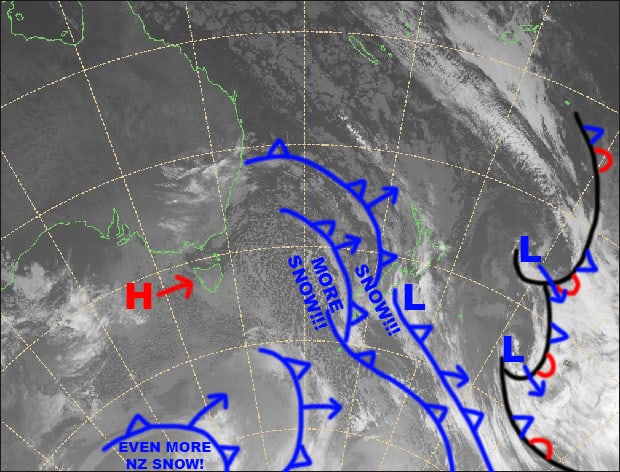 Winter is making a revival today, with a blast of freezing snowy S-SW winds. Book in a powder day for Canterbury tomorrow and the Southern Lakes later this week. Source:: Metservice (vandilised by the Grasshopper)
Monday 24 September:
Snow for everyone! Snow will set in later this morning and there could be heavy falls, especially in Canterbury from afternoon. Southerlies developing over the South Island, while strong westerlies blow on Ruapehu.
Tuesday 25 September:
A partly cloudy day for the Southern Lakes and there might be a snow flurry or two. Becoming fine in Canterbury during the morning, where it'll be a great powder day. Strong SW winds developing over the South Island. Snow dumping on Ruapehu, but it'll ease to the odd snow shower in the afternoon while gale westerlies turn SW.
Wednesday 26 September:
A few snow showers for the Southern Lakes, while it'll be fine and dandy in Canterbury, with strong to gale SW winds. A few snow showers on Ruapehu with gale W-SW winds.
Thursday 27 September:
A bit of cloud still hanging about the Southern Lakes, but it'll be fine in Canterbury. There'll still be the odd snow shower on Ruapehu. Strong SW winds over the country will gradually ease.
Extended Outlook:
A ridge will cruise over NZ during Friday, marking the end of the wintery blast. However, an active front will cross the country during Saturday with another fair dollop of snow for ski fields. High pressure should build during Sunday, bringing settled weather and a perfect opportunity to get neck deep in all this fresh snow. Enjoy!
That's all from the Grasshopper. Wanna keep your finger on the pulse of all things snow? Join my weekly email list by filling in the box below. If you have a question or feedback for me, hit me up on facebook.
View More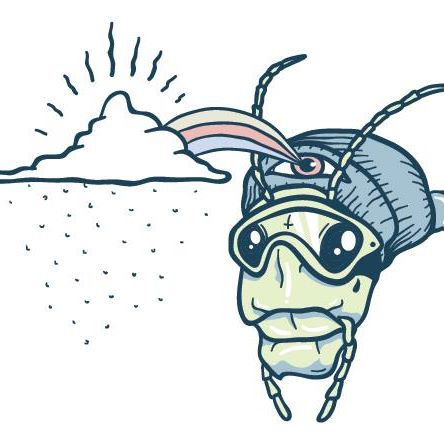 Follow The Grasshopper
Your Weekly Forecast Email