Wednesday 26 September
Synoptic Outlook:
A freezing southwesterly airstream is blowing over the country, making it feel like winter again. All ski fields have had a good dollop of fresh snow within the past couple of days and there will be more snow showers for Ruapehu and Queenstown fields today. This is spring skiing at its best folks! The southwesterlies will gradually ease on Thursday as a ridge builds, which will then will move up to the North Island during Friday, allowing northwesterlies to kick in over the South Island. The northwesterlies will then then blow a gale on Saturday before the next frontal system starts dumping snow onto the Southern Lakes later in the day.
Image Of The Day: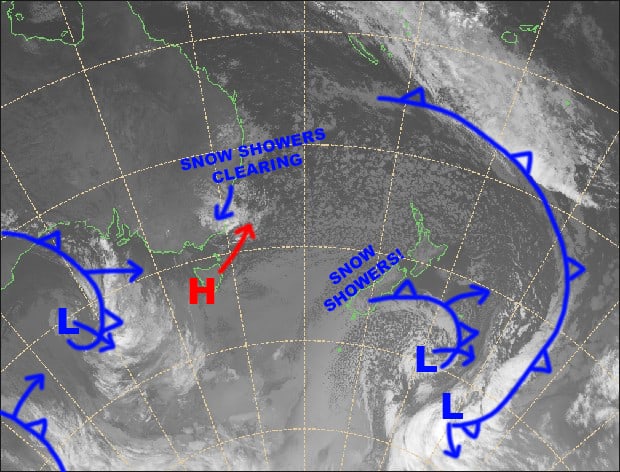 You wouldn't think the season was almost over with these cold temps and all the fresh snow we've had. There's still more snow to come too, woohoo! Source:: Metservice (vandilised by the Grasshopper)
Wednesday 26 September:
Strong to gale southwesterly winds will push in a few snow showers onto Queenstown and Ruapehu ski fields, while it'll be mostly sunny and chilly for Wanaka and Canterbury fields.
Thursday 27 September:
Cloud still hanging about Queenstown, but it'll be mostly fine in Wanaka and Canterbury. There'll still be the odd snow shower on Ruapehu. Cold SW winds over the country will gradually ease.
Friday 28 September:
Nice and sunny for the South Island with a NW breeze developing. A fine start on Ruapehu with a westerly breeze, but there'll be some cloud and a snow flurry or two in the afternoon.
Saturday 29 September:
Mostly cloudy for the Southern Lakes and it'll start snowing from late afternoon, while it'll be fine with high cloud for Canterbury. NW winds will rise to gale over the South Island. For Ruapehu, there'll be some afternoon cloud and a snow flurry or two in the afternoon as well as a westerly breeze.
Extended Outlook:
The front that crosses the South Island on Sunday will dump snow during the first half of the day, but it might be more of the wet stuff on Mt Hutt. The front will stall and weaken over Central NZ during Monday, then another cold front will cross the South Island on Tuesday, dumping yet another wad of powder onto ski fields. The cold front will be super weak as it crosses the North Island next Wednesday, while a ridge moves up the South Island, giving us a perfect spring powder day.
That's all from the Grasshopper. Wanna keep your finger on the pulse of all things snow? Join my weekly email list by filling in the box below. If you have a question or feedback for me, hit me up on facebook
View More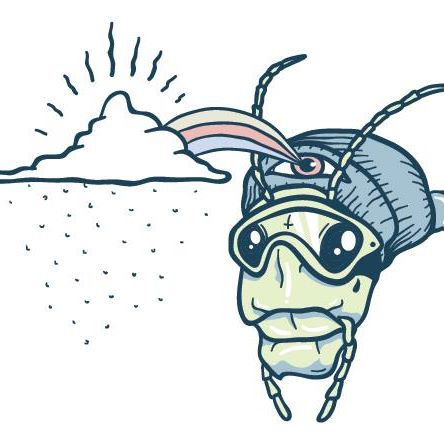 Follow The Grasshopper
Your Weekly Forecast Email