Monday 19 August – Picture perfect on Ruapehu today, heavy snow for the south tomorrow
Synoptic Outlook
High pressure that gave the South Island a clear, calm day yesterday has drifted onto the North Island, so now it's Ruepehu's turn to be picture perfect.
Northwesterlies pick up over the country before a vigorous front brings a period of heavy snowfalls during Tuesday, eventually reaching Ruapehu at night where it'll fall as rain on lower slopes. We could expect about a hefty 20-40cm to fall on the Southern Lakes, 5-15cm on Canterbury, and around 10cm or more on upper slopes of Ruapehu.
Hot on the heels of that is another front, which will give the South Island a scattering of snowfalls Wednesday night and a heavy dowsing of rain and snow on Ruapehu.
An associated low-pressure system will then meander up the Tasman Sea, while NW winds ease over the South Island but continue to blow a gale on Ruapehu, coupled with that sloppy mix of rain and snow.
Image of The Day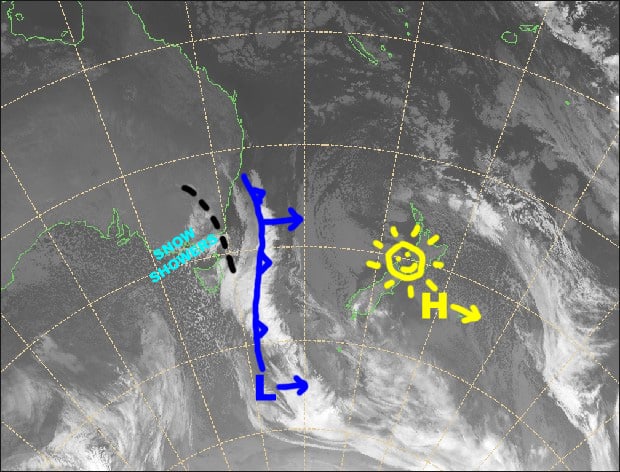 A ridge of high pressure lies over the North Island and there won't be a cloud in the sky over Ruapehu today. That vigorous looking front in the western Tasman Sea will bring heavy snowfalls tomorrow. Source:: NZ Metservice (vandalised by the Grasshopper)
Monday 19 August
Northwesterlies pick up over the South Island, reaching gale in exposed places by days end. However, it'll be mostly fine with a bit of high cloud, more so over the Southern Lakes.
Ruapehu is picture perfect with not a cloud in the sky. Chilly easterly breezes turn NE.
Tuesday 20 August
A rough but snowy day for the South Island. There'll be a period of heavy snowfalls as a front pass over the Southern Lakes during the morning, and then Canterbury during the afternoon where it may be a little slushy and sleety on lower slopes. Severe-gale northwesterlies with blizzard conditions, becoming lighter and colder behind the front.
Cloud building over Ruapehu while northerly winds strengthen. There might be a snow flurry or two from afternoon, turning to rain at night with snow on upper slopes.
Wednesday 21 August
Partly cloudy for the Southern Lakes, but clear skies over Canterbury. NW winds strengthen over the South Island and there'll be scattered snowfalls at night.
Heavy rain and snow on Ruapehu before dawn, leaving snow showers for the rest of the day. Stiff westerly winds.
Thursday 22 August
A fairly cloudy day for the South Island, but there should be some sunshine thrown into the mix too. NW winds, gale to start with in Canterbury then easing.
Rain on Ruapehu with heavy falls during the morning, falling as snow mostly above 1700m. Gale NW winds with blizzard conditions.
Extended Outlook
The low-pressure system should pass over the centre of New Zealand during Friday. Ruapehu will continue to cop most of the flak with heavy snow and rain in a strong NW flow. Cold southerlies over the South Island could see another 15-20cm of high quality powder added to Canterbury fields where over two and a half metres has already fallen this season – that's mental!
A weak ridge of high pressure pushes over the country during Saturday, followed by a strong westerly flow through Sunday.
That's all from the Grasshopper. Wanna keep your finger on the pulse of all things snow? Join my weekly email list by filling in the box below. If you have a question or feedback for me, hit me up on facebook.