Wednesday 19 June – A few dustings for the South Island and a mish mosh for Ruapehu
Synoptic Outlook
The big lovely high over the country will be shoved out east tomorrow as a low-pressure system approaches from the Tasman Sea. A front associated with the low will pass over the country late Thursday into early Friday, dropping light-moderate snowfalls over the South Island. While there'll be heavy falls on Ruapehu, it'll unfortunately turn to rain on lower slopes. The low itself will then shuffle up the west coast of the South Island during Friday and Saturday with another couple of light-moderate snowfalls in store for the Southern Lakes and possibly Canterbury too.
Image of The Day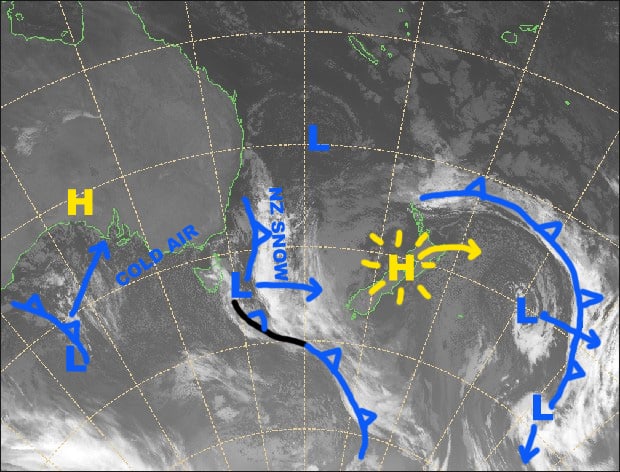 Fine and frosty today under a big lovely high. Low pressure will affect the country from late Thursday through to Sunday. Source:: NZ Metservice (vandalised by the Grasshopper)
Wednesday 19 June
A frosty start to a fine day with light winds. High cloud will build over the Southern Lakes later.
Thursday 20 June
Cloud will build over the country as northerly winds strengthen. Snow will start falling over the Southern Lakes anytime from late afternoon, then Canterbury and Ruapehu later in the evening.
Friday 21 June
Snow will clear the South Island before dawn, then it'll be mostly fine. However, snow flurries will return to the Southern Lakes in the evening. Snow will continue falling on mid-upper slopes of Ruapehu through the morning, but it'll be the wet stuff lower down. Strong-gale NW winds over the country, easing on Ruapehu.
Saturday 22 June
A partly cloudy day for all, and there'll be early snow flurries over the Southern Lakes. More snow for the Southern Lakes after dark and possibly for Canterbury too. Strong-gale NW winds over the South Island will gradually ease, while a lighter westerly blows over Ruapehu.
Extended Outlook
The low mentioned above will cross the North Island during Sunday with potentially good snowfalls for Ruapehu. The low will leave a chilly SW flow in it's wake for Monday, with little snowfall other than a few flurries for the Southern Lakes. A high should build over the country during Tuesday and calm thing down nicely.
Later next week, models are keen on a low from warmer clime swinging by the north of the country. It's too early to call it at this stage, but it may drop snow onto Ruapehu. We'll just have to wait and see with this one.
That's all from the Grasshopper. Wanna keep your finger on the pulse of all things snow? Join my weekly email list by filling in the box below. If you have a question or feedback for me, hit me up on facebook.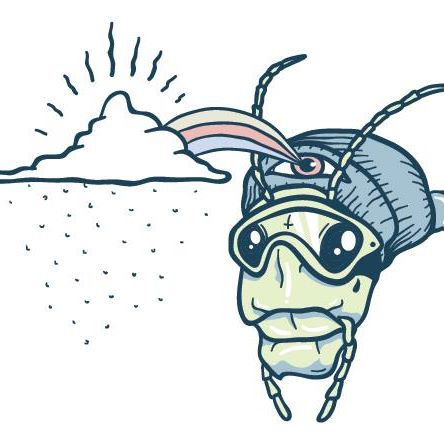 Follow The Grasshopper
Your Weekly Forecast Email