2010 Burton NZ Open Ready To Roll
August 4th, 2010

Release from the TTR World Snowboard Tour.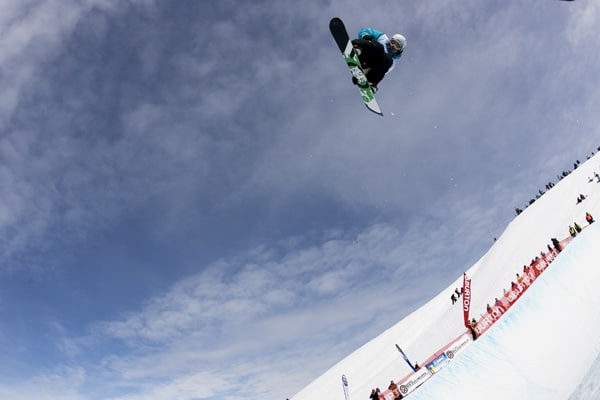 Australia's Nate Johnstone was launching huge switch frontside 1080 melons first hit in the pipe at the 2009 NZ Open. The 2010 event will be Nate's comeback event after a broken ankle.
The southern hemisphere's premier snowboarding event, the eighth annual Burton New Zealand Open (BNZO), is all set to take place 10-14 August 2010 at Cardrona Alpine Resort in Wanaka. With elite athletes from around the world converging to compete in both Slopestyle and Halfpipe, and a share of the NZ$50,000 prize purse, the action promises to be intense from the outset.
The BNZO kicks off with a day of official training on Tuesday 10th August. Later that night the Open 'Sessions' get under way with the official launch party from 9pm at Lonestar Wanaka, featuring tunes from the Peacekeepers. Free tickets will be available through local Burton retailers, but only the first 650 people will be allowed entry.
Competition begins on Weds 11th with the Slopestyle pre-qualifiers and qualifiers. The field will be whittled down to just 10 men and 5 women, who will advance to join invited riders in the semis later in the week. The first Open Sessions after party takes place from 10pm at the Opium Bar that evening, featuring Queenstown music icon Downtown Brown.
Thursday 12th is the Halfpipe pre-qualifiers and qualifiers, again with the top 10 men and 5 women earning the privilege to advance once the dust has settled. The Opium Bar hosts another after party from 10pm, this time featuring DJ Reno.
Things step up a notch on Friday 13th, with the Slopestyle semi-finals and finals. Keep an eye out for invited riders like current TTR tour leader Gjermund Braaten of Norway, and defending women's champion Jamie Anderson of USA, as well as top Kiwis Stef Zeestraten and Shelly Gotlieb. The 42 men and 21 women in semi-finals will be narrowed down to 8/6 respectively for the finals.
Saturday 14th August is the final day of competition, with the Halfpipe semi-finals and finals. Riders to watch for today include Japanese ripper Kazuhiro Kokubo who placed 3rd last year, and won the US Open earlier this year, as well as defending women's champ and two-time Olympic medallist Kelly Clark of USA. Once again the field of 42 men and 21 women will be narrowed down to 8 and 6, with the finals kicking off at 1:30pm.
The Burton NZ Open marks the first stop on the prestigious Burton Global Open Series and is also a 5Star event on the Swatch TTR World Snowboard Tour. Full details and updates are available via www.opensnowboarding.com and the event will be webcast live on www.go211.com
Coronet Peak forecasts,
snow reports and
live snow cams.