Falls Creek annual Big Air event is this weekend
August 11th, 2009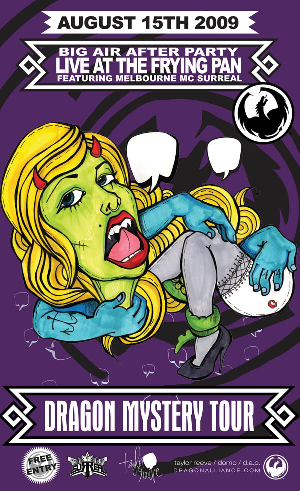 Big Air is as the name suggests an event which features skiers and boarders carrying out manoeuvres which guarantee spectator approval.Plus the open jam format provides numerous spectacular visuals and the serious competition aspect means that the two jumps the riders nominate are the ones they really have to Œstick¹ for judging.
The outcome of the annual Air and Style's Big Air is determined by a panel of three invited judges who'll score each entrants effort based on manoeuvres with various degrees of difficulty. Participants will not only fly high but include Amplitude, Execution and Difficulty, in their chosen jumps during the money round.
It isn't just the bragging rights that will attract some of the biggest names on the freeride circuit (but it helps), it is the opportunity to match motors with other riders.
The annual carnage (entertainment-plus) is always a fun event and this year¹s Big Air will no doubt live up to expectations.
Presentations will be held at The Frying Pan Inn followed by a Dragon-sponsored after party with Melbourne DJ Surreal hired for the gig.
Whilst this event is for experienced snowboarders and skiers only (helmet compulsory) there's always an enthusiastic amateur prepared to keep the crowd enthralled with amazing aerial performances.
Entries of $40 per competitor should be in to the Falls Creek Race and Events Office by no later than 9am Saturday 15 August.
Don't miss the non-stop action outside this Saturday 15 August at Falls Creek Alpine Resort.
For more information contact Falls Creek Race and Events 03 5758 1026