Holly Lands On The Podium At Mammoth
January 7th, 2010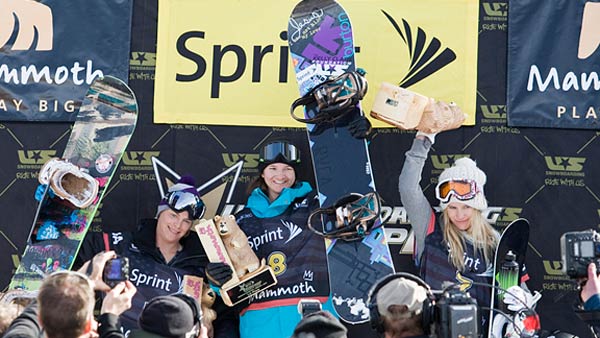 Australian Holly Crawford has achieved her first podium result for the season at the second stop of the US Snowboarding Grand Prix at Mammoth Mountain, California. With a third place finish Holly not only earned the respect of fellow competitors, she also threw her hat in the ring as a serious medal contender for the Vancouver 2010 games.
Kelly Clark (USA) took out the women's final and in doing so secured herself a spot on the USA team for the 2010 games, which will be her third Winter Olympics. Kelly's run included a frontside air, backside 5, frontside 9, backside air, frontside 7, and finished with a cab 7. Coming back from a shoulder injury sustained at the first Grand Prix at Copper Mountain, Colorado was second placed Hannah Teter (USA), her run started with a method, then into a front 5, back 5, front 3, cab 7 and a front 7 to finish. Rounding out the podium was Holly, her amplitude out of the pipe impressed all during the event and with a run that started off with a big Frontside 900, then a backside air, frontside 7, cab 3, frontside 5, and backside air to finish she showed she has a serious chance at Vancouver glory. The result boosts Holly into 2nd place on the FIS World Cup standings for the season.
In the men's, unfortunately the event had been over shadowed by the injury to US Olympic hopeful Kevin Pearce, who suffered a major head injury while training for the event at Park City, Utah a week earlier. The support for Kevin was ever present at the Grand Prix with banners "shouting out" their love, and athletes rocking tributes on their boards, as well as officials updating riders on Kevin's progress. Kevin may not have been physically at the event, but his presence was certainly felt, with all wishing him a strong recovery.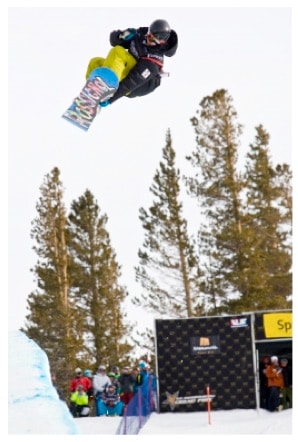 Holly was boosting huge out of the pipe at the Mammoth event. This huge lein air was turning the heads of the top American snowboarders.
Most assumed that Shaun White's (USA) name would land a top the men's final podium, having qualified first and dominated the previous Grand Prix. However, the men's final proved again that you need to be constantly upping your game if you want to have a chance at the Winter Olympics in February. Danny Davis (USA) had the pipe run of his life to prove this, he not only landed back to back double corks he also threw in a third one to show the rest of the field he has stepped it up. The winning run started with a double cork cab 10, then a front 9, straight air, double cork front 10 and finished off with a switch alley-oop double backside rodeo and a score of 49.2 out of 50, which is a record Grand Prix score and three points ahead of second placed Shaun White. Some people are calling Danny's run the best halfpipe run of all-time, which maybe an American over hype, but goes to show with just over a month left until the big Olympic showdown, the gold medal winning run is still to be out on the table.
Shaun's run was a new variation to his Copper Grand Prix run, he started off with a straight air, backside 7, then into back to back double corks, front 5 and an attempted double mctwist to finish off. Third place was tied up between Scotty Lago (USA) and Louie Vito (USA), until Scotty prevailed after a count back.
Australian Nathan Johnston just missed the finals finishing two spots out of the top 16 in 18th position. Australia's other halfpipe contenders are in Europe for the World Cup event in Bad Gastein, Austria, that takes place today, the 7th of January 2010. The second halfpipe event for the Mammoth Grand Prix starts on the 9th of January 2010 giving Nathan and Holly another crack at the podium.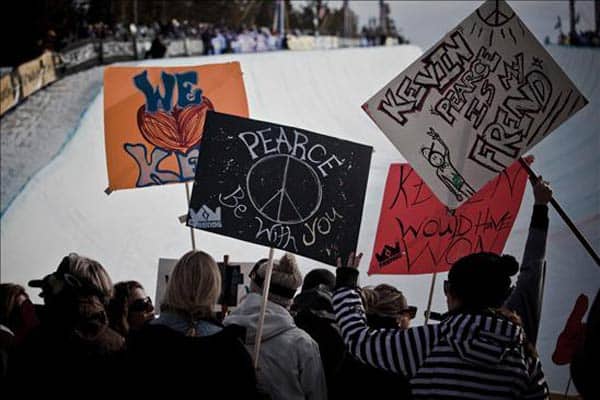 Words:: Paul Colby
Intro Image: (L-R) Holly Crawford in third place behind first placed Kelly Clark and second placed Hannah Teter. Photo by Tom Zikas ESPN Snowboarding
OFFICIAL RESULTS
2010 U.S. SNOWBOARDING GRAND PRIX
Mammoth Mountain, CA – Jan. 7
Men's Halfpipe finals
Danny Davis, USA 49.20
Shaun White, USA 46.20
Scotty Lago, USA 45.00
Louie Vito, USA 45.00
Elijah Teter, USA 44.90
Gregory Bretz, USA 44.50
Jeff Batchelor, USA 43.50
Mathieu Crepel, FRA 43.00
JJ Thomas, USA 41.30
Jack Mitrani, USA 40.30
Andy Finch, USA 39.30
Steven Fisher, USA 38.90
Matthew Ladley, USA 37.20
Justin Lamoureux, CAN 36.50
Brennen Swanson, USA 32.80
Broc Waring, USA 24.90
OFFICIAL RESULTS
2010 U.S. SNOWBOARDING GRAND PRIX
Mammoth Mountain, CA – Jan. 7
Women's Halfpipe finals
Kelly Clark, USA 48.40
Hannah Teter, USA 45.20
Holly Crawford, AUS 44.40
Gretchen Bleiler, USA 42.50
Elena Hight, USA 42.40
Maddy Schaffrick USA 38.70
Ellery Hollindsworth, USA 31.00
Clair Bidez, USA 39.90
Video:

Danny Davis and Kelly Clark post Mammoth Grand Prix Interview. Video: Boardistan
Mammoth forecasts,
snow reports and
live snow cams.