Transfer – Issue 15 – Preview
May 5th, 2014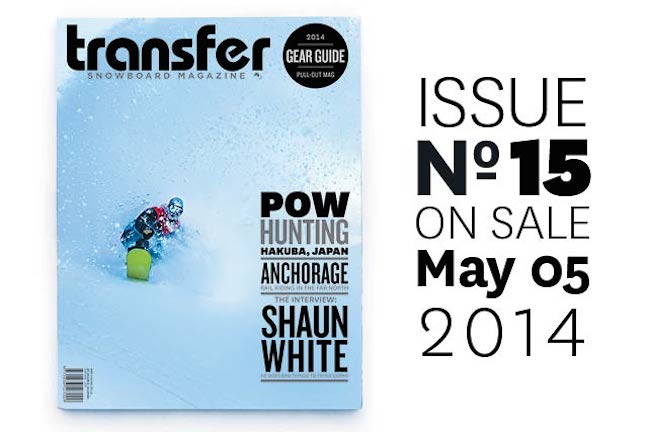 Clint Allan, Hakuba, Photo by Andrew Fawcett
Transfer Snowboard Magazine | Alex Horvath
We are stoked to announce that Issue #15 hits newsstands today. Packed with the best stories and images, this issue captures the essence of Southern Hemisphere snowboarding with added international flavour, it can't be missed.
Issue #15 includes:
Shaun White talks Triple Corks in the pipe, Bad Things and Olympic training, all from the comfort of an East Jindabyne home.
Clint Allan, Ryan Tiene and Dustin Craven head to Hakuba in search of two things: pow and Sake.
Washington natives Alex Yoder, Forrest Shearer and Colin Wiseman steal a boat and go looking for club vibes in New Zealand's deep south.
Jye Kearney, Jake McCarthy and Dan Crean head to Alaska to ride peaks of the steel variety.
Scotty James talks about his whirlwind season, including Olympic disappointment.
2014 Gear Guide – a 36 page pull-out packed with product.

Transfer's Alex Horvath sits down for a conversation with Shaun White in Jindabyne Image:: Gabe L'Heureux

Jye Kearney, Jake McCarthy and Dan Crean head to Anchorage while filming for the "There Goes…" project Image:: Jussi Grznar

Clint Allan, Ryan Tiene and Dustin Craven head to Hakuba with Andrew Fawcett on the 'Road to Sake' Image:: Andrew Fawcett