Monday 23 September – A messy wet front, then cold winds with freshies
Synoptic Outlook
A rather wet looking front will pass over the South Island today then the North Island on Tuesday, messing up the Kiwi snowpack a little.
Fortunately, cold air follows close behind, and after a little bit of snow on Tuesday, about 5-10cm should tidy up the place on Wednesday with the passage of another front.
Cold southwesterlies on Thursday will blow a gale across the country, with a little more snow falling over the Southern Lakes and on Ruapehu.
Image of The Day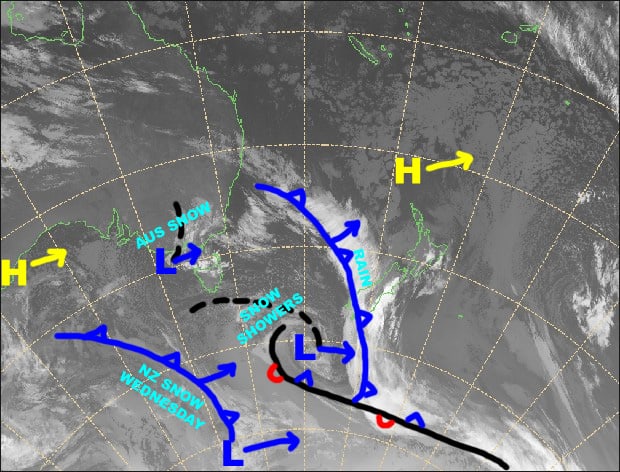 A wet looking front will mess up the South Island today, then Ruapehu tomorrow. Fortunately, cold air and freshies following close behind will tidy up the place. Source: NZ Metservice (vandalised by the Grasshopper)
Monday 22 September
Scattered rain over South Island ski fields, clearing and becoming fine over the Southern Lakes this morning and Canterbury this afternoon, as gale to severe gale northwesterlies abate. Some snow may fall about the tops.
Stiff westerly winds push cloud onto lower slopes of Ruapehu this morning, then there'll be some afternoon showers, falling as snow above 1800m.
Tuesday 23 September
A mostly fine morning for the South Island followed by some light afternoon snowfalls. Chilly westerly breezes.
Heavy rain on Ruapehu, turning to snow during the afternoon as gale NW winds change to a cold southwesterly.
Wednesday 24 September
Snow showers spread up the South Island during the morning as strong NW winds change to the W-SW. Accumulations should be around the 5cm mark.
Westerly winds will be going bonkers on Ruapehu, and occasional snow showers will become more frequent during the afternoon. About 10cm of powder should pile up.
Thursday 25 September
Strong to gale W-SW winds over the South Island push in a few snow flurries over the Southern Lakes, while skies should be mostly clear over Canterbury.
Snow showers continue on Ruapehu while SW winds also continue to blow a gale.
Extended Outlook
Strong to gale W-SW winds continue to blow over the country during Friday, while snow showers also continue to pepper Ruapehu.
A cold front will bring just a dusting to the South Island during Saturday, but rain to Ruapehu during Sunday.
Things look to remain unsettled early next week with the makings of one or two decent snowfalls on the cards.
That's all from the Grasshopper. Wanna keep your finger on the pulse of all things snow? Join my weekly email list by filling in the box below. If you have a question or feedback for me, hit me up on facebook.