2010-11 Snowboard World Tour Kicks Off in Whistler
May 7th, 2010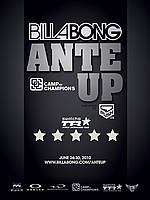 Billabong is proud to announce the Billabong Ante Up, a 5 Star Swatch TTR World Snowboard Tour event, taking place June 26 to 30th in the Camp of Champions terrain park at Whistler Blackcomb. The event will kick off the Swatch TTR World Snowboard tour for the 10/11 season in North America, and will also be a qualifying event for the 6Star Billabong Innsbruck Air and Style event taking place Feb. 5th, 2011.
Billabong Ante Up will be a Big Air event, with the jump being built by Vancouver 2010 Olympic halfpipe builder Steve Petrie of Arena Snowparks. With $50,000 USD in prize money, and a batch of 5Star TTR points on the line, Billabong Ante Up will be drawing athletes from across the globe to compete in late June up on the Blackcomb Glacier. The event will feature 50 riders, with the top 10 Swatch TTR World Tour finalists from the 2009/2010 season receiving automatic invites. The remaining spots will be filled through a registration/selection process that will take place online at www.billabong.com/anteup. Registration is open May 3rd to May 24th, with a list of qualified riders available on the website May 31st, 2010. Additionally, there will be the Push.ca Rail Feature on course after the Big Air jump. While not part of the overall judging for TTR points, riders that choose to hit the feature will all vie for additional awards.
'Having this event in the summer is going to be killer. Everyone loves summer riding, and especially in a place like Whistler. To partner with the Swatch TTR World Tour and all our sponsors was an easy decision, and we're stoked to be getting the world's best riders together for this great event' says Risto Scott, Marketing Director at Billabong Canada.
Whistler  forecasts,
snow reports and
live snow cams.