Billabong Slopestyle 2011 This week at Snow Park
August 2nd, 2011

The Billabong Slope-style (4-star TTR World Tour event) is happening from this Thursday 4th August till Saturday the 6th at Snow Park NZ just outside of Wanaka.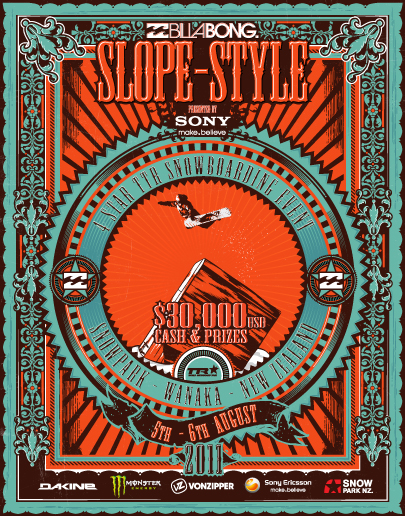 There's lots going on this year and Billabong have stepped it up; they've upped the TTR World Tour rating, they've upped the prize money (US$30k total), they've upped the prizes and they're cramming a dozen or so hits into the Slope-style course, just to make things really interesting.
Some of the world's top park shredders from around the globe are on their way to Snow Park including Antti Autti, Robbie Walker, Clint Allan, 2010 Open Men's winner and local Jake Koia, Sebastien Toutant, Zach Stone & current TTR World Women's Champion Jamie Anderson have all already confirmed their attendance.
There are Open Mens, Open Womens and Juniors divisions. So if you feel like stepping up and having a crack on the best slopestyle course in the Southern Hemisphere at the moment or veen if you just want to come check the comp out and watch the world's best stomp the beejeesus out of some double corks – head up to Snow Park NZ from this Thursday August 4, 2011.
Parties? Yes.
There's a launch party on Thursday 4th, at Revolver Bar in Queenstown.
Our mates from across the ditch in Sydney, Australia, Van She Live, will be playing. We love these guys.
Van She Live are a four-piece who bridge the musical gap between boldly adventurous shoe-gaze and danceable glint disco. Tickets are $10 NZ smackers at the door.
And of course, there's gunna be a preso and after-party for competitors and their guests at the Woolshed at Snowpark. We'll have DJ's dropping some beats and live music to boot. So if you're on the hill, there's only one place to be!
Anyone who is looking to get up to Snow Park from Wanaka, we'll have some free buses running on both competition days. Leaving Good Sports in Wanaka at 8am and 10am, returning from Snowpark at 5pm on Friday 5th. Same deal for Saturday 6th with more buses leaving after the Woolshed party at 11pm and 12am.
Check out the finals video from last years Slopestyle event – get amped.
The Schedule for 2011
August 4th is a practice day!
August 5th-6th Slope-style comp days
August 7th (additional weather day, if needed)
Our mates at Sony are going big with some insane electronic prizes too!
We'll be giving away a crazy 14.2 Megapixel camera that features interchangeable digi lenses. It records in Full HD and has a revolutionary 3D sweep panorama. It's the world's smallest and lightest of its kind. Whoop!
Plus, we have a couple Sony HDRPJ10 Projector Handycams, some 3D Sony Bloggies and more. Better to win these things going big, than dipping into those deep pockets of your at the mall, yeah?
While we have your attention we should tell you the Billabong Slope-style is presented by Sony and made possible with the support of our friends from Monster Energy, Sony Ericsson, Snow Park, DaKine, VonZipper, Mountainwatch.com and Transfer Snowboard Magazine.
Wanna enter? Spots are still available. Get your details in via this registration page – or sign up on wednesday the 4th on the hill.