Billy Hayman wins Australian Rookie Fest in Thredbo
August 6th, 2010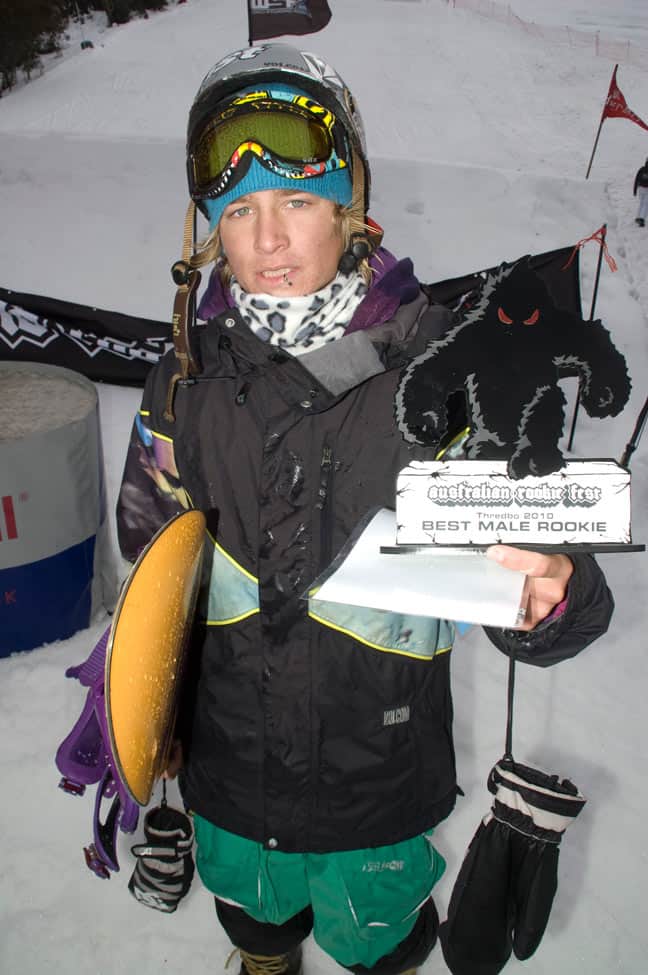 Fifteen-year-old Billy Hayman is the debut champion of the Australian Rookie Fest in Thredbo thanks to a sick run that included some stylish front and back 720s with a myriad of jib tricks to match. Next week the South America Rookie Fest in Valle Nevado, Chile, will take place as the last stop for the Southern Hemisphere of the World Rookie Tour 2010.
Despite an unseasonal downpour of rain the day prior, Thredbo's terrain park crew soldiered on to tirelessly put together a stellar looking slopestyle course. The set up included a 30 stair set complete with both round and flat bar options into a 6 metre box to cliff drop landing. Next was the jump line consisting of a 35ft jump into a 40 ft jump to finish. With the smooth take offs and landings, 540's and 720's quickly became the standard tricks of the top 5 riders in the finals.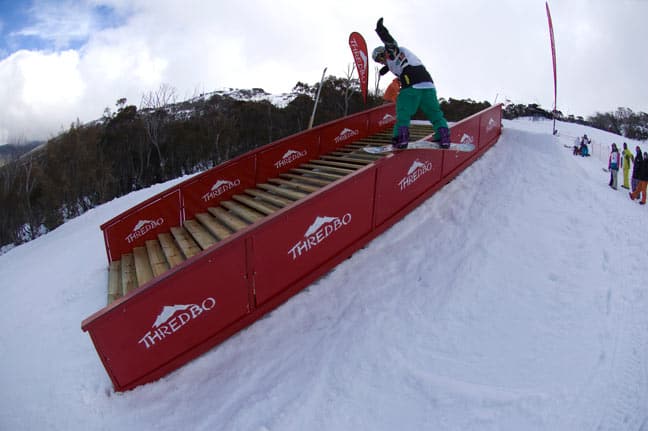 Thursday's rainfall meant the cancellation of the planned air bag session and practice on the slopestyle course. But not ones to let a bit of bad weather sour their moods, the kids remained high-spirited and confident they'd get to shred on the planned competition day on Friday.
The weather co-operated on Friday as the judges, including Australian Olympic halfpipe rider Ben Mates, witnessed some of the best qualification runs ever seen in an Australian junior competition. In what was a difficult field of riders to split, the male rookie group was narrowed down to a five rider final. Billy Hayman's run of front board down the staircase, back tail to same way 270 off the cliff box into a frontside 720 mute and then backed up by a backside 720 Japan was enough to earn him the nod from Jesse Kennedy and Hugh Marsden.
In the female rookie division Lauren Staveley's combination of 50-50s with back and front 360s earned her the win. While in the grom division, Henry Bessell impressed with a winning run of 50-50 down the staircase into another 50-50 to backside 180 out off the cliff box, followed by a cab 540 into a backside 360. Billy, Henry and Lauren all secured themselves an all-inclusive entro to the Livigno World Rookie Fest in Italy and maybe the World Rookie Finals in Ischgl, Austria in the hope of securing the title of World Rookie Champion, an accolade once captured by Australia's own Michaela Davis Meehan in 2009. The prize includes registration, accommodation, meals and lift tickets, while Male and Female rookie winners also won a ride in the Red Bull stunt plane.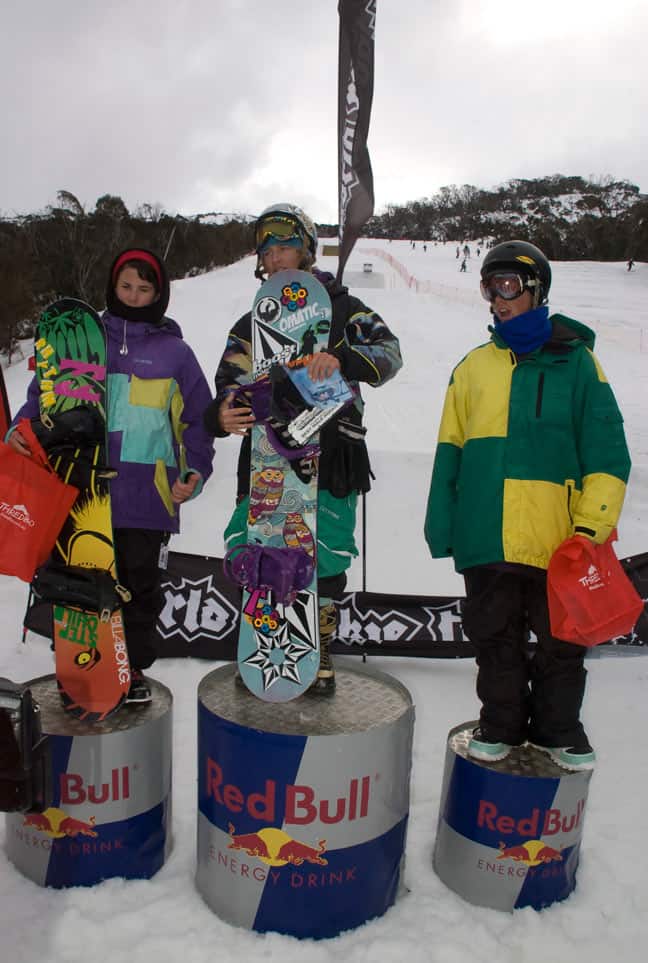 The Australia Rookie Fest 2010 was made possible thanks to Red Bull, Thredbo, Smith Optics, Adrenalin Plus Boardstore, NSW Sport and Recreation, NSW Snowsport and World Snowboard Federation.
Don't miss the upcoming South America Rookie Fest, from the 13th to 23rd August in Valle Nevado, Chile. It will include a 2star slopestyle contest and a 7-day freeride film trip with Red Bull and Ride pro snowboarders. More info will be available in the next few days.
About the World Rookie Tour
The World Rookie Tour is the global snowboard series for the under 18 years old riders. With more than 100 events all over, it offers youngsters a possibility to show their skills and start their Professional Snowboarders career. Today it is the most important scouting platform to discover tomorrow's snowboarding stars. The tour includes freestyle events from 1 to 4Star TTR level, with stops in every nation, and it culminates every season in the Swatch TTR 4Star World Rookie Finals, where the World Rookie Champion is awarded and incredible prizes are assigned. Among the World Rookie Champions are names like Peetu Piiroinen, Christian Haller, Gjermund Braathen, Sergei Lapuski and Roope Tonteri. Instead of money, the prize giving consists of an equal value of prizes to support the winners' career: film sessions, photo shootings, trip and tickets to worldclass events. World Rookie Tour 09.10 winners are assigned a video shooting with Pirate Movie Production, a ticket to the Oakley Arctic Challenge and to the Billabong Air&Style, photoshooting with Onboard Europe, 3 freeride film trip spots to Chile with international RedBull Pros and a trip to New Zealand at the RedBull Evolution Camp. More info on www.worldsnowboardfederation.org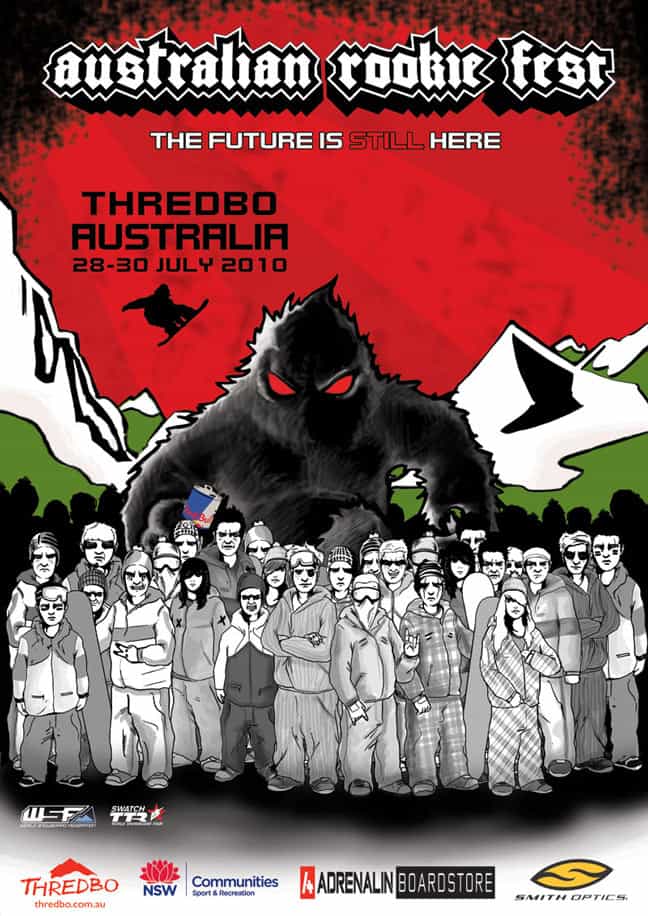 Thredbo forecasts,
snow reports and
live snow cams.