Burton Kicks Off Winter with World's Largest Street Snowboarding Event in Tokyo
November 9th, 2015
img class="alignnone size-full wp-image-1776″ src="https://www.mountainwatch.com/wp-content/uploads/2018/04/Transfer_Logo2-19.jpg" alt="" width="130″ height="40″ />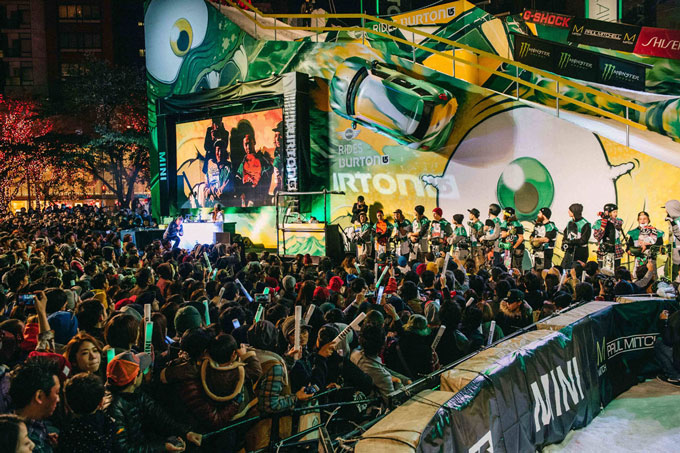 The crowd welcomes the 2014 BRD Field Image:: Supplied
Transfer | Press Release
Burton is officially kicking off the new season in Tokyo, Japan on November 14th hosting the world's largest street snowboarding contest, the 5th annual Burton Rail Days presented by MINI. This event is completely FREE and open to the public, and will once again take place at Roppongi Hills Arena in the heart of Tokyo with 18 of the best international rail riders competing for the $27,000 prize purse. As it does every November, Burton Rail Days is expected to draw a record-breaking crowd to the heart of Tokyo for this all-day festival style event and world-class snowboard street competition.
This year, confirmed riders include Zak Hale (USA), Ethan Deiss (USA), Darcy Sharpe (CAN), Marc Swoboda (AUT), Yuma Abe (JPN), Ryusei Takahashi (JPN) and 2014 Rail Days Champion Zach Aller (CAN). And to make the event even more progressive, 2015 Burton U.S. Open Slopestyle Champion Yuki Kadono (JPN) and Sebastien Toutant (CAN) will bring their mind-blowing slopestyle skills to the street course. In addition, winners of the 2015 Burton Party in the Park qualifying series, Kyle Kennedy (USA) and Tristin Heiner (USA), earned exclusive entry into Rail Days and the opportunity to compete against top pros in Japan. Kyle Kennedy qualified at the Seven Springs, PA Eastern finals event and Tristin Heiner earned his spot at the Brighton, UT Western finals event.
The action starts at 6:00 pm (JST) on Saturday, November 14th on an exciting redesigned Snow Park Technologies street snowboarding course that will allow riders to choose from multiple new line and feature combinations. Riders will battle it out on this fluid course that rewards both creativity and progression with spectators getting front row access to the action.
"I always look forward to Rail Days in Tokyo," said Burton team rider Zak Hale. "Burton always puts on such a fun event, and the crowd in Tokyo is always hyped—it's just a good time. The course looks really fun for this year, and it looks like we'll be able to put together even more of a run with multiple hits."
In addition to the excitement of watching top professional snowboarders compete live and in person, Burton Rail Days also includes all-day activities for the entire family leading up to the competition. The venue opens to the public from 11:00 am – 5:00 pm on November 14th with an interactive sponsor village featuring, food, fun, giveaways and more. Kids ages 3-6 years old can also learn to snowboard for free on mini park features in the Burton Riglet Park. The excitement builds with a musical performance by the "Godfather of Japanese Hip-Hop" DJ Ta-Shi leading up to the night's main event.
WEBCAST DETAILS:
If you can't make it to Tokyo to see Burton Rail Days in person, you can follow it live online using the hashtag #BurtonRailDays and on BurtonRailDays.com, where you'll find all the details to watch the live webcast, which is being offered in both English and Japanese languages this year, as well as on-demand full webcast replays, highlight videos, winning runs and more. U.S. viewers can check their local listings for additional airdates of the Burton Rail Days Highlight show as well as the entire Burton Global Events Series programming on Fox Sports 2 later this winter.
And for those in Japan, be sure to stop by the MINI booth at the Burton Tokyo store from November 7th–13th between 10:00 am – 8:00 pm (JST) for a chance to win VIP tickets to attend Burton Rail Days and to check out the latest MINI Crossover.
Burton Rail Days Webcast Schedule on BurtonRailDays.com – Saturday, November 14th:
Japan Time Zone
Start Time: 6:00 pm (JST)
Australia Time Zone
Start Time: 8:00 pm (AEDT)
New Zealand Time Zone
Start Time: 10:00 pm (NZDT)
Central Europe Time Zone
Start Time: 10:00 am (CET)
VT, U.S. Time Zone
Start Time: 4:00 am (EST)
CA, U.S. Time Zone
Start Time: 1:00 am (PST)
A special thanks to the following partners for their continued support of Burton Rail Days: MINI, Paul Mitchell, Red Bull, Kawaba Resort, G-Shock, and Hakuba Valley
To win your spot to compete in the 2016 Burton Rail Days event in Tokyo, make sure to look for a Burton Qualifiers event in your region this winter. Dates and locations will be announced at www.burtonqualifiers.com.