Coronet Peak – First Tracks and Night Skiing Start
June 30th, 2010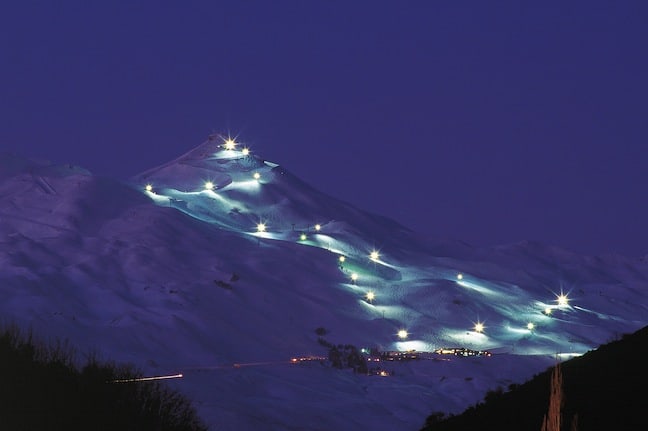 Night skiing at Coronet Peak | Image: Miles Holden
Press Release
It's that time of year again, when night owls and early birds take flight up to Coronet Peak for extended opening hours on the slopes.
Night Skiing officially opens this Sunday (4 July) at 4pm at the closing party for the American Express Queenstown Winter Festival, and will then continue every Friday and Saturday until mid-September (conditions permitting).
The M1, Shirtfront, Big Easy trails and some beginner areas are all open and fully floodlit from 4pm to 9pm allowing skiers and riders of all levels to experience the thrill and incredible beauty of Night Skiing. A range of hot meals and beverages will be on offer during the evening and there will be regular live entertainment.
This Sunday evening, snow-sport enthusiasts can twist and turn under the stars to the beats of New Zealand's leading Reggae/Ska/Dub band, dDub or warm their hands around the braziers on the deck and soak up the atmosphere.
From the following weekend, Saturday nights are to have a family focus offering a whole heap of slope-side fun for all ages, plus a free meal for kids in the Coronet Peak Restaurant with each adult who purchases a main course.
Ski Area Manager Hamish McCrostie said night skiing was very popular with locals and he was keen to encourage a family night out on Saturdays.
"It's a great opportunity for families to have a night out together. Head up around 4pm, ski or board until dinner time and then hit the slopes again before a hot chocolate and home. It's a pretty magical family experience." he said.
"It's also mind blowing for many visitors and holiday-makers. It a whole different atmosphere at night – skiing under the stars then enjoying music and hot mulled wine on the deck, all with views over a sparkling valley – it's very special."
From Monday July 5, the Coronet Express chairlifts will open up for early birds with First Tracks extensions to their passes. The lifts will open from 8am – an hour before they 'officially' open at 9am.
"First Tracks is popular with those keen to ski or ride before work and early risers who look to share the fresh powder and groomed corduroy trails with only a handful of others," said Mr McCrostie.
"The restaurant serves breakfast from 7.30am. It's lovely to catch a hot meal or cup of coffee, before hitting the slopes at sunrise."
Coronet Peak has the longest ski area opening hours in New Zealand with weekend opening times from 8am till 9pm.
Night Skiing lift passes from 4-9pm cost $49 for adults, while Twilight lift passes allowing access from 12.30pm-9pm cost $95 for adults. An adult Sightseeing lift pass costs only $15.
Day Lift Passes with First Tracks cost $128 per adult, or $35 as an add-on for season pass holders.
Operation for both First Tracks and Night Skiing is dependent on weather conditions.
Up to two children (aged 12 and under) can eat for free from the kids' menu with each adult purchasing a main meal at Coronet Peak Restaurant. This offer is available on Saturday nights only. For further details see www.nzski.com
Watch the snow at Coronet Peak! snow reports, forecasts and live snow cams
Coronet Peak forecasts,
snow reports and
live snow cams.