Grenade Games
March 9th, 2009

Grenade Games
Press Release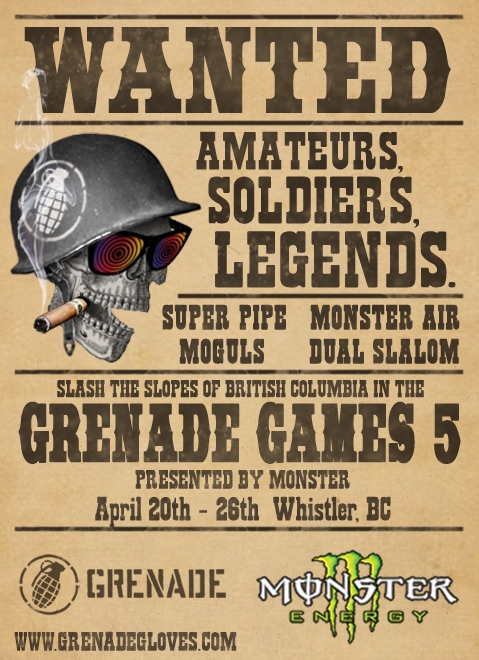 "Come April 20th, Whistler will be changed forever. Grenade <http://www.grenadegloves.com/shop.php> will leave the streets stained with our mark, leaving it to run wild through the streets and into the hearts and minds of snowboarders across the globe."
Monster Energy is proud to announce that it has joined forces with Grenade Gloves to bring the infamous Grenade Games to Whistler, BC during the Telus World Ski and Snowboard Festival this April. Now in their fifth year, the Grenade Games have set themselves apart as the snowboard industries best end-of-season contest and party. Bringing them to Whistler during the WSSF was a natural step to combine two of the biggest spring events into one giant happening.
——-
From the Grenade blog (http://www.grenadegloves.com/news.php?id=471 <http://www.grenadegloves.com/news.php?id=471> ) :
Fifth year running and they still haven't caught us yet (and it's doubtful they ever will for there is far too much momentum behind Grenade <http://www.grenadegloves.com/shop.php> to bring to contain it.)
It doesn't matter if your East Coast, West Coast or French for that matter. Grenade <http://www.grenadegloves.com/shop.php> takes all kinds for our worldwide pandemic. The infection path can't be stopped, analyzed or resisted and as such, no border could ever contain us. Therefore, Grenade Games has decided to take our infamous event up to Whistler BC for Grenade Games V.
———
We don't care if you're too busy because you have to attend your granpappy's 100th birthday. You better plan on taking him, oxygen tank and all, or we will find you. At the Games he will get to enjoy the high altitude slopes of Whistler for an event unlike any other in the world. There are no boundaries to this year's Grenade Games, to embody the nature of our daily work, mutually dissident and dissonant. Father time will have to prepare himself, as we strap him to a board and send him flying towards the Super Pipe. But if Pipe isn't his style, as could be expected with any senior citizen, he can try his hand at a number of other events Grenade <http://www.grenadegloves.com/shop.php> has planned this year.
Including but not limited to:
Monster Air // Super Pipe // Sleeping next to supermodels // Dual Slalom Moguls // Mini Ramp Contest // Sunday Munch // Panic'd Poker Run // Earth Shaking – Pocket Breaking Parties // Sleeping next to your buddy's wet feet.
SCHEDULE:
• April 20th – Registration and Welcoming Party
• April 21st – Panic'd Poker Run (Contestants will collect cards from all over Whistler and Blackcomb Mountains. Once back to the village, they will play their hand. Winners advance to the final round in front of the crowds, with cash, prizes and bragging rights on the line.
• April 22nd – Dual Slalom Moguls: These aren't your traditional one-piece, skier moguls. Throw some hang time and slushballs and prepare to get radical.
• April 23rd/24th – Superpipe: Best Pipe Jam of the year…
• April 24th – Mini Ramp Contest: Showcase your skills in a massive game of s.k.a.t.e.
• April 25th – Grand Finale (Monster Air): Rider-designed course with features bigger than your frazzled brain can handle.
• April 26th – Sunday Munch: Time to stuff your face, and give your fragile body some time to rest.
Quotes:
"I've been to all but one, hoping to make it four out of five. What's that date again, my memory is a little foggy?" – Andy Wright <http://www.andywrightphoto.com/>
"This is going to go down in history!" – Kevin Casillo
"My parents told me about things like these. I dunno if it's such a good idea". – Tim Humphreys
Whistler  forecasts,
snow reports and
live snow cams.