Hotham snowmaking goes into action for 2010
June 7th, 2010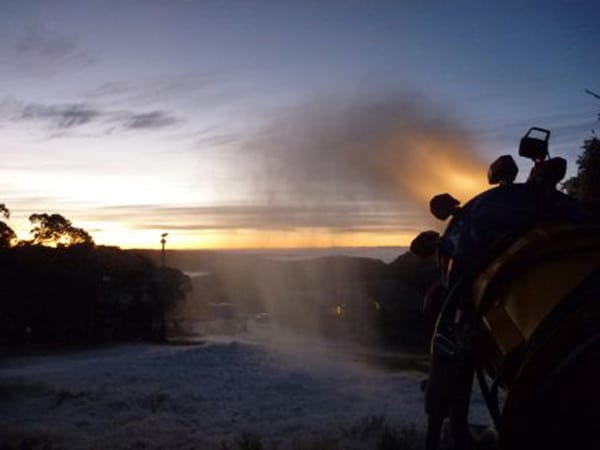 Hotham fired up the snowguns overnight following some favourable conditions presented by Mother Nature. With only 7 sleeps to go, the snowmaking has commenced in preparation for next weekend's season opening.
Snowmaking started around 1am on Saturday morning and has been running since then. The Main Line (Heavenly Valley and Village areas) and Big D Systems were started and around 400 cubic metres had been produced by 6am.
With temperatures at around 1.5 degrees but humidity at a favourable 30 percent, it was fantastic to get the new snowmaking system pumping out the flakes. Hotham Skiing Company invested an additional $1.7 million in snowmaking over the summer period. This included the installation of 22 new TechnoAlpin Fan Guns that will increased overall snowmaking production across the mountain by 40 percent.
The additional guns bring the resort's total snow gun network to 77 high-output fan guns. This coverage across beginner, intermediate and advanced terrain includes 100% gun coverage on Hotham's signature runs of Imagine, Snake Gully and The Canyon plus key access trails such as Mother Johnson's Return.
Snowmaking helps to develop a solid base for the season, top up high traffic areas and keep popular access trails and ski areas open for longer.
Keep track of Hotham's snow with the forecasts,
snow reports and
live snow cams.
Hotham forecasts,
snow reports and
live snow cams.