Interview – Absinthe Films' Patrick Armbruster
August 21st, 2014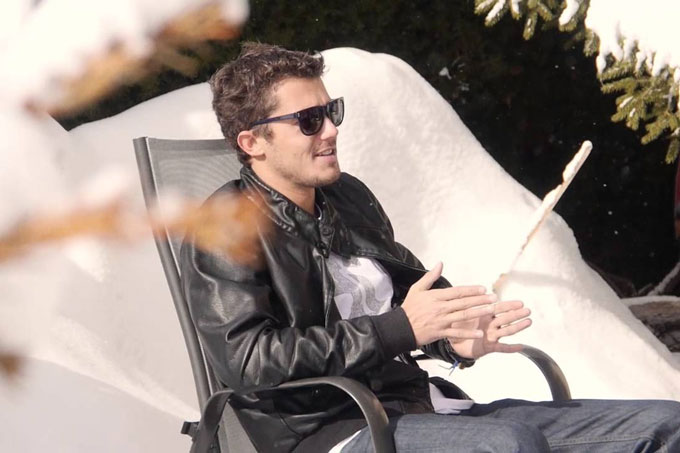 The face behind that 16mm camera, Pat Armbruster. Image:: Supplied
In partnership with Garage Entertainment
Mountainwatch | Alicia Monasso
For the last 16 years, Euro-based Absinthe Films have been dropping a movie every year that redefines how we look at snowboarding films. Their latest release, Heavy Mental, is due out later this year and is set to join its back catalogue classics: Resonance, FutureProof, Twe12ve, Vivid, Transcendence and Neverland, which is available available for a limited time to watch for free, courtesy of Garage Entertainment here
We caught up with Absinthe Founder, Patrick 'Brusti' Armbruster, to chat about the new movie, the old movies and how Absinthe has maintained its legendary legacy. 
Can you tell us a little more about your new movie, Heavy Mental?
Brusti: Well, you know I can't. It's still getting finished and the editor, Justin Hostynek has been keeping it real close. But it is Absinthe films so you can expect rad snowboarding, hot new talent, new young faces, a surprising cover face, Manuel Diaz from Chile, so that's unusual. Plus, a lot of steep and deep terrain.
How is it different from the very first movie you put out?
We started out in the late '90s aiming to give the European riders a platform to show what they're doing. At the time, all the films were all coming out of the US and the movies were so important as that's where the progression in snowboarding was coming from. We saw the potential of the riders we had, guys like: Romain de Marchi, Nicolas Müller, Wolle Nyvelt, Gigi Rüf and Nicolas Müller. So that was the creative spark and motivation to start a film production company.
When did you start to use non-Euro riders?
When our first film came out back in the year 2000, it was entirely European riders. Then in 2001 we added our first American rider, a young Travis Rice riding in Mammoth. From there we slowly started to add riders from all over the world. The idea has remained the same. To show the young and hungry riders performing the most progressive and clean snowboarding in the best terrain.
How would you define the signature style of an Absinthe movie? 
Justin has been the driving force on the filming and editing side and always has the last say in the music, which makes sense being the editor. He has a great talent for picking the right tunes. He only shoots 16mm film so that also adds to the unique signature and feeling of our films. When I look back on our movies, I think I can say they have stood the test of time. You can dig most of them out of the archives and still enjoy it to this day. I think this shows they are still relevant thanks to that quality.
Did you ever think you would come this far in snowboarding?
No way. I mean I was the biggest fan of snowboarding and I had this shitty job and I use to lug snowboarding magazines in to work everyday. So back then, not in my wildest dreams did I ever think that I would have a say in the direction or even become a driving force in the way we see snowboarding.
And what's next for Absinthe?
We have started on working on a signature movie with Nicholas Müller. That will be the biggest project we have ever worked on. It is a movie that will encompass the history of snowboarding and will follow Nicholas' career and timeline and touch on some of the key moments in snowboarding, plus the idols that inspired him. So that's a movie with real beef.  Hopefully in one year's time we will be able to present to the world [adopts comic Hollywood trailer voice] "The greatest snowboarding movie of all time…"