Lift Tower Collapses at Turoa
June 18th, 2010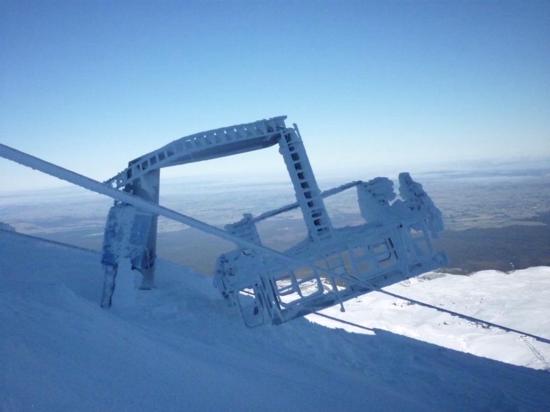 Image | Mt Ruapehu
Source | Otago Daily Times
A key Turoa skifield chairlift will be out of action for the first month of the season after one of its towers buckled this week under the weight of ice.
The tower on the six-seater High Noon Express Chair will have to be rebuilt from scratch after it was bent over sideways as ice naturally released some time on Tuesday, Ruapehu Alpine Lifts (RAL) general manager Dave Mazey said today.
Skifield staff had de-iced the towers and cables on Monday, so the "many tonnes" of ice which caused the damage was a 24-hour accumulation, he told NZPA.
"As the ice releases, the cable starts flicking in a wave action and it's that which puts incredibly sharp shockloads on to the equipment. It literally pulls them over."
The head of the tower was now "hanging upside down just above the snow", he said.
The $13 million lift was opened in 2007, although it was out of action for the first few days after a massive ice build-up automatically shut down the machinery.
Mr Mazey said the "big ice events" experienced at Mt Ruapehu were unlike elsewhere in the world and specifications for the conditions were given to the lift manufacturer at the time of construction.
The top of the field which the High Noon Express services was not skiable this week anyway but one more southerly storm, due early next week, would have brought enough snow to allow it to open.
Reconstruction of the tower had already started and was expected to be completed within four weeks, depending on weather conditions.
Meanwhile, the skifield would open as planned, with the beginners' area opening today and intermediate slopes opening progressively over the next few days, Mr Mazey said.
Turoa is open now, keep up to date with the latest weather and conditions with the forecasts,
snow reports and
live snow cams.
Turoa forecasts,
snow reports and
live snow cams.