MTV Snow Jam 2010 Descends on Thredbo
August 4th, 2010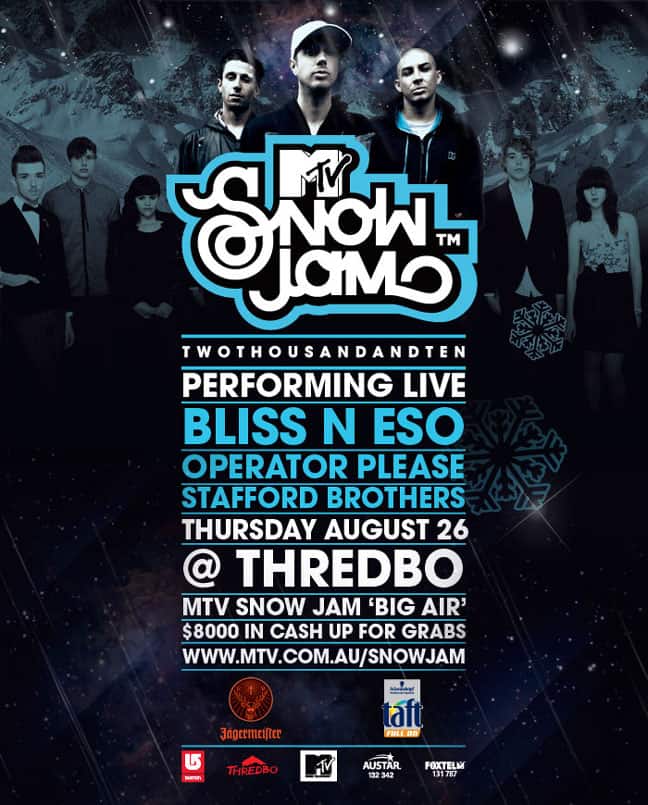 Featuring: BLISS N ESO, OPERATOR PLEASE AND DJ DUO STAFFORD BROTHERS PERFORM WITH FREE CONCERT – THURSDAY AUGUST 26
As part of this year's stellar winter event that is MTV Snow Jam, and in partnership with Burton Snowboards, MTV will bring the Big Air comp to the snow town of Thredbo, NSW. As the crowds build in anticipation of live performances by Bliss N Eso, Operator Please and sibling DJ duo the Stafford Brothers, local and international riders including Canadian Burton pro snowboarders Mark Sollars and last years winner, Charles Reid, will battle it out to win part of an $8,000 cash prize. MTV Snow Jam will take place on Thursday August 26 and will air on MTV Australia Sunday September 5 at 4:00pm (AEST) & MTV NZ Sunday September 5 at 11:00am.
Burton Snowboards have once again partnered with MTV for this year's Big Air snowboarding extravaganza. The one-off MTV Big Air event will act as a spectacular backdrop to one of Thredbo's biggest parties. The Big Air will see riders battle it out at the base of Thredbo with 20 international and locally invited riders competing against five qualifying riders to win a share of the total $8,000 cash purse.
Chris Boadle, Director of events for Burton Snowboards said; "We are really excited to bring a big air to this year's MTV Snow Jam. Big air events are the ideal forum for rider progression and with the calibre of internationals and local riders attending, we expect to see plenty of it."
International Riders set to compete include Canadian Mark Sollars and fellow Canadian and winner of last year's MTV Rail Jam event, Charles Reid. Will Jackways from New Zealand will join local boarding stars Jye Kearney, Clint Allan, Ryan Tiene, Robbie Walker and Chris DeCampo with more to be announced.
MTV Snow Jam will then continue throughout the evening to the sounds of Bliss N Eso, Operator Please and DJ's Stafford Brothers. MTV Snow Jam will take place on Thursday August 26 and will be aired on MTV Australia on Sunday September 5 at 4:00pm (AEST) & MTV NZ Sunday September 5 at 11:00am.
A buzzing alpine village, Thredbo is Australia's premier year-round alpine resort located in NSW's Snowy Mountains. Nestled in a pretty valley, the waters of the Thredbo River meander through the town centre with the mountain on one side, the village on the other and 480 hectares of snow riding bliss to explore. Thredbo will be the venue offering celebrities, performers and assorted VIPs uninterrupted views of the ski fields and action packed show that will be MTV Snow Jam. Thredbo is a six hour drive from both Sydney and Melbourne.
Attracting thousands, MTV Snow Jam was held last year in Falls Creek Victoria and New Zealand for the two years prior and has seen performances by Phrase, Cut Copy DJs, Lupe Fiasco, Savage and Mareko, The Mint Chicks, The Vines, Donavon Frankenreiter, The Grates, The Potbelleez, Cut Off Your Hands, P-Money, PNC, David Dallas, Opshop, Trouble Andrew and Phinesse.
MTV SNOW JAM 2010 WILL AIR ON MTV AUSTRALIA CHANNEL 124
SUNDAY SEPTEMBER 5 AT 4:00PM & MTV NZ SUNDAY SEPTEMBER 5 AT 11:00AM
MTV Snow Jam 2010 is sponsored by Jagermeister and Schwarzkopf Taft Full On. MTV Snow Jam 2010 partners include Burton, Thredbo and Snow FM.
www.mtv.com.au/snowjam
Thredbo forecasts,
snow reports and
live snow cams.