New Air-Bag for Treble Cone Opening June 24
June 14th, 2010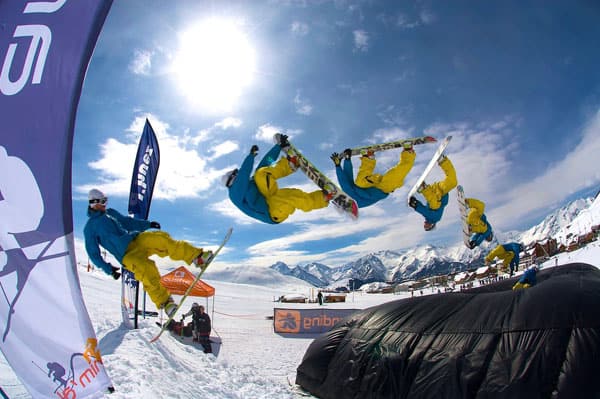 A simlar AirBag to what will be in place at Treble Cone NZ this winterhas been in use this year in Europe.
Press Release
LAKE WANAKA, New Zealand, (June 14, 2010) – Big air and bubbles are the order of the day for Treble Cone Ski Area's opening day celebrations on 24 June 2010 with the New Zealand on-snow launch of The AirBag and Amisfield bubbles for the first 150 skiers on the lift.
After getting their first turns of the season on Treble Cone's renowned freeride terrain, skiers and snowboarders can spend the afternoon testing their aerial skills on The AirBag. The AirBag is a supersized, air-filled stunt cushion that provides a soft landing for skiers and snowboarders. The first time it has been seen in on-snow in New Zealand, The Airbag is used throughout Europe to develop the training techniques of Olympic and national aerial teams.
The giant 10mx15m cushion will be in full view of the Treble Cone deck and high-speed six seater chairlift for onlookers to check out all the aerial action as some of the region's top pro freeskiers and snowboarders put it through its paces.
But it's also great fun for those who have never hit a big kicker and an opportunity to experience what it feels like to hit a big air jump but without the hard landing. Age is no barrier with everyone from age eight upwards able to join in; all they need to be able to do is ski in a straight line!
Treble Cone opens on 24 June 2010 with the first lift at 8.30am. The AirBag is between 12pm and 2pm.
Click Here to watch Mountainwatch.com's new Live streaming Snow Cam at TC.
Treble Cone forecasts,
snow reports and
live snow cams.