The Kiwi Behind the Vancouver Olympic Halfpipe
February 27th, 2010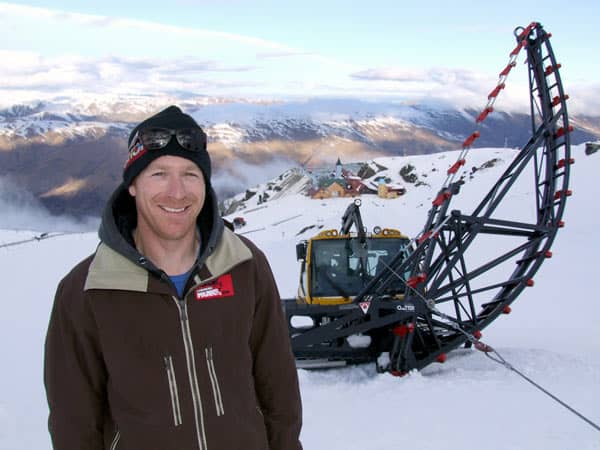 Cardrona Valley, New Zealand (February 26, 2010) – Cardrona Alpine Resort's very own contractor, John Melville has paved the way for Olympic Medalists at this years Vancouver Olympics in Cypress.
Melville was this year paid one of the highest tributes possible in his field of expertise, being sub-contracted for the construction and maintenance of the 2010 Vancouver Olympic Halfpipe.
A laser guidance system which was ingeniously adapted to halfpipe shaping by Melville's company, Development Snowparks, was for the first time in Olympic history used during the construction process to provide dimensional layout for the halfpipe.
The system, which was first used at Cardrona Alpine Resort allows for precise measurement and accuracy, allowing perfect conditions for athletes to deliver peak performances.
In light of Melville's reputation, it comes as little surprise that all six of the 2010 Vancouver Olympic halfpipe medalists, including Shaun White and Torah Bright trained at Cardrona in 2009.
Gold medalists Bright (AUS) and White (USA) both took the opportunity to train in Cardrona's halfpipe at the private Pre-Olympic Pipe Camp in October following the 2009 winter season.
White, who flew back to New Zealand specifically for the first week of the camp, was grateful for the training opportunity.
"I had a great time. It's awesome to be able to rely on a mountain to have great terrain during the summer time when there's no snow in the U.S," he said.
The quality of Cardrona's halfpipe confirms New Zealand as a key International Halfpipe Training Centre and provides local Kiwi talent with the best opportunity possible to train on world class facilities alongside world class athletes.
Cardrona Marketing Manager Nadia Ellis said Melville's work with Cardrona's halfpipe is paramount to New Zealand's credibility as a world class training destination for international athletes.
"The success of the camp was testament to the first-class Olympic Pipe developed by John and his team at Cardrona," said Ellis. "Our Kiwis now have the opportunity to train amongst the highest caliber of international athletes in our very own backyard, promising a bright future for the sport of Snowboarding and Freeskiing in New Zealand."
Cardrona Alpine Resort has been the proving ground for Development Snowparks, for the past ten years.
Development Snowparks has been endorsed by the sports largest competitions including contracts for the 2010 Vancouver Olympic Halfpipe, 2009 Burton NZ Open, 2009 Volkl NZ Freeski Open, 2009 NZ Winter Games, FIS World Championships and FIS World Cups.
Development Snowparks are specialists in exceptional snow park and halfpipe design and construction, producing world class terrain features, products and services.
Cardrona forecasts,
snow reports and
live snow cams.