2018-2019 North American Snow Season Outlook – February Update
February 27th, 2019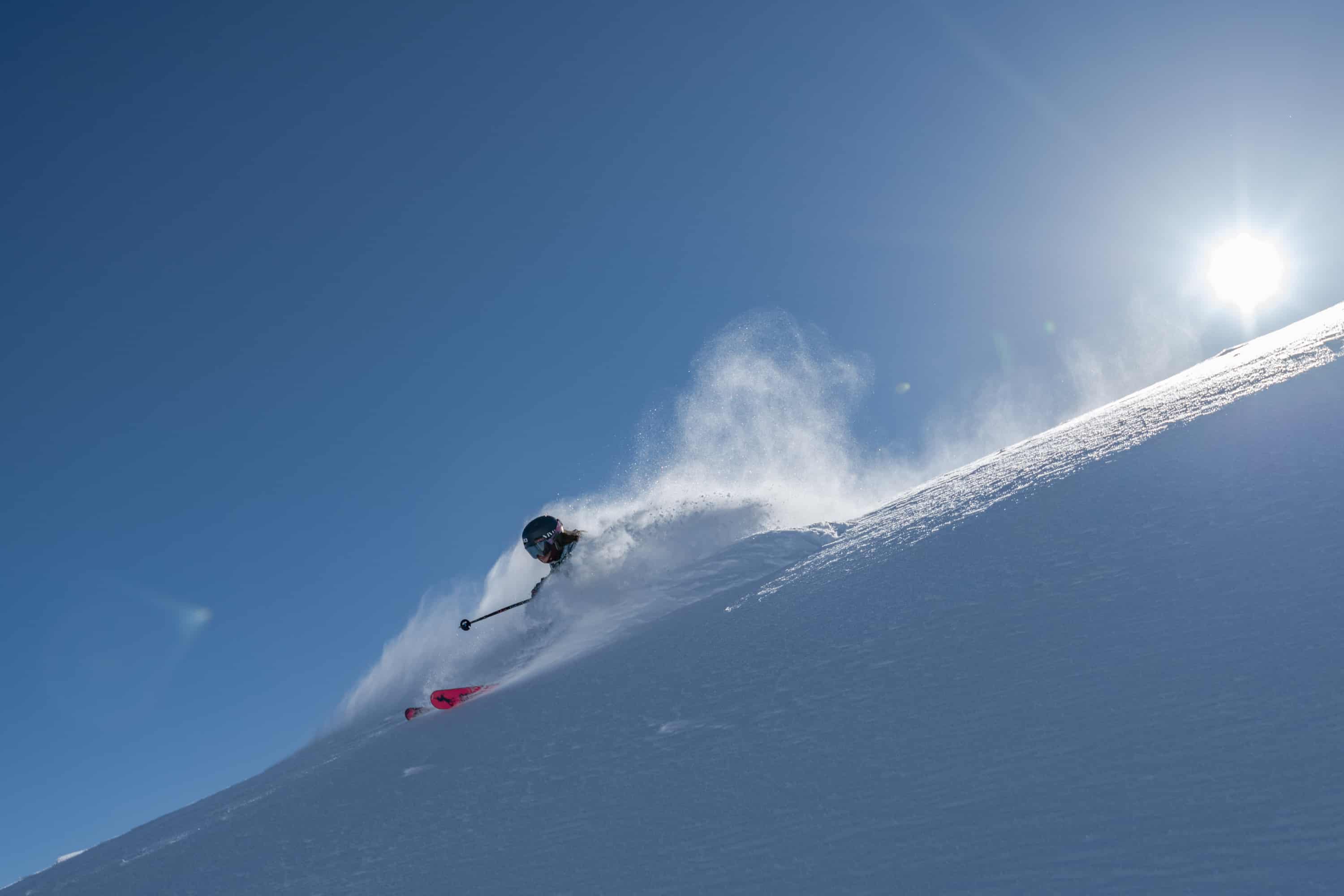 Mountainwatch | The Grasshopper
A Promising Spring Ahead
As we line dance our way into spring, so too are the storms lining up to bury a big chunk of the North American Cordillera in snow. It'll be another good old fashioned 'snowdown' with 2-2.5m expected to fall over the Sierras over the next ten days… are you kidding me?! The resorts surrounding lake Tahoe will perhaps receive the most, while the southern Cascades and the mountains of Idaho and Wyoming will be up around the 1m mark or more, and Utah and Colorado will receive between 0.5-1m. This comes at a time of average or above snowpacks for a lot of resorts, broken February records and extended seasons.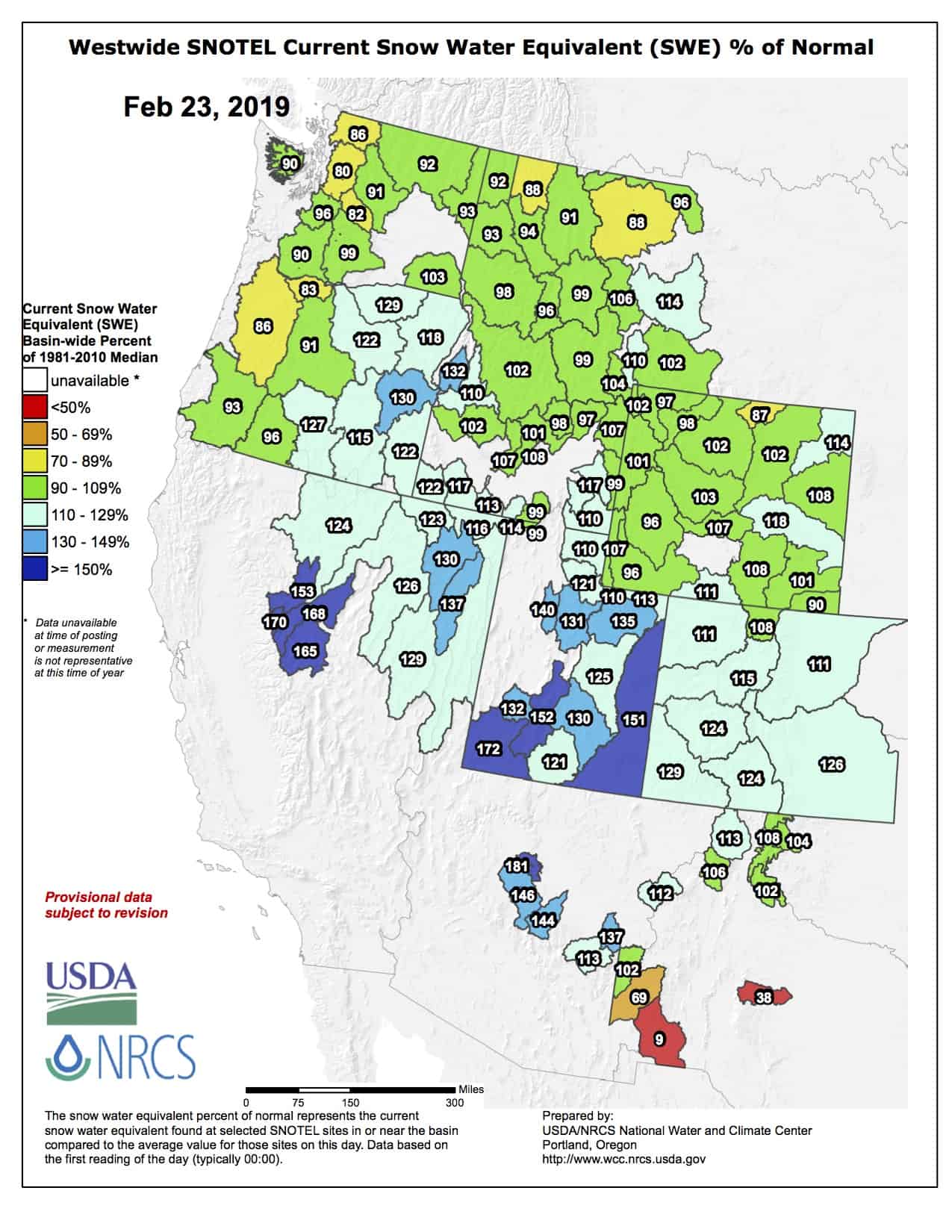 Looking further ahead to the spring months we usually see snowfalls taper off, especially as March draws to a close. This seems like a pretty obvious statement. However, in some years, spring snowfall can trump the winter months. We don't have to scroll far back through history to find an example of this, as the spring of 2018 is still fresh in our minds. Unlike Japan, which receives 'lake effect' snowfall due to persistent northwest winds that turn off during spring, North America relies on storm systems – the likes of which we can see plenty of at this time of year. So without further ado, lets check out how stormy this spring is shaping up to be.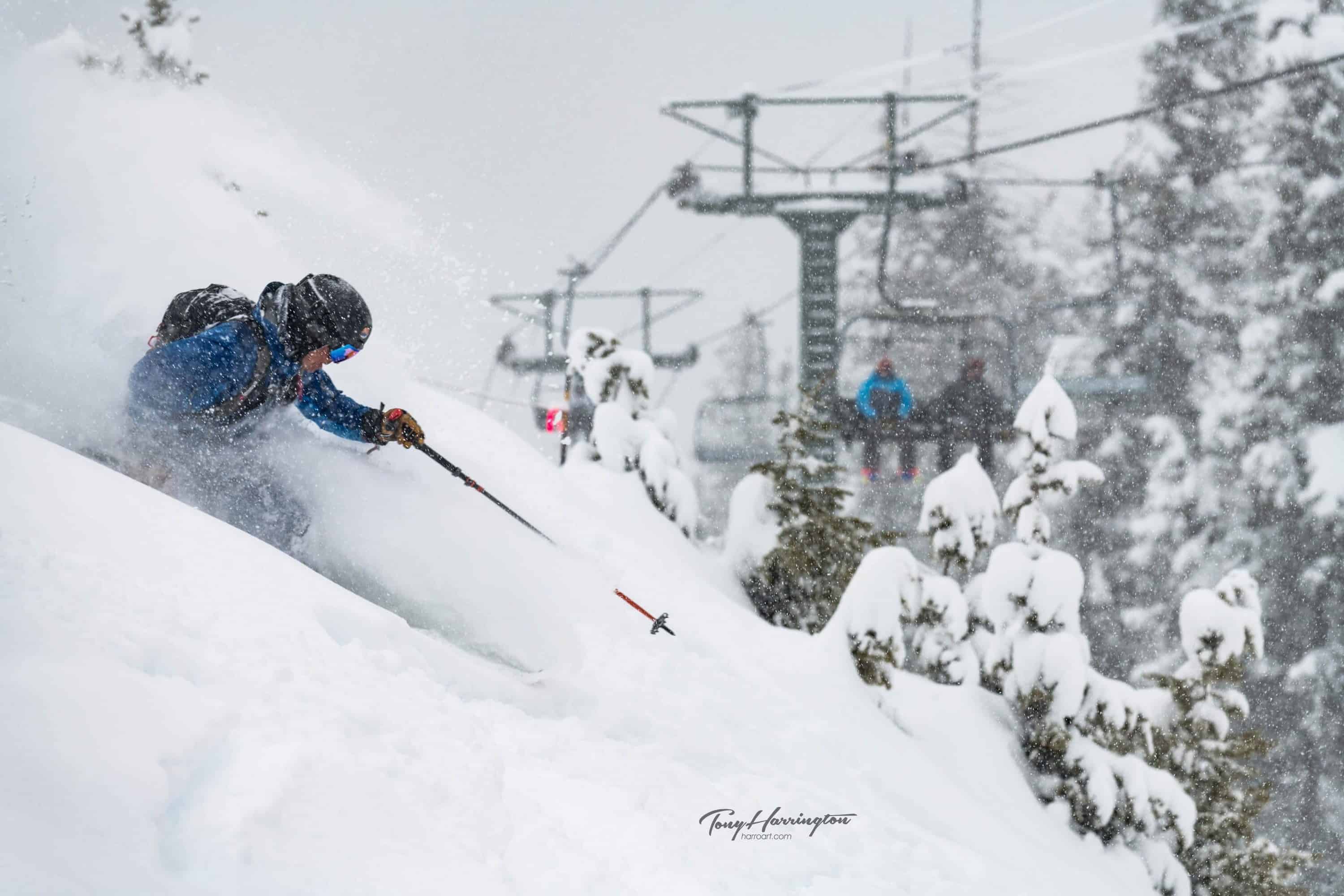 El Nino is here, but it looks different
The atmosphere has finally given in to persistent badgering from warm waters over the tropical Pacific and we are now amidst a very weak-marginal El Nino. This relationship isn't exactly flourishing however; sea surface temps (SST) barely meet El Nino thresholds and atmospheric responses are only prominent over the western half of the Pacific. This is leading to disagreement between meteorological organisations as to whether this is a fling or a thing. This El Nino does indeed look a little different to your typical one. Instead of warm SST and its atmospheric responses predominating over the eastern Pacific, we find all the action is happening closer to the central Pacific near the dateline, which is closer to an El Nino-Modoki event.
Modoki is a Japanese term for 'same but different', and this version of the ENSO can have a significantly different influence on North American weather. Typical El Nino events tend to favour snowfall over the Sierras and lower portion of the American Rockies, whereas, by altering Jetstream patterns, Modoki's tend to have the opposite effect. Whatever we're calling it, which in reality is somewhere between a conventional and a Modoki El Nino, it is expected to remain weak through the northern hemisphere spring and therefore have little, if any, influence on snowfalls.
March to be a month of two halves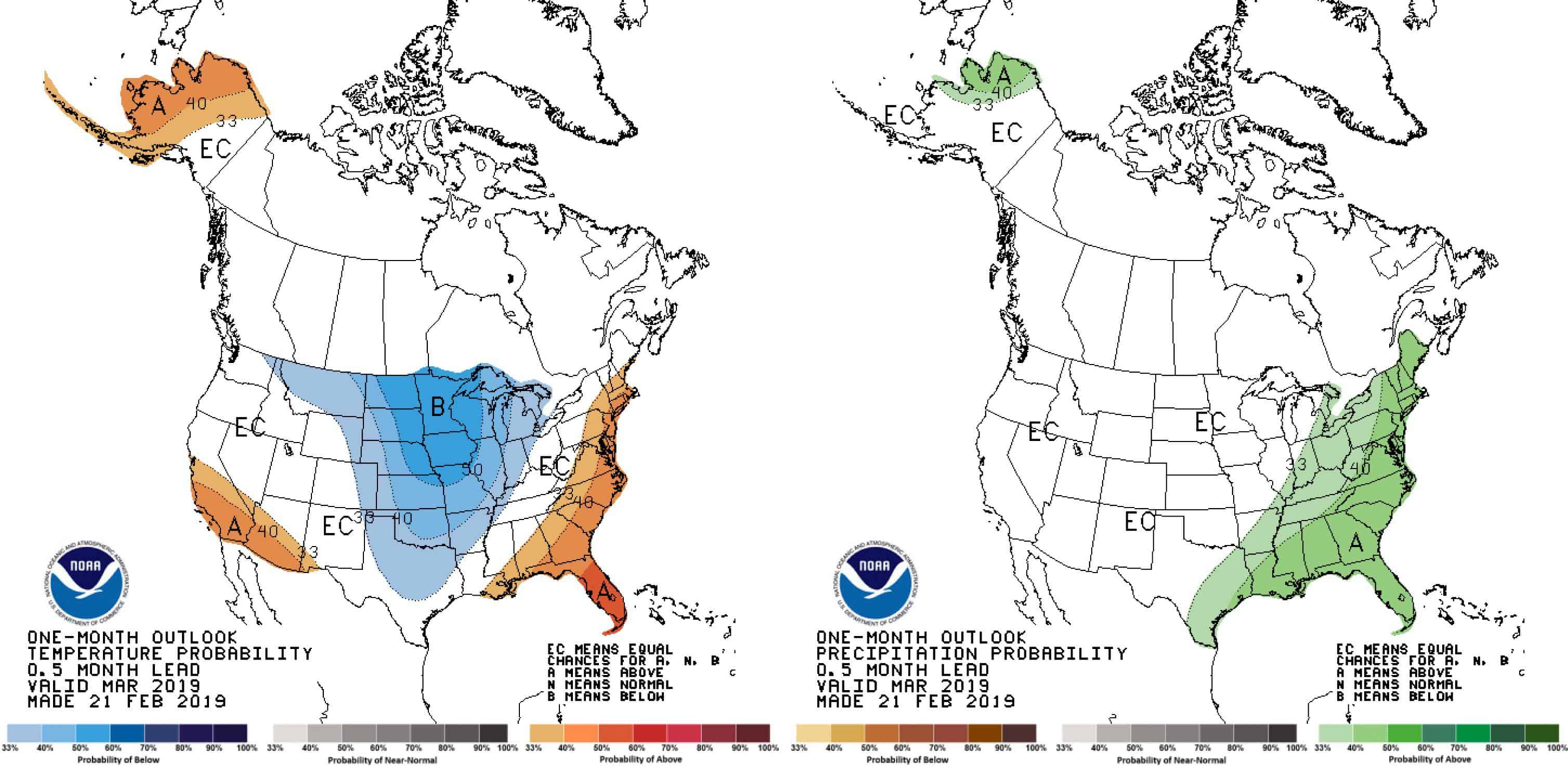 With the exception of warmer temps over the southern Sierras and a colder Montana, NOAA's outlook for March looks rather benign in which temperature and precipitation anomalies are liable to swing either way. It's not that the clever folks beavering away at NOAA can't decide what's going to happen; it's because March is likely to be a month of two halves whereby they cancel each other out. Various models indicate the first two weeks of March should see a series of lows rolling over the Cascades and northern Sierras, and over adjacent mountains inland, leaving a whole heap of snow across most of western America with lesser amounts perhaps for the southwest and for Canadian resorts.
For the second half of March, models tend to reverse this pattern with higher pressures over western America and low-pressure anomalies extending from the Gulf of Alaska over Canada. This should bring powdery relief to Canadian resorts, with lesser amounts possibly clipping the Cascades, Idaho and Montana. These low-pressure anomalies over Canada look to wane during the last week of March while they crop up over the southern states of America, giving us hope for late season powder there.
Spring outlook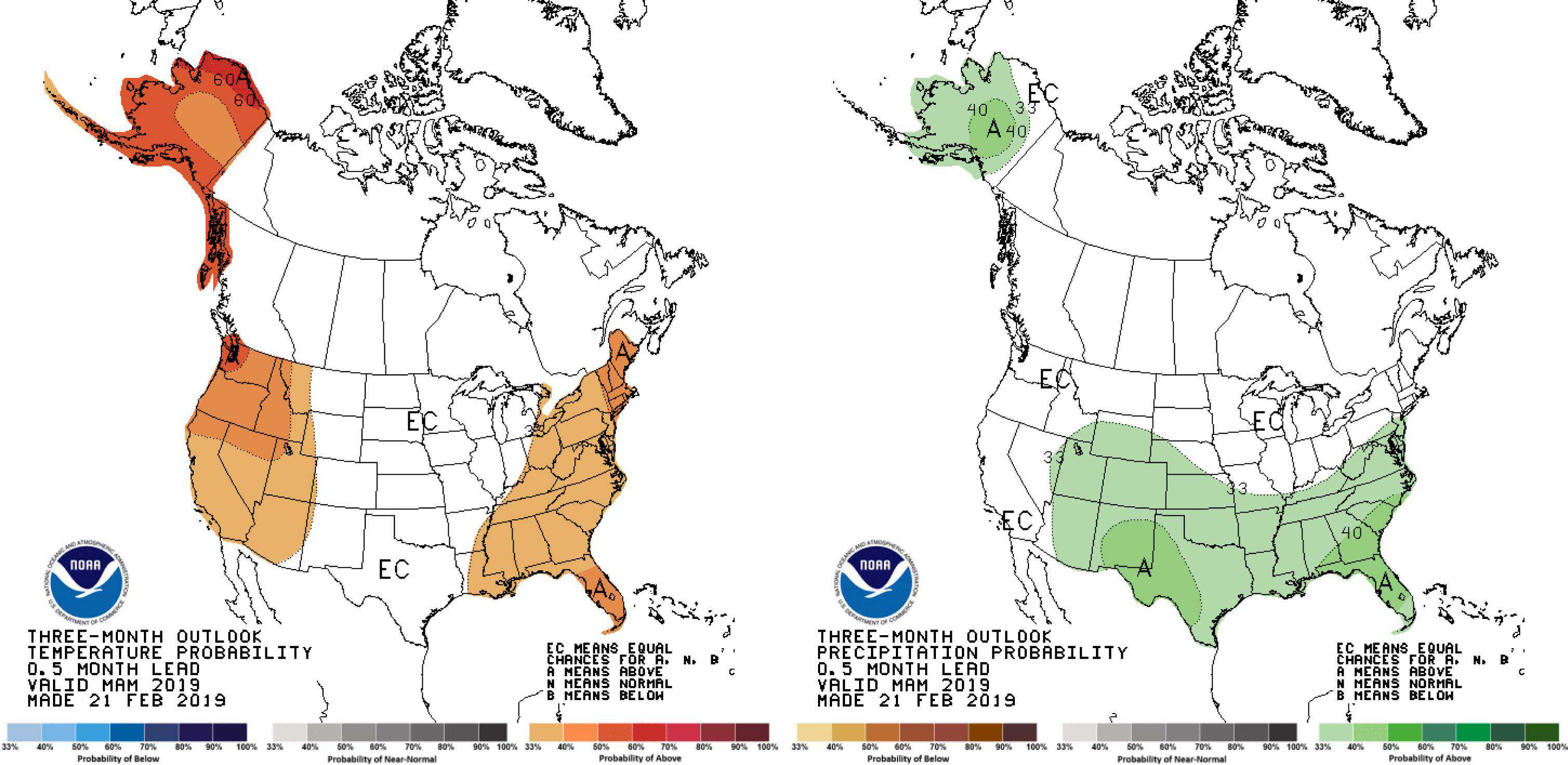 NOAA's outlook for spring as a whole is picked to be warmer for the west, as well as wetter and/or snowier for the Rockies from Wyoming southwards. Environment Canada also suggest the Coast Mountains stand a chance at being warmer than average, while the southern extreme of their Rockies could receive more precipitation than usual. Despite the warmer temperatures, which seem like a permanent feature in today's climate, this outlook isn't all that bad. One way of looking at it is that the scales aren't tipped towards a drier and thus less snowy spring. Additionally, a number of climate models agree with the notion of more precipitation over the southern portion of the Rockies, while also plonking below average temps there too, giving us a better chance for above average snowfalls.

Summary
It's hard not to be positive with all this snow lying around. Maybe it's given me a case of the white fever, but I have a better feeling about spring from when I wrote the previous outlook. The first half of March will see a tonne of snowfall over American resorts, while the second half will benefit Canadian resorts.
Although snowfalls will continue their usual downward trend through April and May, we stand a good chance for above average snowfalls over the southern portion of the Rockies during this time, while average-or-below amounts should fall elsewhere. Warm temperatures predicted by NOAA and Environment Canada is cause for some concern, as more of this snow could fall out of warmer storm systems associated with the 'Pineapple Express' Jetstream, giving us wet heavy snow like what happened at times during February. In saying that, the foundations have already been laid for an epic spring, so it'd take something dramatic to kill this party, the likes of which we're not likely to see. So line up and grab your partner, dosey doe, and head for the hills for you'll get snow!
That's all from me folks. This will be my last outlook for North America this season as I will soon be tuning my antennae to the south. Be sure to cheek out my weekly forecasts for both Japan and North America issued every Thursday until mid March. If you've got a different theory on what's going to happen this spring, or just want to provide feedback, then please hit me up on the discussion below. Or you can follow me on Facebook