Weekly North American Forecast – Another Cold, Action-Packed Week Filled with Dry, High-Quality Powder
Written Wednesday 1st March (Pacific Standard Time)
Relentless storms rolling in from a very active north-eastern Pacific has seen resorts in western North America scoring deep, dry, high-quality powder to low levels. But it is the Californian resorts who have taken it to new heights, with Palisades Tahoe reporting that 365cm has fallen on its upper mountain over the last seven days… are you kidding me!!! I don't know if I've ever seen bigger weekly totals?! This has come at a cost, however, with blizzard conditions and avalanche risks causing some mountain closures.
This week, the rampant storm cycle continues with more of the same in store. Snow accumulations won't be as deep as last week, but they will still reach up to 0.75-1m along the Pacific Crest and up to 25-50cm elsewhere. No one will be spared, and it'll be a great week of cold temps and dry powder.
This is my last forecast for the North American snow season. However, as you can see, there are months' worth of skiing still to be done here. It's been one heck of a season that is bound to go down in the history books. So, if you can, now's the time to book in a trip here, and be part of history.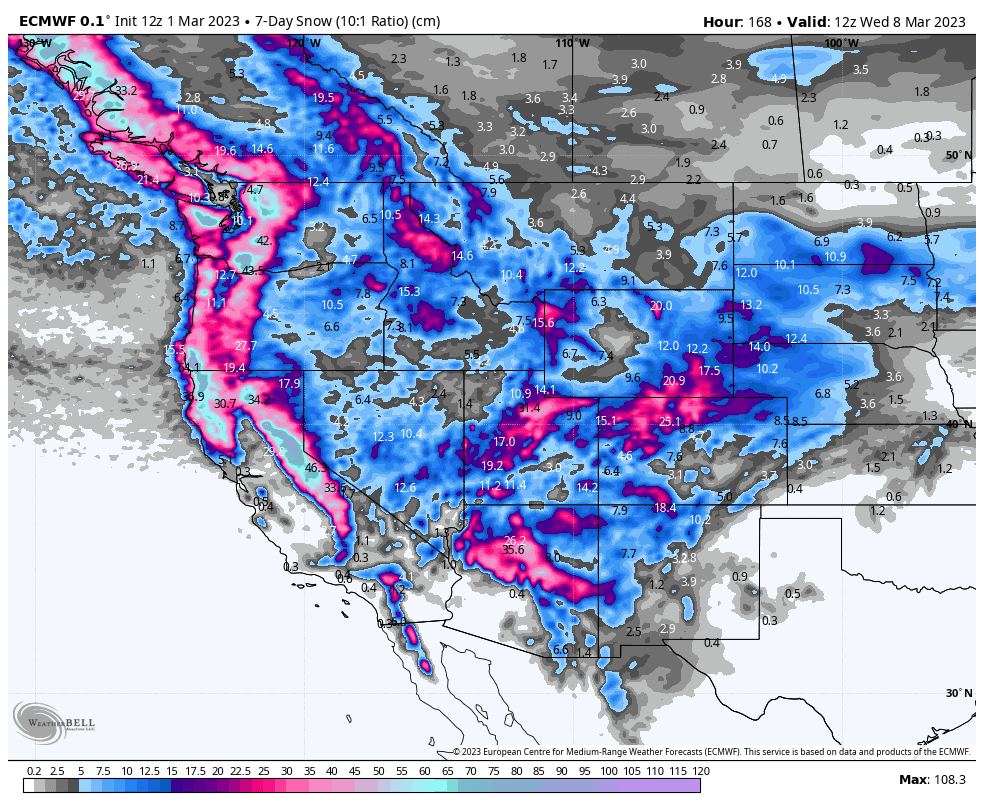 Thursday 2nd & Friday 3rd March
Thursday, snow will have cleared the Sierras and central Rockies, bringing much needed sunshine there. The heavy snowfall that has affected those areas will continue to dump snow over the Arizona, New Mexico and the south of Utah and Colorado, before clearing out during the latter half of the day.
A cold front bearing high quality powder will sweep down over Canada and the NW, reaching as far south and inland as Wyoming by the end of the day. This snowfall will ease Friday, while also trickling down into the central Rockies. However, a second cold front pushing into the Pacific NW will see snowfall there ramp up again late Friday.
Saturday 4th & Sunday 5th March
The second cold front will see snow spread south and inland for what will be a west-wide powdering this weekend, thanks to a stationary low off the NW coast continuously pumping in the goods. A powdering for all, baring Arizona and New Mexico where heavy falls are expected in the Sierras yet again, while the central Rockies will also see solid, moderate falls. Lighter snowfall is expected farther north.
Monday 5th to Wednesday 7th March
Mostly light scattered snowfall across most of the west will gradually peter out during Wednesday as the stationary low off the NW coast finally runs out of juice and weakens away.
However, wobbles in the isobars indicating an extra push of cold air should see the Sierras picking up slightly heavier, more moderate-looking falls late Monday into early Tuesday, as well as parts of the central Rockies of Utah, Wyoming and Colorado later on Tuesday.
Next Thursday & Beyond
Ensemble models expect the action will continue, with cold temps and unsettled weather delivering more of the same dry high-quality powder over the next seven-day period. Snow accumulations appear to be on par with this week's levels, which you could perhaps call a "moderate" amount.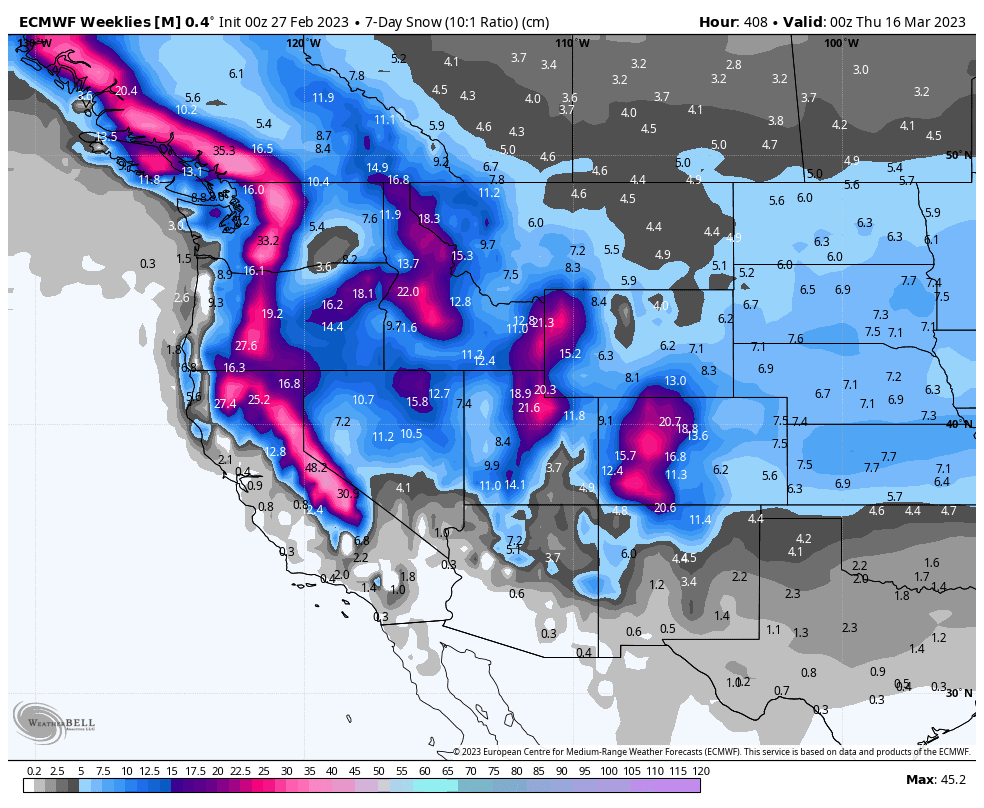 Well, that's all from me for a while guys and gals. Keep an eye out for my 2023 Australian Snow Season Outlook due out in about a month.
Grasshopper