Thursday 22 August – Freshies today & Sunday
Synoptic Outlook
Not as much snow fell yesterday as I was anticipating. However, temperatures have since dropped and snow showers have kicked back in as cold front rubs up against the Aussie Alps. That will clear this morning, making for an awesome afternoon with freshies and sunshine on offer.
A ridge of high pressure tomorrow will bring mild temperatures and sunshine galore, reminding us that spring is just around the corner.
The sun will still shine during Saturday, but NW gales will ruffle a few comb-overs before a cold front hits Vic resorts at night, then NSW resorts early Sunday. A dollop of rain will fall ahead of the front, followed by chilly S-SW winds and a nice wee dusting of snow.
Image of The Day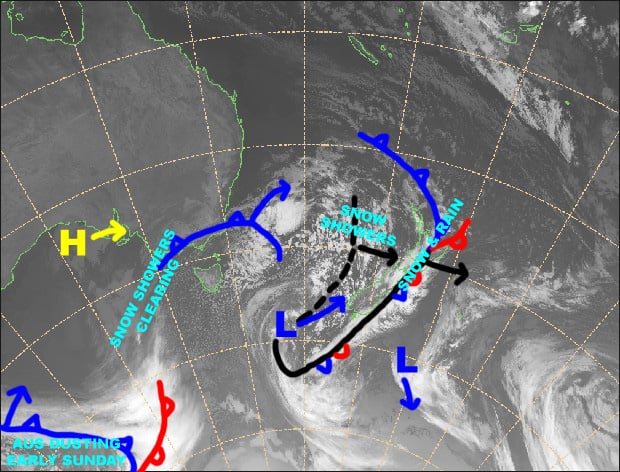 Snow showers are preparing the slopes for a day of freshies along with a bit of sunshine. Source:: NZ Metservice (vandalised by the Grasshopper)
Thursday 22 August
Snow showers clear this morning, then cloud will break up to let some sunshine in. Gale SW winds start easing this afternoon.
Friday 23 August
Sunshine galore as the SW breeze clocks around to the NW.
Saturday 24 August
Mostly sunny, but cloud will build through the afternoon with strong-gale NW winds. Also, rain will develop over Victoria at night, before turning to snow overnight with a cold S-SW change.
Sunday 25 August
The cold southerlies will reach NSW resorts before brekkie with a nice wee dusting there, while remaining snowfalls over Victoria clear. Cloud will then break up with some sunshine.
Extended Outlook
High pressure and settled conditions should see us through the start of next week, before a potential snowfall sometime around the middle of the week.
That's all from the Grasshopper. Wanna keep your finger on the pulse of all things snow? Join my weekly email list by filling in the box below. If you have a question or feedback for me, hit me up on facebook.