Sunday 25 August – A dusting awaits. More snow from Wednesday
Synoptic Outlook
The last snowflakes are currently falling over the Aussie Alps after what has been a dusting brought about by a cold front. Although the weather station on Mt Baw Baw tells us something more substantial has fallen there – maybe 10-15cm – and we're yet to see anything show up in NSW. Nonetheless, it'll be a great, wintery day to head up the hill.
Temps will stay chilly enough through Monday and Tuesday as a ridge of high pressure provides a couple of nice calm days to get some uncrowded weekday sliding under your belt.
As if things couldn't get any better, a cold front will cross the Aussie Alps during the second half of Wednesday, bringing snow and freezing southerlies that may last into early Friday. Models have really jumped around with this one, as it's been made complicated with a low spinning up in the Tasman Sea. At this stage however, we could expect something in the range of 10-25cm.
Image of The Day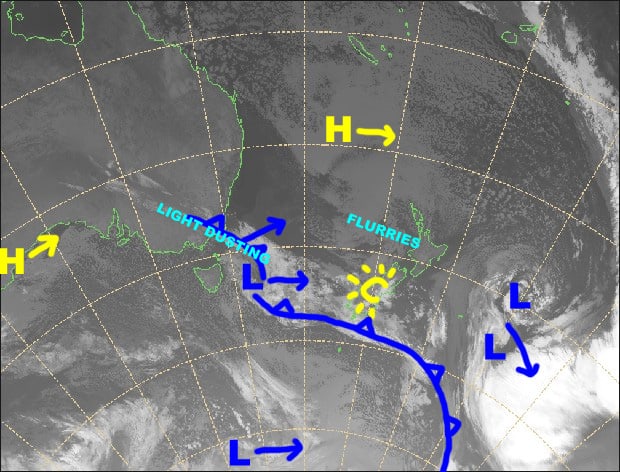 The cold front has brought a return to winter today, and a dusting of snow awaits your ski's. Source: NZ Metservice (vandalised by the Grasshopper)
Sunday 25 August
Remaining snowfalls will have all but cleared by the time we finish our lazy Sunday brekkie (saussies and eggs?), leaving behind a little bit of cloud, but plenty of sunshine and freshies. However, flurries will linger over Mt Baw Baw, while chilly southwesterly winds ease.
Monday 26 August
Mainly fine apart from afternoon cloud. Light winds, mainly from the south.
Tuesday 27 August
Fine with some afternoon cloud and light winds.
Wednesday 28 August
A fine start, then cloud builds before the front spreads snow across Victoria during the afternoon and NSW in the evening. NW winds strengthen, and then change to a freezing S-SW behind the front.
Extended Outlook
Once snowfalls clear on Friday a ridge of high pressure should see us at least through Saturday.
A weak cold front could see light snowfalls late Sunday into Monday, before more high pressure.
That's all from the Grasshopper. Wanna keep your finger on the pulse of all things snow? Join my weekly email list by filling in the box below. If you have a question or feedback for me, hit me up on facebook.