Australian Forecast Wednesday September 22 – Sunny with some Weekend Weather on the Way
Valid Wednesday September 22 – Friday September 24
A wintery blast has gripped southeastern Australia over the last few days with around 20-30cm of fresh, good quality snow falling in resorts, providing great conditions for those lucky enough to be enjoying them. Temperatures have been low and winds high at times making it feel a lot more like winter than spring. With the news of Thredbo closing for the season this Sunday the rest of week will see some sun around the Alps giving those who can the opportunity to get out and enjoy resorts before the end of the season on October 3.
For today it's partly cloudy with some sun peaking through and moderate winds. Make the most of the new snow and decent weather if you are able to with more winds and precipitation on the way later in the week.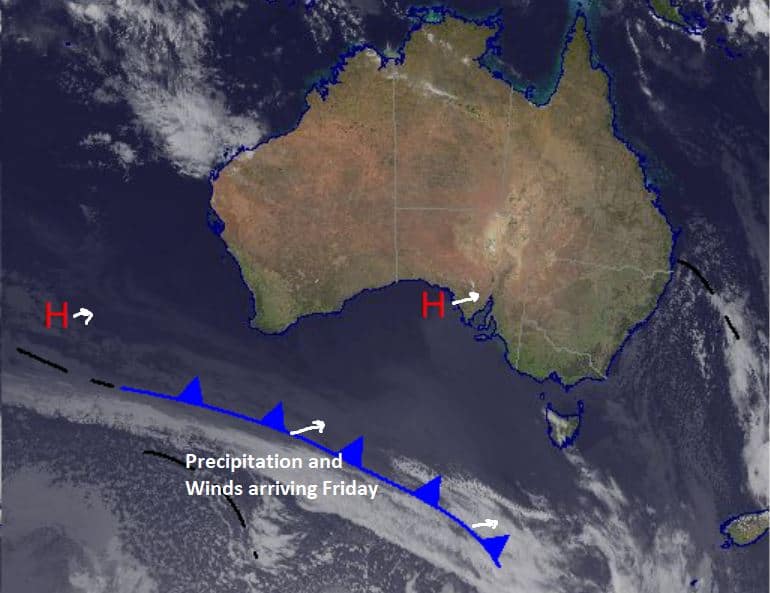 Wednesday September 22 
A partly cloudy day around the Alps with initially moderate southwesterly winds for NSW turning northwesterly and easing slightly. In Victoria initially moderate southerlies weaken and turn westerly through the evening.
Thursday September 23 
Possible fog early and flurries throughout the day. For Victoria winds are moderate northwesterlies early which will quickly strengthen through the morning and again through the evening. In NSW westerly winds strong early and increasing a little through the evening.
Friday September 24 
The front pictured above arrives with very high chance of precipitation around the Alps. In Victoria snow is most likely through the afternoon with a chance of a thunderstorm during the day. Very strong northwesterlies at times. In NSW a similar story with very high northwesterly winds easing slightly through the afternoon. Chance of thunderstorms in the afternoon through the evening. Totals around 3-8cm.
Extended Forecast
Temperatures will warm a little looking more like spring today but wintery conditions set back in with the arrival of a front on Friday. Some snow is expected on Friday with some high winds and the chance of some thunderstorms. After the weather associated with this front clears Saturday we are looking at some nice sunny days for Sunday through the beginning of next week.
Take care around the Alps with the winds and changing conditions and enjoy it.
Grasshopper