Wednesday 18 September – BBQ's today, then warm northerlies before a wet & windy Saturday
Synoptic Outlook
It's BBQ weather today, thanks to that high in the Tasman Sea leaving a ridge over the Aussie Alps. Warm northerly winds pick up from Thursday ahead of a front, which will pass overhead during Saturday, giving us a yucky ol' wet and windy day. However, a little snow may fall on upper slopes of those western resorts of Victoria as colder air flows in after the front.
Image of The Day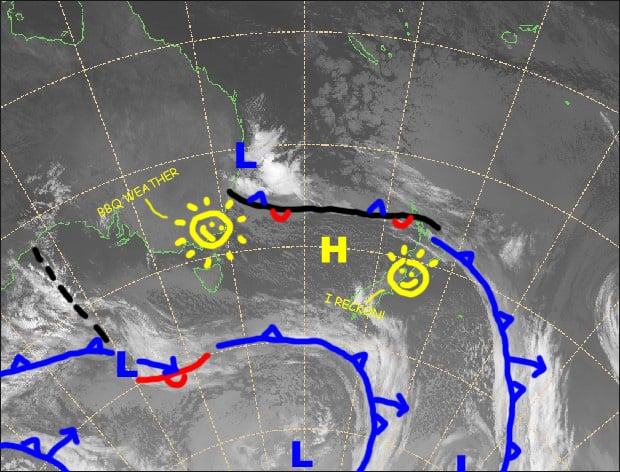 Spark up the BBQ's today, it's going to be a stunner. Warm northerlies pick up from tomorrow before a front makes for wet and windy day on Saturday. Source: NZ Metservice (vandalised by the Grasshopper)
Wednesday 17 September
Blissfully sunny and calm.
Thursday 18 September
A nice day, but warm northerly winds pick up and push in a little bit of afternoon cloud.
Friday 19 September
Warm northerly winds with variable high cloud.
Saturday 20 September
A yucky day! Rain sets in during the morning with heavy falls and possible thunderstorms, as well as gale to severe gale northerly winds. Rain may turn to snow on upper slopes on western resorts in Victoria, before it gradually clears during the afternoon as winds ease and turn to the west.
Extended Outlook
We could see a little snow falling during Monday as a low spins up in the Tasman Sea and sucks cold air over the Aussie Alps. That cold air should linger into Tuesday under a weak ridge.
A weak front may brush the Aussie Alps next Wednesday, with a super light dusting possible on upper slopes, but a spot of wet stuff lower down.
That's all from the Grasshopper. Wanna keep your finger on the pulse of all things snow? Join my weekly email list by filling in the box below. If you have a question or feedback for me, hit me up on facebook.