Monday 16 September – Wind, rain, and a dusting for the Southern Lakes, then sunshine and happiness
Synoptic Outlook
A frontal system storms over the South Island from later this afternoon and overnight, then over the North Island tomorrow. Severe gale W-NW winds will blow ahead of the system along with a swag of rain, followed by a freezing westerly, but only a light dusting of snow will fall on the Southern Lakes tonight.
Happy high pressure will take the country under its wing during Wednesday and Thursday, providing nice settled conditions.
Image of The Day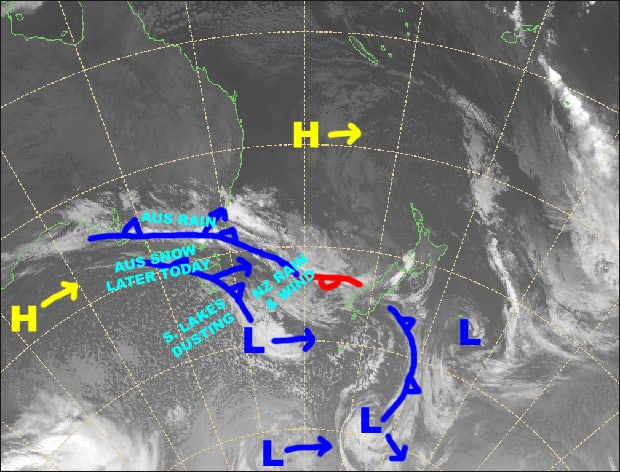 That frontal system looming in the west will lash the country with severe gales and rain, although a light dusting of snow will fall over the Southern Lakes tonight as a freezing westerly change goes through. After that, high pressure will bring happiness and sunshine. Source: NZ Metservice (vandalised by the Grasshopper)
Monday 16 September
Not toooo bad over the South Island this morning, although strong-gale NW winds are blowing in variable high cloud overhead. Winds will rise to severe gale later this afternoon, bringing heavy rain, but it'll turn to lighter snow tonight over the Southern Lakes.
Partially cloudy on Ruapehu, mostly about lower slopes, with plenty of sunshine above. Stiff westerly winds.
Tuesday 17 September
Freezing, gale westerly winds gradually abate over the South Island. The odd snow flurry will blow onto the Southern Lakes, but there'll be plenty of sunshine too. Crystal clear skies over Canterbury.
A horrid day up Ruapehu as rain sets in during the morning while westerly winds reach severe gale. Rain clears in the evening as winds ease.
Wednesday 18 September
Sun and cloud for the Southern Lakes with a strong and cold westerly.
Nothing but sun and fun in Canterbury with light winds.
Mostly mint on Ruapehu with light winds. There'll be some afternoon cloud though.
Thursday 19 September
The South Island will be sunny as, with SW breezes.
A pearler of a day up Ruapehu with light winds.
Extended Outlook
The high continues to bring happiness and sunshine to the country during Friday and Saturday.
Gale to severe gale NW winds and another heap of rain will lash the country before a front brings another cold snap from the W-SW. Only a light dusting is expected as the front passes through, but another cold surge mid next week may bring a little more snow.
That's all from the Grasshopper. Wanna keep your finger on the pulse of all things snow? Join my weekly email list by filling in the box below. If you have a question or feedback for me, hit me up on facebook.