Sunday 25 August – We wait today for snow tomorrow
Synoptic Outlook
A strong westerly flow lies over Aotearoa, New Zealand today, before a low and its associated front cross the country during Monday. It'll be rough as guts on Ruapehu again, but about 15-20cm should fall, while cold southerlies sweep up the South Island and drop a fresh layer of powder about 5-10cm deep.
Ruapehu will finally see the light of day during Tuesday and Wednesday, along with lighter winds, as a ridge of high pressure builds to the north. Despite NW winds strengthening over the South Island, there'll be plenty of sunshine, and you'll want to head up the hill on Tuesday to make the most of the freshies from the day before.
Image of The Day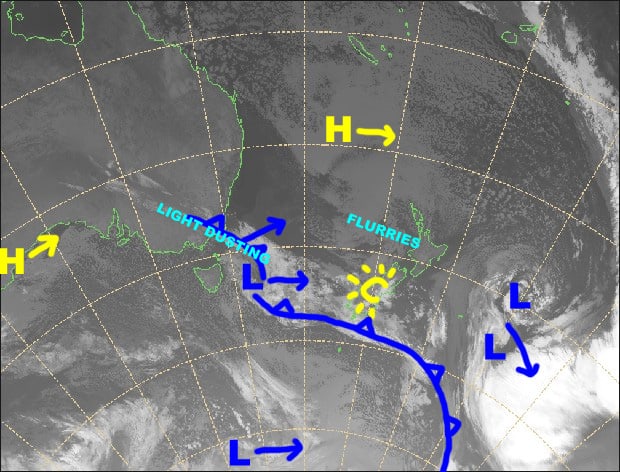 We wait today for snow tomorrow, proudly brought to us by that low just east of Tasmania. Etch in Tuesday to head up the hill. Source: NZ Metservice (vandalised by the Grasshopper)
Sunday 25 August
Variable high cloud and strong to gale NW winds over the South Island.
Occasional snow flurries and showers throughout the day on Ruapehu. Snow levels lifting to about 1700m from afternoon, wet stuff falling below that. Gale W-SW winds.
Monday 26 August
Snowfalls will get going as a cold S-SW change goes through the Southern Lakes early morning and Canterbury during the afternoon. However there'll be scattered rain and snow in Canterbury before then. Up to 5-10cm should accumulate.
Rough as guts on Ruapehu with snow to 1600m. Heavy falls during the morning and gale-severe gale westerlies combine to make blizzard conditions, but it'll all gradually abate later.
Tuesday 27 August
Skies mostly clear early over the South Island for a great day with freshies on offer. Some mid-high cloud will linger over the Southern Lakes as W-NW winds pick up.
Any remaining showers on Ruapehu clear, and cloud thins to let some sunshine in. Brisk W-SW winds abate.
Wednesday 28 August
A mint, sunny day for the South Island, although NW winds may blow a gale over the Southern Lakes.
Ski fields on Ruapehu should sit above cloud level with an abundance of sunshine and snow. SW breezes turn to the west.
Extended Outlook
High pressure sitting over the north of NZ is expected to slowly spread its influence southwards over the country during Friday and next weekend, bringing settled conditions.
A front does try to blast its way in during Thursday, but is quickly dispatched over the lower South Island before making serious inroads. In doing so however, southern ski fields may get a wee dusting of fresh snow.
That's all from the Grasshopper. Wanna keep your finger on the pulse of all things snow? Join my weekly email list by filling in the box below. If you have a question or feedback for me, hit me up on facebook.