Weekly Japan Forecast – Bases continue to build with another 10-40cm across the country in the next several days
 Written Thursday 7th December (Japan Standard Time)
Things are starting to ramp up in Japan with more and more resorts and lifts opening as the snow continues to pile up. A cold front will hit later today bringing a nice addition of about 10-20cm throughout the country. With skies clearing on Friday, there'll be some fun to be had out there for sure.
Skies will stay sunny over central Honshu during Saturday, while Hokkaido suffers under warm temps and rain. However, another cold change will dump another 10-20cm there Sunday into Monday. The cold air won't bring as much fortune to Honshu, where a period of rain or drizzle will be chased up with just brief light snowfall later on Sunday.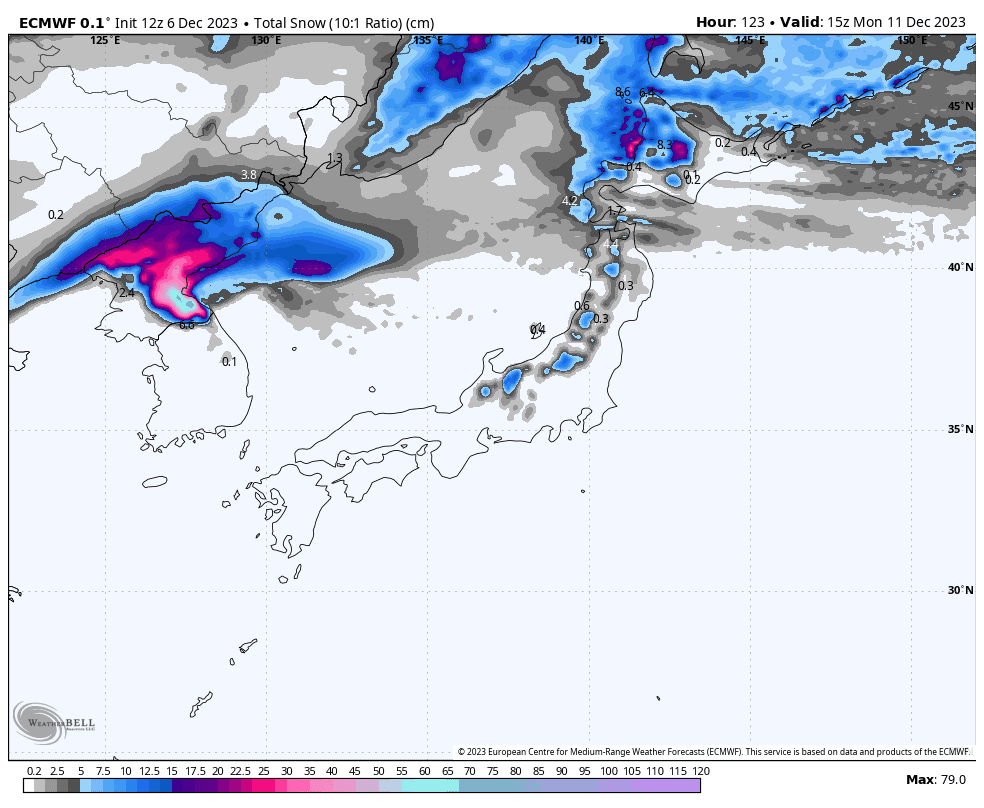 Thursday 7th
Rain spreads over the country this morning, with warm winds out of the S-SW blowing a gale in exposed parts.
The cold front hits this afternoon with a change to strong and colder westerlies. Moderate snowfall will gradually back off tonight as snow levels creep all the way down to rock bottom.
Friday 8th
A good day on the slopes as skies will mostly clear up in the morning while strong westerlies ease, although isolated areas of snowfall will persist into the afternoon in Northern Honshu and central Hokkaido.
Saturday 9th
Warm winds strengthen from the SW, especially over Hokkaido and the north of northern Honshu where rain gets going during the morning. That rain will clear at night as cold winds from the W-NW will start to arrive.
Central Honshu and the south of Northern Honshu will stay nice and clear for the day.
Sunday 10th
A powder day for Hokkaido as strengthening, frigid W-NW winds blow in the goods.
A line of rainy, drizzly stuff slides southwards over Honshu during the morning, followed closely by the same strong, cold W-NW winds to the north and just a few flurries. However, the cold air won't reach central Honshu until later in the afternoon, with just a brief period of light snowfall there, although the Hakuba resorts are likely to miss out.
Extended Outlook
Early next week a deep low storms over the country from the west. This will first bring warm southerlies and heavy rain to Honshu during Tuesday, but heavy snowfall to Hokkaido. Fortunately, colder NW winds will start to arrive later that day and there'll be heavy snowfall through into Wednesday, before a ridge clears things up during Thursday for some sunshine and deep powder turns.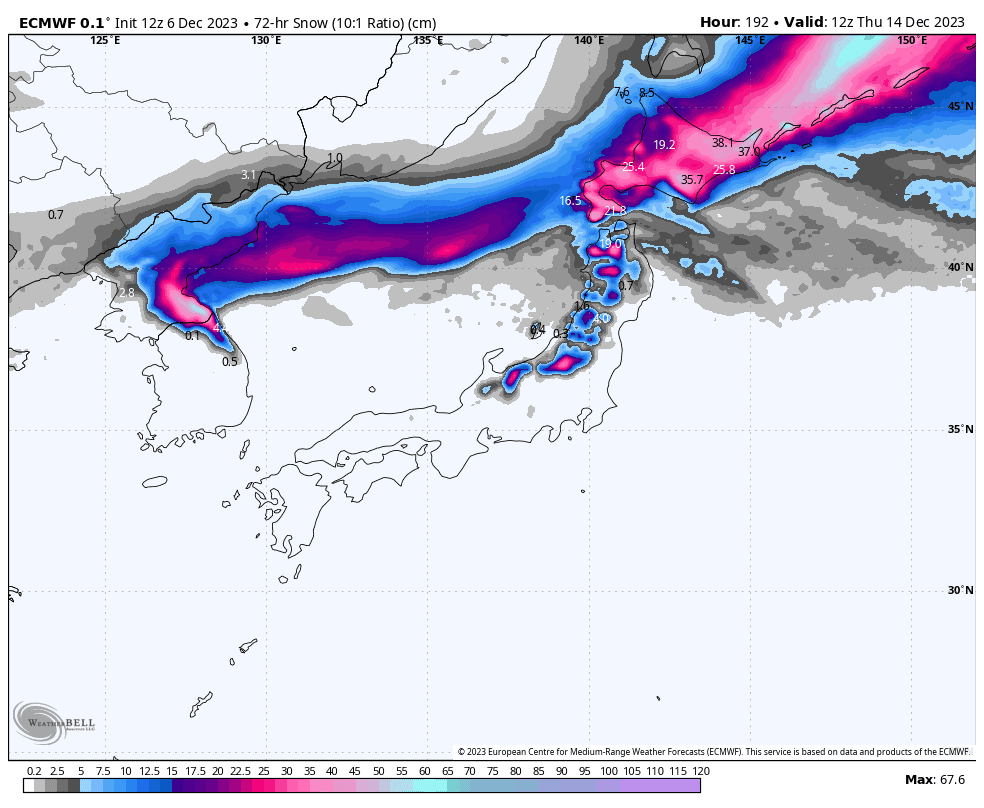 That's all from me today, guys and gals. Have a great weekend and I'll see you Monday.
Grasshopper