Japan Weekly Forecast, February 24 – After a Huge Week of Snow, Things Set to Quieten Down
Valid Thursday, Feb 24 – Wednesday, March 2
As expected, it has been another big week for the Central Honshu resorts with heavy snowfalls at times and some huge snow totals recorded with Myoko recording a massive 251cms in the past week, Nozawa Onsen 155cms, Shiga Kogen 129cms and Hakuba was a little behind on 77cms. The heaviest falls were from Monday to last night and for thiose lucky enough to be in Japan, the past three days have been ridiculously deep. Further North Niseko also saw consistently good days with a solid 122cms in the past week with Tuesday and Wednesday being the deepest days.
Most resorts had a good refresh last night, but things look to quieten down over the next week with light snow on Sunday across the Honshu resorts before things pick up mid-week. As you can see from the map below, the mountains in Central and Northern Honshu have the deepest potential snow while it is mellower further north on Hokkaido, but consistent snow showers are forecast from today through to Tuesday.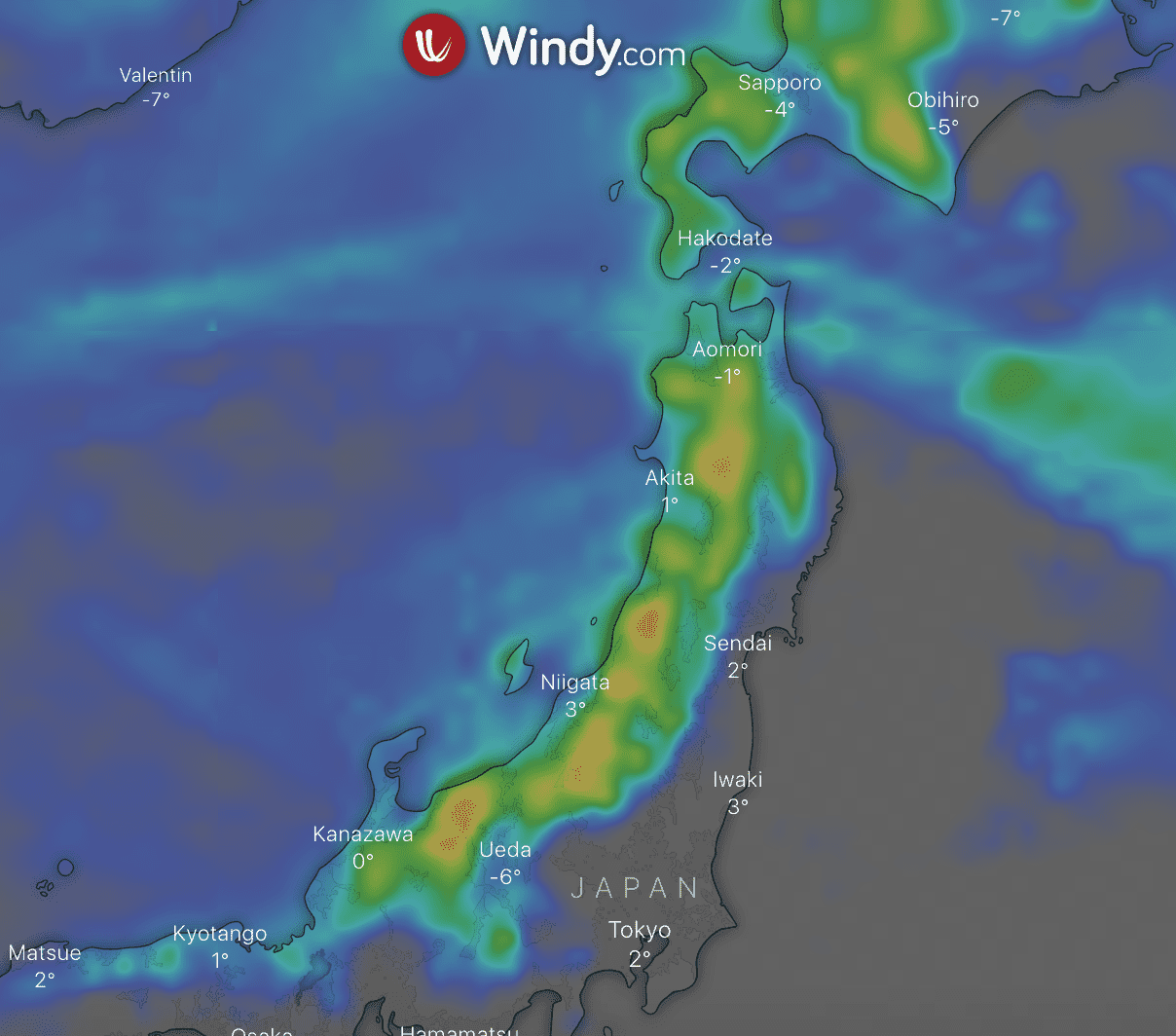 Forecast
Thursday, Feb 24 – Friday, Feb 25
After some good snowfalls overnight in some areas the snow will ease today with flurries by this afternoon and light winds. Not much in it, possible 2cms. Snowfalls will continue in Hokkaido during the day easing tonight with and gusty westerly winds at times.
Light snowfalls on Friday should clear by the afternoon, again only a couple of cms in it and light winds. Snowfalls continue on Hokkaido, but totals will be small, around 5-6cms and stiff westerly winds at times
Saturday, Feb 26  – Sunday, Feb 27
Saturday morning is shaping up as a good day in Honshu with sunshine and light winds, with cloud developing late in the afternoon. Light snow in Hokkaido Increasing in the evening and the moderate to strong WNW winds continue.
Snowfalls increase early Sunday on Honshu and continue through the day, but nothing huge with 10cms excepted. and light NW winds. Snow showers again in Hokkaido with 10cm likely, but gusty westerly winds persisting.
Monday, Feb 28 – Wednesday, March 2
Snow flurries around Honshu throughout the day, west winds picking up in the afternoon. The run of snow continues in Hokkaido with another 5-10cm likely but once again winds will be moderate to string WNW.
Light snowfalls around Honshu on Tuesday morning picking up in the afternoon and continuing overnight with southwest winds, possible drizzle on lower slopes. Snow showers ease across Hokkaido, but moderate westerly winds persist, easing a little after darks.
A few snow showers persist on Wednesday morning across Honshu, easing the afternoon with another 5-10cms possible. The snow showers finally clear in Hokkaido with potential for sunshine and the winds easing a little during the day.
Extended Outlook
After the heavy snowfalls of the past few days things ease across Honshu, but there are still a few cheeky powder days ahead with Sunday and Tuesday looking good for some boot-deep pow although milder conditions could see some rain down low.
In Hokkaido it's looking like 5-15cms daily over the next four or five days with persistent moderate winds before the sun makes a return on Wednesday.
That break in snowfalls next Wednesday/Thursday may be short lived with indications things could pick up leading into the first weekend of March. Possibly one last fling for the winter as the storms are expected to slow down as we head deeper into spring.
This is the final Japan forecast for this season and I'll be back with the Japan forecasts in December. This has been an amazing season with record breaking snow totals and plenty of powder days. Hard to watch with the borders closed, but the good news is indications are Japan is slowly reopening its borders and we are anticipating we'll be a back in the land of deep powder snow next winter.
Until then, it is just a few months until the Southern Hemisphere winter kicks in and my first Australian and NZ season outlooks will be published in mid-April.
Take Care and see you then.
Grasshopper