Friday 24 August – Rough on Ruapehu, a little bit of everything down south
Synoptic Outlook
Ruapehu's pummelling will finally subside once this low-pressure system passes over the North Island this afternoon. The reprieve is short lived, however, as the rest of the week is looking rough as guts, with snow showers, some rain at base levels, and strong to gale winds.
This low will also suck in a chilly southerly breeze over the South Island during the latter half of today, giving some southern ski fields a light tickle-up.
After a brief weak ridge on Saturday, a front will spread snow up the South Island during Sunday. Another front and more snow are to follow during Monday.
Image of The Day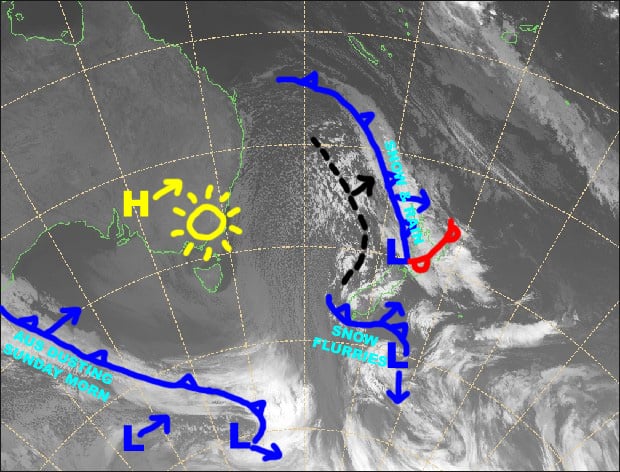 A low-pressure system will cross the North Island this afternoon, with conditions subsiding on Ruapehu, while also sucking a chilly southerly up the South Island along with light snowfalls. Source: NZ Metservice (vandalised by the Grasshopper)
Friday 23 August
Cloud clears the South Island this morning for a dose of sunshine, but returns again this afternoon as a chilly southerly breeze develops, pushing in light flurries onto some ski fields.
It's snowing on Ruapehu, but it'll lift above 1700m this morning as mild NW winds blow a gale with blizzard conditions. Snow will gradually lower to base elevations again this afternoon, as winds turn to a lighter and chillier W-SW breeze, while also petering out.
Saturday 24 August
Any morning cloud over the South Island clears to a mainly fine day, although there'll be scraps of mid-high cloud over the Southern Lakes. W-NW winds rise to gale.
Snow showers on Ruapehu easing to the odd flurry as strong southerlies turn to the SW.
Sunday 25 August
Variable high cloud and gale NW winds over the South Island to start with. Then, snow will spread north as winds change to a lighter but colder S-SW.
Snow flurries and showers on Ruapehu, becoming more persistent late in the day while lifting to about 1700m (falling as rain below that). Gale W-SW winds.
Monday 26 August
Remaining snowfalls and cloud clear the South Island during the morning for a bout of sunshine. Snow returns to the Southern Lakes from late afternoon as westerly winds turn to the SW.
More snow falling on Ruapehu, mostly above 1600m, and there could be heavy falls. Gale westerlies with blizzard conditions gradually abating.
Extended Outlook
The front continues up the country during Tuesday, leaving a trail of powder behind it.
The procession of frontal systems are set to continue, with the next one expected to drop more than just a handy top-up during Thursday and next Friday, although some rain may fall on lower slopes of Canterbury and Ruapehu before a cold southwesterly sweeps up the country.
That's all from the Grasshopper. Wanna keep your finger on the pulse of all things snow? Join my weekly email list by filling in the box below. If you have a question or feedback for me, hit me up on facebook.