New Zealand Forecast Friday October 1 – Springtime Sun
Valid Friday October 1 – Sunday October 3
Some sun has come out around New Zealand this week with fronts clearing to the northeast and high pressure around the north right now and this should continue all around the mountains through the weekend. Nice and settled conditions should see some good late season spring skiing on offer.
This will be my last forecast for the New Zealand season, thanks for coming along for the ride and hopefully there are still a few more turns to be had before the warm temperatures truly set in.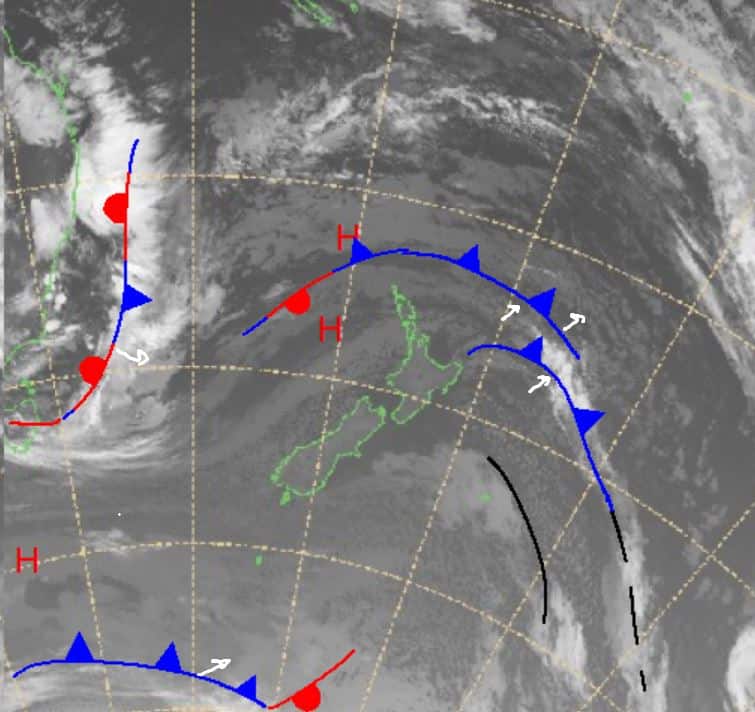 Friday October 1
Ruapehu: Partly cloudy with sunny breaks at times. Light to moderate westerlies throughout.
South Island: Fine about the Southern Lakes with persistent westerly winds through the day, initially moderate and easing late in the evening. For Canterbury a fine Friday with moderate northwesterlies.
Saturday October 2
Ruapehu: Some cloud around possibly clearing into the afternoon. More westerlies but not too strong.
South Island: Partly cloudy around the Southern Lakes with the chance of flurries in the afternoon. Around Canterbury another fine day with west/northwesterly winds, a little stronger than Friday.
Sunday October 3
Ruapehu: Cloud early clearing for some sunshine. A reasonably warm day with some wind, but not too strong.
South Island: Cloudy around the Southern Lakes with northwestlery winds, stronger early and weakening through the day. For Canterbury a fine Sunday with moderate westerlies.
Extended Forecast
There is some nice weather to enjoy over this weekend all around the country with the spring sun coming out around the mountains. Moving through the weekend the system currently over southeastern Australia will move closer and arrive on Monday bringing widespread precipitation. At this stage it is not looking like it will be cold enough for it to snow apart from possibility at higher elevations.
This is my last forecast for the 2021 New Zealand season. I hope you have enjoyed an up and down winter and hopefully next year is less interrupted and overseas travel might soon be on the horizon. Take care.
Grasshopper