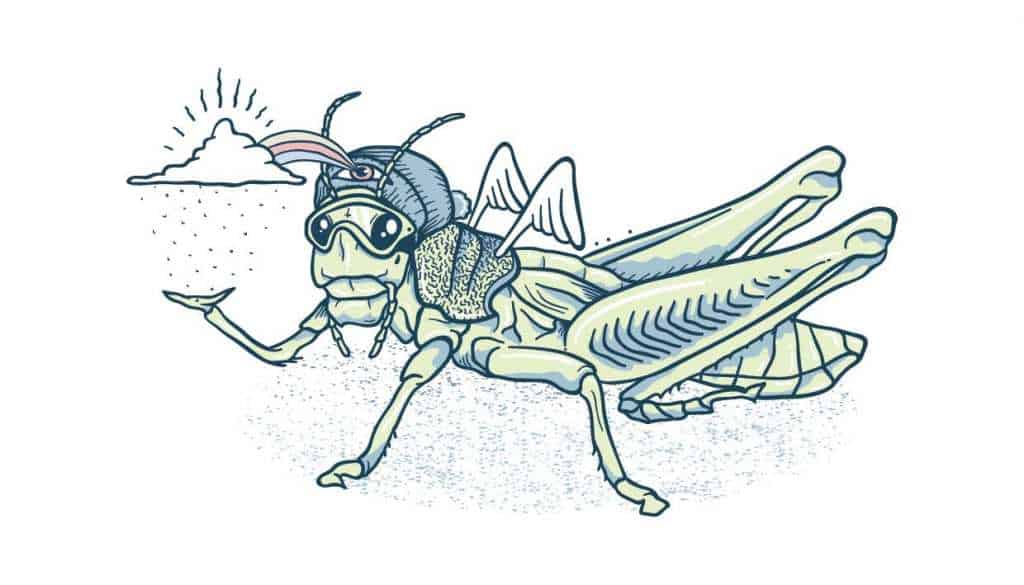 The Grasshopper – The Latest Snow Forecast
Australian Forecast Friday October 1 – Late Season Wet Weather
Valid Friday October 1 – Sunday October 3
It's been a wet end to the working week all over the east coast thanks to a low-pressure system that has seen humid conditions and widespread thunderstorms. Around the Alps the story is the same, with some solid rain unfortunately accelerating the end of season. Some precipitation is expected all through the weekend as this system remains overt the southeast and eventually moves off into the Tasman, but the rain shouldn't fall as heavy as it has over the past few days. Over the beginning of next week more precipitation will be caused by an approaching low currently off the coast of Western Australia, with chance of snow instead of rain (more on that down below).
This is my last forecast for the season as it winds up in the Southern Hemisphere. Thanks for following along and, hopefully, if you haven't had the chance for some local turns the borders will open up in time for some Northern Hemisphere action very soon.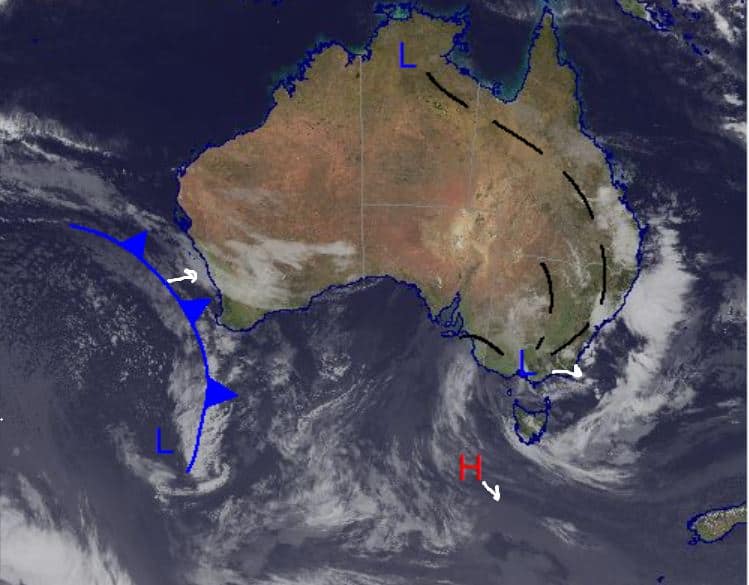 Friday October 1
High to very high chance of showers about the Alps with the chance of a thunderstorm early for both Victoria and NSW. Moderate northerlies warming the temp through the day.
Saturday October 2
In NSW another very high chance of showers with thunderstorms possible throughout the middle of the day and light winds. Similar story in Victoria with a cloudy day and showers expected. Chances of a thunderstorm through the middle of the day and afternoon.
Sunday October 3
More showers in NSW with moderate northwesterlies increasing in strength through the evening. Another cloudy day with showers also in Victoria with moderate northwesterlies in the morning increasing through evening.
Extended Forecast
As the season winds to a close we end on a sour note with consistent rainfall expected through this weekend. As this current low-pressure system moves off into the Tasman another one arrives from the west and we may see some good amounts snow early next week to possibly keep the backcountry stoke alive at high elevations, with possible best case accumulations of 25+cm. This snow has the best chance of falling over Monday night into Tuesday with high winds expected to accompany it through the start of the week and continue right through the week.
With the Snowy Mountain region back in lockdown, it's just the Victorian resorts that will close for the season on the usual closing day on Sunday. This will be the last forecast for the tumultuous 2021 Australian season. Thanks for sticking with me and here's to a less interrupted 2022 and the possibility of some overseas travel very soon and I will be back with northern hemisphere forecasts in December. Until then, take care.
Grasshopper
New Zealand Forecast Friday October 1 – Springtime Sun
Valid Friday October 1 – Sunday October 3
Some sun has come out around New Zealand this week with fronts clearing to the northeast and high pressure around the north right now and this should continue all around the mountains through the weekend. Nice and settled conditions should see some good late season spring skiing on offer.
This will be my last forecast for the New Zealand season, thanks for coming along for the ride and hopefully there are still a few more turns to be had before the warm temperatures truly set in.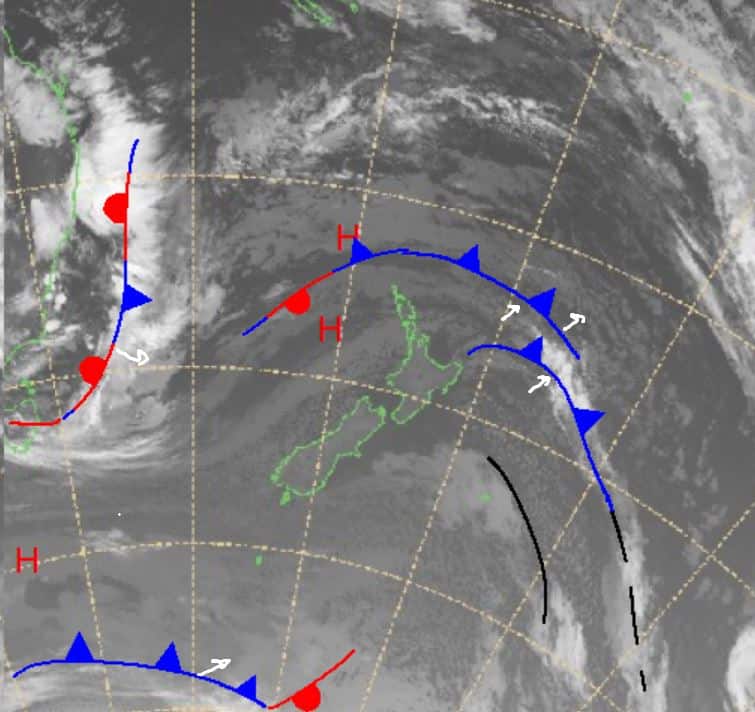 Friday October 1
Ruapehu: Partly cloudy with sunny breaks at times. Light to moderate westerlies throughout.
South Island: Fine about the Southern Lakes with persistent westerly winds through the day, initially moderate and easing late in the evening. For Canterbury a fine Friday with moderate northwesterlies.
Saturday October 2
Ruapehu: Some cloud around possibly clearing into the afternoon. More westerlies but not too strong.
South Island: Partly cloudy around the Southern Lakes with the chance of flurries in the afternoon. Around Canterbury another fine day with west/northwesterly winds, a little stronger than Friday.
Sunday October 3
Ruapehu: Cloud early clearing for some sunshine. A reasonably warm day with some wind, but not too strong.
South Island: Cloudy around the Southern Lakes with northwestlery winds, stronger early and weakening through the day. For Canterbury a fine Sunday with moderate westerlies.
Extended Forecast
There is some nice weather to enjoy over this weekend all around the country with the spring sun coming out around the mountains. Moving through the weekend the system currently over southeastern Australia will move closer and arrive on Monday bringing widespread precipitation. At this stage it is not looking like it will be cold enough for it to snow apart from possibility at higher elevations.
This is my last forecast for the 2021 New Zealand season. I hope you have enjoyed an up and down winter and hopefully next year is less interrupted and overseas travel might soon be on the horizon. Take care.
Grasshopper
Japan Weekly Forecast, February 24 – After a Huge Week of Snow, Things Set to Quieten Down
Valid Thursday, Feb 24 – Wednesday, March 2
As expected, it has been another big week for the Central Honshu resorts with heavy snowfalls at times and some huge snow totals recorded with Myoko recording a massive 251cms in the past week, Nozawa Onsen 155cms, Shiga Kogen 129cms and Hakuba was a little behind on 77cms. The heaviest falls were from Monday to last night and for thiose lucky enough to be in Japan, the past three days have been ridiculously deep. Further North Niseko also saw consistently good days with a solid 122cms in the past week with Tuesday and Wednesday being the deepest days.
Most resorts had a good refresh last night, but things look to quieten down over the next week with light snow on Sunday across the Honshu resorts before things pick up mid-week. As you can see from the map below, the mountains in Central and Northern Honshu have the deepest potential snow while it is mellower further north on Hokkaido, but consistent snow showers are forecast from today through to Tuesday.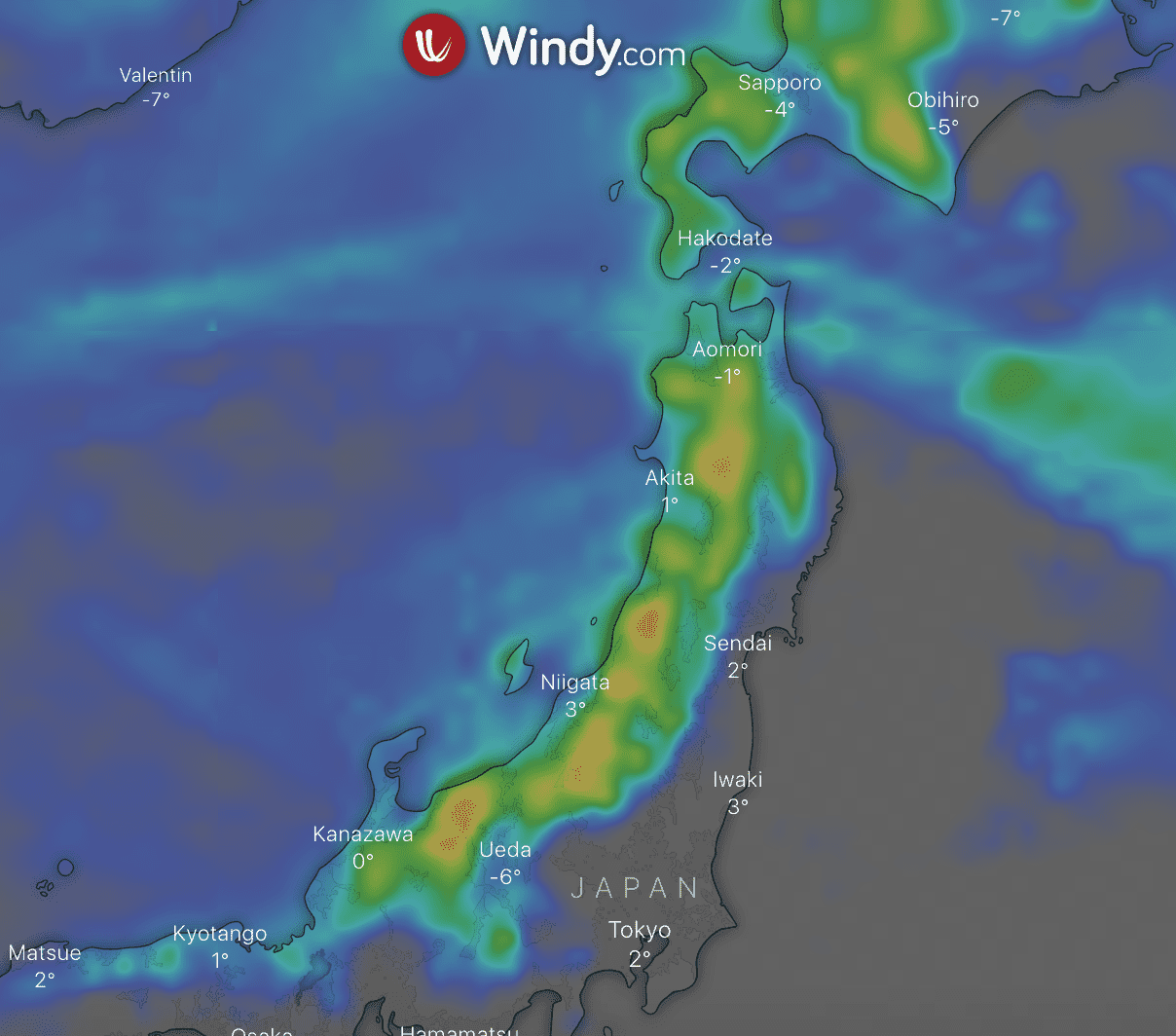 Forecast
Thursday, Feb 24 – Friday, Feb 25
After some good snowfalls overnight in some areas the snow will ease today with flurries by this afternoon and light winds. Not much in it, possible 2cms. Snowfalls will continue in Hokkaido during the day easing tonight with and gusty westerly winds at times.
Light snowfalls on Friday should clear by the afternoon, again only a couple of cms in it and light winds. Snowfalls continue on Hokkaido, but totals will be small, around 5-6cms and stiff westerly winds at times
Saturday, Feb 26  – Sunday, Feb 27
Saturday morning is shaping up as a good day in Honshu with sunshine and light winds, with cloud developing late in the afternoon. Light snow in Hokkaido Increasing in the evening and the moderate to strong WNW winds continue.
Snowfalls increase early Sunday on Honshu and continue through the day, but nothing huge with 10cms excepted. and light NW winds. Snow showers again in Hokkaido with 10cm likely, but gusty westerly winds persisting.
Monday, Feb 28 – Wednesday, March 2
Snow flurries around Honshu throughout the day, west winds picking up in the afternoon. The run of snow continues in Hokkaido with another 5-10cm likely but once again winds will be moderate to string WNW.
Light snowfalls around Honshu on Tuesday morning picking up in the afternoon and continuing overnight with southwest winds, possible drizzle on lower slopes. Snow showers ease across Hokkaido, but moderate westerly winds persist, easing a little after darks.
A few snow showers persist on Wednesday morning across Honshu, easing the afternoon with another 5-10cms possible. The snow showers finally clear in Hokkaido with potential for sunshine and the winds easing a little during the day.
Extended Outlook
After the heavy snowfalls of the past few days things ease across Honshu, but there are still a few cheeky powder days ahead with Sunday and Tuesday looking good for some boot-deep pow although milder conditions could see some rain down low.
In Hokkaido it's looking like 5-15cms daily over the next four or five days with persistent moderate winds before the sun makes a return on Wednesday.
That break in snowfalls next Wednesday/Thursday may be short lived with indications things could pick up leading into the first weekend of March. Possibly one last fling for the winter as the storms are expected to slow down as we head deeper into spring.
This is the final Japan forecast for this season and I'll be back with the Japan forecasts in December. This has been an amazing season with record breaking snow totals and plenty of powder days. Hard to watch with the borders closed, but the good news is indications are Japan is slowly reopening its borders and we are anticipating we'll be a back in the land of deep powder snow next winter.
Until then, it is just a few months until the Southern Hemisphere winter kicks in and my first Australian and NZ season outlooks will be published in mid-April.
Take Care and see you then.
Grasshopper
Weekly North America Forecast – Deep blower pow for most, but patient Sierras to reap the biggest reward
Valid Thursday 12th March to Thursday 19th March
This is it folks, my last forecast for the North American season. And what a way to sign off from an exceptional season; there is so much snow falling this week it was a real challenge putting it into words.
Significant low pressure stewing over the states will see an icy airmass descend southwards, providing deep blower powder for most. The big news, however, is the 60-120cm+ that is expected to fall in the Sierras. They say that a quiet winter will bring a busy spring, and that certainly looks to be the case this season.
Snow accumulations of 25-50cm+ can be found throughout the Rockies and Cascades, while the Coast Mountains of Canada will take a well-deserved breather with just a sprinkling of a few centimetres.
Thursday – Sunday
Low pressure boils up over states during the next few days. This drags a cold arctic airmass from the icy interior down over Canada, and into Idaho, Montana and Wyoming. Super fluffy, feather-like snow will follow suit.
Skies will mostly clear over these northern areas this weekend, giving you that amazing crispy winter feeling with powder to shred, but the snow will keep coming down over southern Idaho, Montana and Wyoming during Sunday and into Monday as this area marks the boundary between the icy easterly airstream, and warm moist southerlies to the south.
Sucked in by the low pressure, these warm, moist southerlies will dump snow over the southern Rockies during Friday night into Saturday. Snow accumulations will be around 15-30cm+, so a fairly decent dump indeed, although not as light and fluffy as we're used to.
Meanwhile, a sneaky low will tip-toe down the west coast, wrapping itself in that same icy airmass from the Arctic. High quality snow will spread down the Cascades and into the Sierras during Friday. Heavy snowfalls will shift from the Cascades to the Sierras during Saturday as the low continues south, and will continue through Sunday.
Monday – next Thursday
As skies clear up in most other places during Monday, it'll continue to dump in the Sierras. The eastern ranges of the Colorado will however, see some more snow late Monday.
The sneaky low will snoop farther inland from Tuesday onwards. Snow will become less widespread and button off in the Sierras, although not clear completely, while spreading inland to the Rockies south of Southern Idaho-Montana with some moderate-heavy falls expected.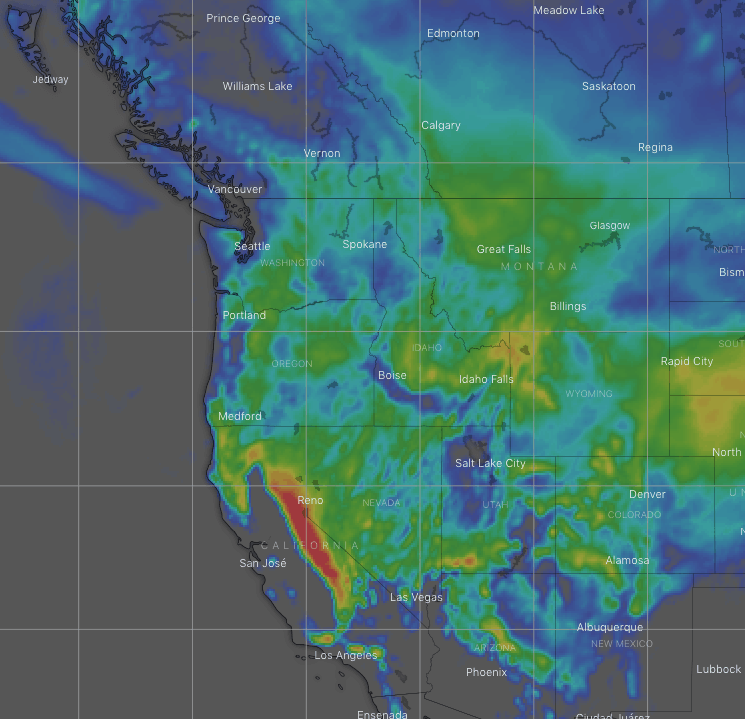 ECMWF model 10-day snow accumulations. Source: windy.com
That's all from me for North America this season. I won't be putting my feet up for long however, because the Southern Hemisphere is starting to chill off, and you know what that means!
1
2
3
…
26
Next »
Subscribe to the Grasshopper's dedicated emailing list and you'll be the first to know when he gets wind of a snowfall via the twitch of his hypersensitive snow antennae.
The Grasshopper. Some say he hatched one summer on a Himalayan plateau. As cold Autumn winds set in, he stumbled upon a scrap of goretex shed by some unfortunate climber and turned it into the smallest snowsuit ever. Then he strapped himself into a nearby leaf and carved his way down the mountains, hitching a ride with some hikers back to civilisation.
Now Mountainwatch's resident meteorology sensei, this season we can expect a lot from the little critter. His beloved monthly outlooks across Australia and New Zealand over the southern hemisphere winter are being replaced with outlooks for both Japan and North America over November and December leading into the northern hemisphere winter. From there, the little critter will go into overdrive producing weekly forecasts for Japan and North America from December through to March. No doubt he'll be run off his feet, so it's a good thing he has six.
EDITOR'S TOP TRAVEL PICKS