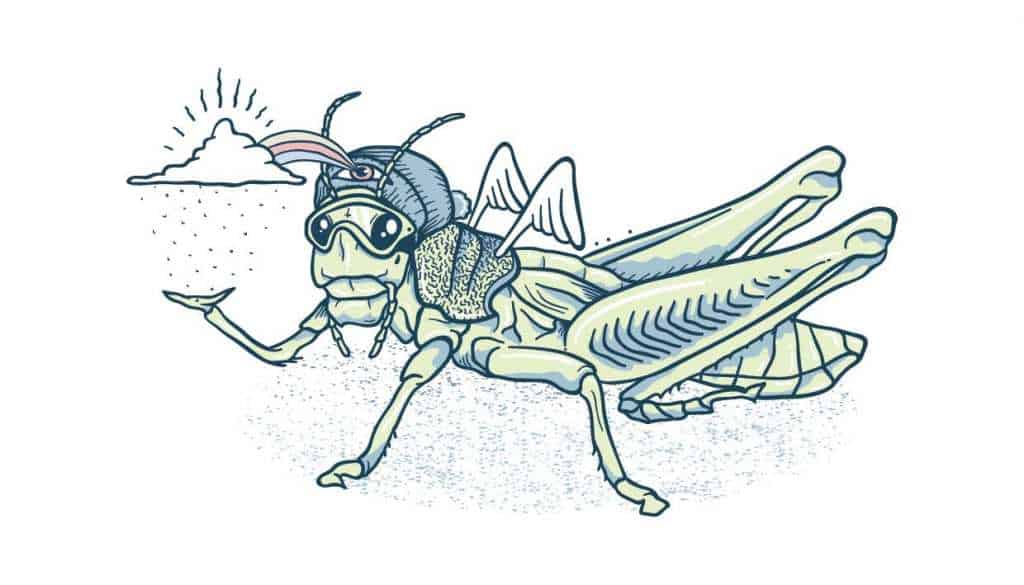 The Grasshopper – The Latest Snow Forecast
Australian Forecast – A fine, calm weekend to see out the Aussie season
Written early Friday 22nd September, valid to Monday 25th September
Well it's been a rough week. Heck, it's been a rough season in term of snow cover. That's not to say we didn't have a hoot, mind you. Snow depths at Spencer's Creek topped out at 131cm after that dump way back in mid-July. The thin snowpack was just no match for these strong, hairdryer northwesterlies of late, and we've witnessed one of the fastest meltdowns and abrupt endings to the Aussie snow season ever.
As such, this is my last forecast of the season. Only Perisher remains open, and will hold the fort until Monday. However, the back-country is open slather, and that's where I'm heading for a long deserved break until the northern Hemisphere kicks into gear.
For those of you heading up the hill, high pressure drifting over the Aussie Alps will bring nothing but lovely, fine weather and light winds today and throughout the weekend. Only on Monday will northwesterlies strengthen with the potential of rain showers, as a weak front approaches from the Bight.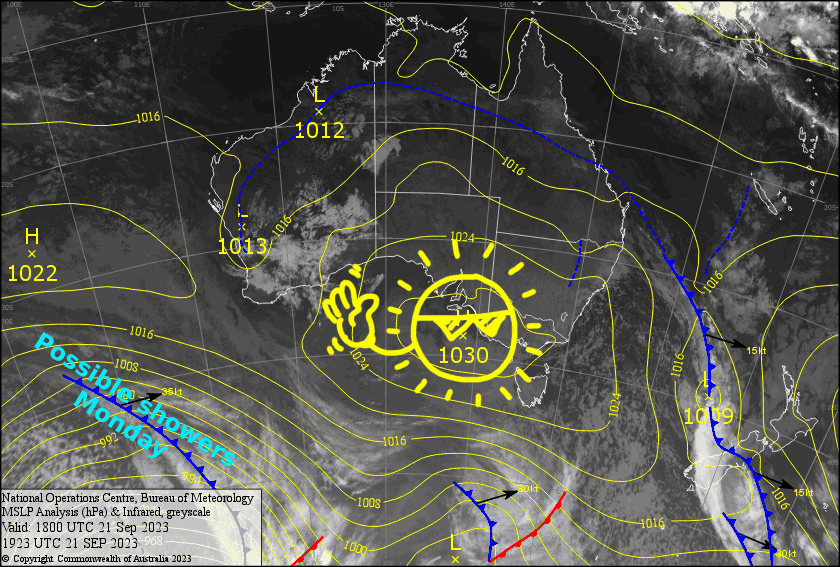 Friday 22nd
A blue-bird day with light breezes.
Saturday 23rd
A nice, calm day, with just a little high cloud.
Sunday 24th
Another blue-bird day, with a light northwesterly breeze.
Monday 25th
A clear start, but a little cloud will build over Victoria in the morning, and then NSW in the afternoon, with potential rain showers. NW winds will get quite strong in exposed areas.
Extended Forecast
Next week, high pressure will dominate, bringing mostly fine weather. However, as some models suggest, it could be rather windy, starting off from the SW, then gradually turning to the NW by next weekend.
That's all from me, folks. It's been a real pleasure, and I can't wait for next season – I've already crossed my antennae that it'll be a better one. In the meantime, keep an eye out here for content about the northern hemisphere snow season over the coming months. When I can pick up a decent signal on my antennae, I'll let you know how the climate is shaping up and who might score it big in my outlooks for Japan and North America. Until then, au revoir!
Grasshopper
Weekly Japan Forecast – Bases continue to build with another 10-40cm across the country in the next several days
 Written Thursday 7th December (Japan Standard Time)
Things are starting to ramp up in Japan with more and more resorts and lifts opening as the snow continues to pile up. A cold front will hit later today bringing a nice addition of about 10-20cm throughout the country. With skies clearing on Friday, there'll be some fun to be had out there for sure.
Skies will stay sunny over central Honshu during Saturday, while Hokkaido suffers under warm temps and rain. However, another cold change will dump another 10-20cm there Sunday into Monday. The cold air won't bring as much fortune to Honshu, where a period of rain or drizzle will be chased up with just brief light snowfall later on Sunday.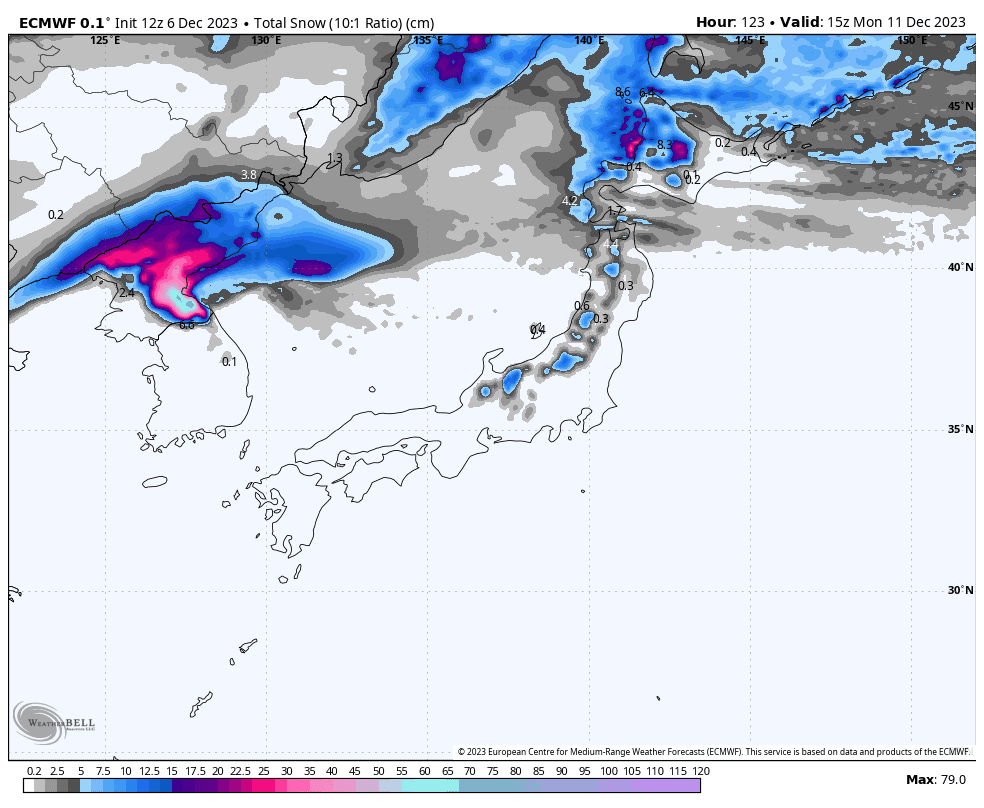 Thursday 7th
Rain spreads over the country this morning, with warm winds out of the S-SW blowing a gale in exposed parts.
The cold front hits this afternoon with a change to strong and colder westerlies. Moderate snowfall will gradually back off tonight as snow levels creep all the way down to rock bottom.
Friday 8th
A good day on the slopes as skies will mostly clear up in the morning while strong westerlies ease, although isolated areas of snowfall will persist into the afternoon in Northern Honshu and central Hokkaido.
Saturday 9th
Warm winds strengthen from the SW, especially over Hokkaido and the north of northern Honshu where rain gets going during the morning. That rain will clear at night as cold winds from the W-NW will start to arrive.
Central Honshu and the south of Northern Honshu will stay nice and clear for the day.
Sunday 10th
A powder day for Hokkaido as strengthening, frigid W-NW winds blow in the goods.
A line of rainy, drizzly stuff slides southwards over Honshu during the morning, followed closely by the same strong, cold W-NW winds to the north and just a few flurries. However, the cold air won't reach central Honshu until later in the afternoon, with just a brief period of light snowfall there, although the Hakuba resorts are likely to miss out.
Extended Outlook
Early next week a deep low storms over the country from the west. This will first bring warm southerlies and heavy rain to Honshu during Tuesday, but heavy snowfall to Hokkaido. Fortunately, colder NW winds will start to arrive later that day and there'll be heavy snowfall through into Wednesday, before a ridge clears things up during Thursday for some sunshine and deep powder turns.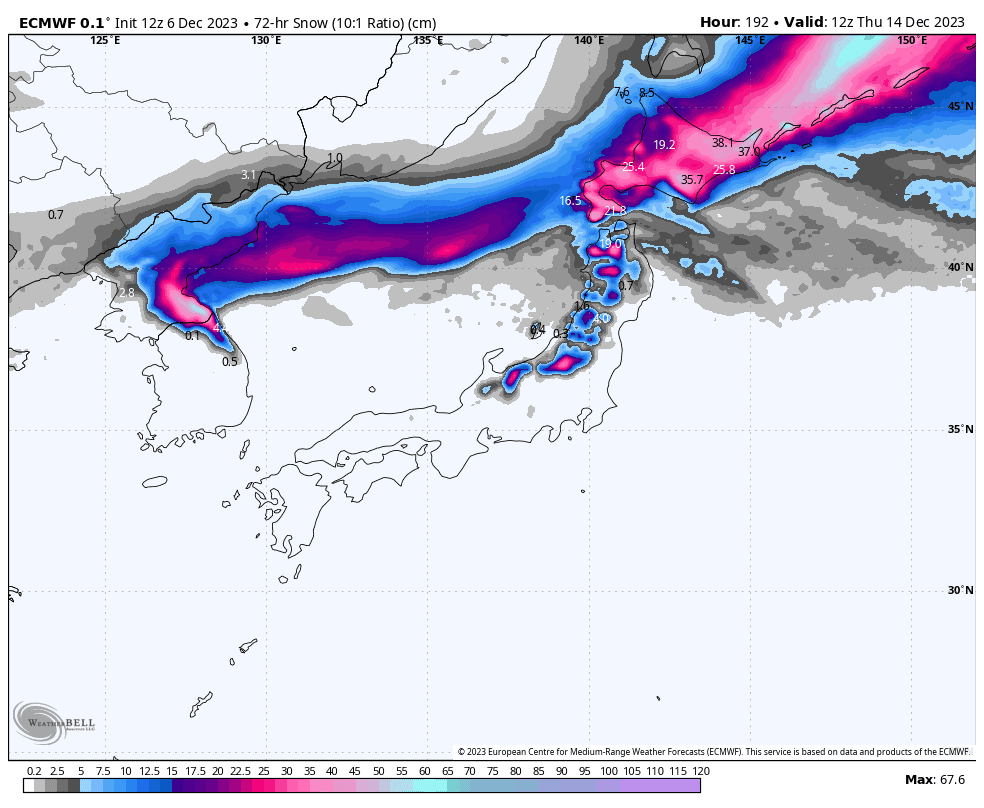 That's all from me today, guys and gals. Have a great weekend and I'll see you Monday.
Grasshopper
Weekly North American Forecast – Another Cold, Action-Packed Week Filled with Dry, High-Quality Powder
Written Wednesday 1st March (Pacific Standard Time)
Relentless storms rolling in from a very active north-eastern Pacific has seen resorts in western North America scoring deep, dry, high-quality powder to low levels. But it is the Californian resorts who have taken it to new heights, with Palisades Tahoe reporting that 365cm has fallen on its upper mountain over the last seven days… are you kidding me!!! I don't know if I've ever seen bigger weekly totals?! This has come at a cost, however, with blizzard conditions and avalanche risks causing some mountain closures.
This week, the rampant storm cycle continues with more of the same in store. Snow accumulations won't be as deep as last week, but they will still reach up to 0.75-1m along the Pacific Crest and up to 25-50cm elsewhere. No one will be spared, and it'll be a great week of cold temps and dry powder.
This is my last forecast for the North American snow season. However, as you can see, there are months' worth of skiing still to be done here. It's been one heck of a season that is bound to go down in the history books. So, if you can, now's the time to book in a trip here, and be part of history.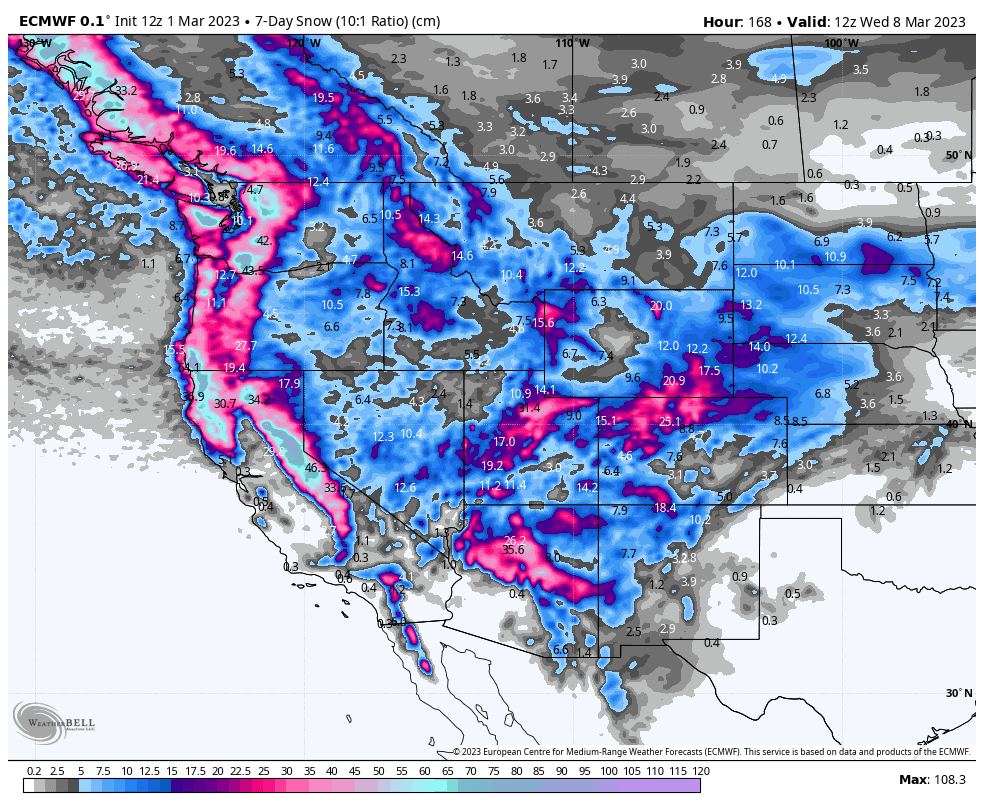 Thursday 2nd & Friday 3rd March
Thursday, snow will have cleared the Sierras and central Rockies, bringing much needed sunshine there. The heavy snowfall that has affected those areas will continue to dump snow over the Arizona, New Mexico and the south of Utah and Colorado, before clearing out during the latter half of the day.
A cold front bearing high quality powder will sweep down over Canada and the NW, reaching as far south and inland as Wyoming by the end of the day. This snowfall will ease Friday, while also trickling down into the central Rockies. However, a second cold front pushing into the Pacific NW will see snowfall there ramp up again late Friday.
Saturday 4th & Sunday 5th March
The second cold front will see snow spread south and inland for what will be a west-wide powdering this weekend, thanks to a stationary low off the NW coast continuously pumping in the goods. A powdering for all, baring Arizona and New Mexico where heavy falls are expected in the Sierras yet again, while the central Rockies will also see solid, moderate falls. Lighter snowfall is expected farther north.
Monday 5th to Wednesday 7th March
Mostly light scattered snowfall across most of the west will gradually peter out during Wednesday as the stationary low off the NW coast finally runs out of juice and weakens away.
However, wobbles in the isobars indicating an extra push of cold air should see the Sierras picking up slightly heavier, more moderate-looking falls late Monday into early Tuesday, as well as parts of the central Rockies of Utah, Wyoming and Colorado later on Tuesday.
Next Thursday & Beyond
Ensemble models expect the action will continue, with cold temps and unsettled weather delivering more of the same dry high-quality powder over the next seven-day period. Snow accumulations appear to be on par with this week's levels, which you could perhaps call a "moderate" amount.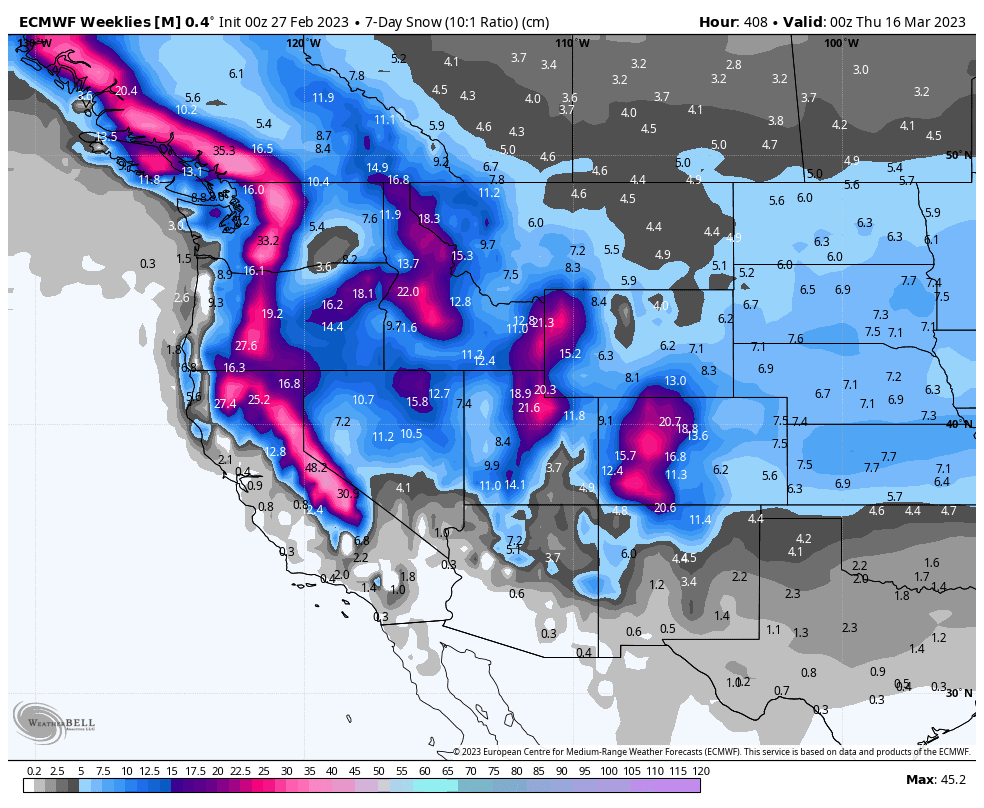 Well, that's all from me for a while guys and gals. Keep an eye out for my 2023 Australian Snow Season Outlook due out in about a month.
Grasshopper
1
2
3
…
43
Next »
Subscribe to the Grasshopper's dedicated emailing list and you'll be the first to know when he gets wind of a snowfall via the twitch of his hypersensitive snow antennae.
The Grasshopper. Some say he hatched one summer on a Himalayan plateau. As cold Autumn winds set in, he stumbled upon a scrap of goretex shed by some unfortunate climber and turned it into the smallest snowsuit ever. Then he strapped himself into a nearby leaf and carved his way down the mountains, hitching a ride with some hikers back to civilisation.
Now Mountainwatch's resident meteorology sensei, this season we can expect a lot from the little critter. His beloved monthly outlooks across Australia and New Zealand over the southern hemisphere winter are being replaced with outlooks for both Japan and North America over November and December leading into the northern hemisphere winter. From there, the little critter will go into overdrive producing weekly forecasts for Japan and North America from December through to March. No doubt he'll be run off his feet, so it's a good thing he has six.
EDITOR'S TOP TRAVEL PICKS