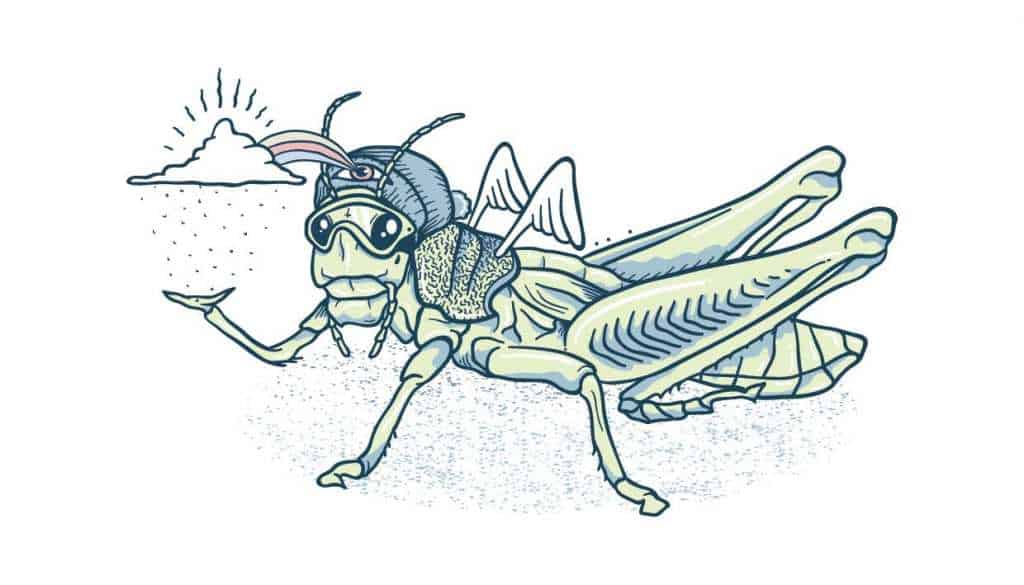 The Grasshopper – The Latest Snow Forecast
Australian Forecast, Monday July 6th – Sunny skies and man-made snow till Thursday
Valid Monday July 6th – Thursday July 9th
We'll see plenty of sunshine over the next four days as a high slips underneath us. Overnight temperatures will be subzero, so snow machines will be able to get some good groundwork done.
The weather this weekend looks uncertain at this stage, with models unsure about a which way a low will go. As it stands we're likely to see snow at least on upper slopes, but rain lower down.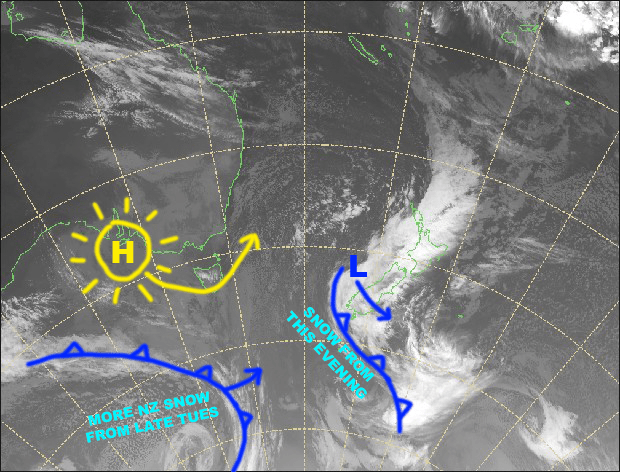 High and dry for the next four days, but overnight temps will be subzero. Source: NZ Metservice (vandalised by the Grasshopper)
 Monday 6th
Resorts will be mostly clear and sunny above the clouds below, which are being pushed in by a chilly southerly breeze.
 Tuesday 7th
Clear and sunny up on the resorts again, while the chilly southerly breeze dies away.
 Wednesday 8th
Fine with a light northerly breeze developing.
 Thursday 9th
Mostly fine with brisk N-NW winds.
 Extended Outlook
From Friday onwards, models aren't coping too well. It's likely we'll see a low approach from the west during Friday with drizzle developing.
The low may pass north of us this weekend without any support from the chilly south, making rain the most likely outcome, although it should fall as snow at least on upper slopes.
The next Aussie forecast will come hot off the press this Thursday the 9th of July, so definitely check back in then as the situation will be more certain for this weekend.
Grasshopper
New Zealand forecast, Monday July 6th – A couple of cold fronts and a few cold, snowy days ahead
Valid Monday July 6th – Thursday July 9th
Wrap up and wax up folks, the forecast for the next few days is cold and snowy.
A low is in the process of rolling over the South Island today, and as it does so, a cold SW wind change will drop a nice 10-20cm over the Southern Lakes tonight.
That same cold front will get snow showers started in Canterbury in the early hours of Tuesday, and then a second even colder front, will keep the snow falling from late Tuesday through to early Thursday.
All up, we can expect 15-25cm for the Southern Lakes and 10-15cm for Canterbury. Sweet!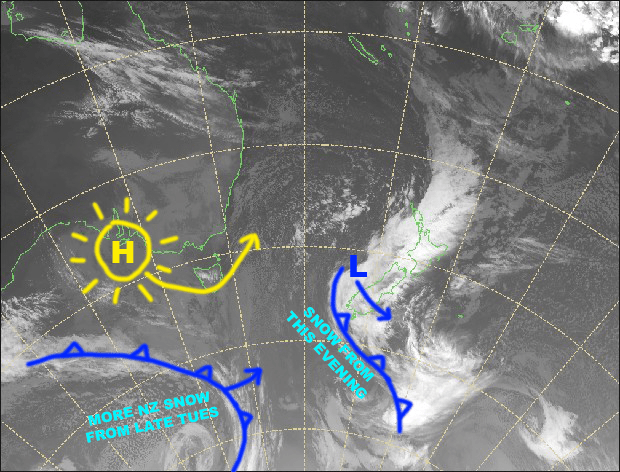 After the low rolls over NZ a couple of cold fronts will see snow falling over the South Island from this evening till early Thursday. Source: NZ Metervice (vandalised by the Grasshopper)
Monday 6th
Any remaining rain/snow showers should have cleared the South Island by daybreak, leaving partly cloudy skies. However, rain/snow showers will get going over the Southern Lakes this afternoon before colder SW winds hit this evening, dropping up to 10-20cm overnight. NW winds will remain strong in Canterbury.
Tuesday 7th
Cold SW winds and snow showers over the South Island. The snow showers will ease during the morning over the Southern Lakes, and then ramp up again during the evening, while they'll be off and on throughout the day in Canterbury.
Wednesday 8th
Snow showers and strong, freezing southerlies over the South Island. The snow showers will clear Canterbury around lunchtime.
Thursday 9th
Strong, freezing southerlies over the South Island gradually abating and cloud breaking up. There may be a few early leftover snow flurries over the Southern Lakes.
Extended Outlook
A westerly flow over the South Island should restrict all the weather to the Main Divide during Friday and Saturday with mostly clear skies over ski fields.
A cold front may then dish out brief snowfalls during Sunday or Monday with a S-SW change.
High pressure and fine weather is the most likely scenario early next week.
That's all from me today guys, enjoy the fresh powder over the next few days. The next NZ forecast will come hot off the press this Thursday the 9th of July.
Weekly Japanese Forecast – A mixed week with some big snowfalls
Valid Thursday 12th March to Thursday 19th March
Well, here we are folks, the last forecast of the season. It's been an interesting season to say the least, and this week's forecast will stick with the trend.
First up, we have freshies out there today, then Hokkaido and Northern Honshu cop a nice dump of 10-20cm+ during Friday. The cold front that brings this dump will stall just north of central Honshu, and when a low swings past there during Saturday there'll be heavy rain down low, but something like 15-25cm of new snow up higher.
We barely bat an eyelid before a second low brings us more snow from later on Sunday, through Monday and into early Tuesday. Wednesday and next Thursday is likely to bring another large mix of rain and snow.
Thursday – Friday
After a nice top-up last night to repair some of the damage from earlier in the week, we're left with the tail end of the cold W-NW winds and snow showers. That should all clear up this morning as winds turn to the SW and temps start to rise.
Those warm SW winds will strengthen overnight. Fortunately, a rather vigorous cold front passes over Hokkaido and northern Honshu during Friday morning and afternoon, briefly dumping a heavy load of wetter-than-usual snow, followed by light n' fluffy snow showers and cold westerlies.
Some of those snow showers should also reach parts of Central Honshu later Friday afternoon, but temps won't be as cold, so it'll fall as the wet stuff on low-mid slopes.
Saturday – Tuesday
With the cold air parked just north of Central Honshu, a low swings past on the Pacific Side. There'll be heavy precipitation over central Honshu and moderate falls over the southern half of Northern Honshu, but due to the placement of that cold air, the former will see rain on lower slopes while the latter should receive snow to low levels.
Northerlies in the wake of the low will pull the cold air down over all of Honshu with a few snow showers about the place early Sunday.
With barely a breath in-between, a second low will bear down from the north, starting snowfalls off over Central Honshu Sunday afternoon and continuing through Monday as the low passes overhead.
As the low tracks away to the east during the latter half of Monday, even colder NW winds will sweep over Japan, also bringing snow showers to northern Honshu and Hokkaido.
Remaining snow showers clear Tuesday as warm SW winds kick-up again.
Wednesday – next Thursday
A system from the west is likely to bring heavy precipitation to Honshu on Wednesday and possibly into early next Thursday. Temps don't look crazy warm at this stage, so snow should fall on low slopes, but maybe not quite to base levels at least until slightly colder NW winds hit.
Hokkiado may also receive a hefty dump from cold westerlies later next Thursday – it's a big MAYBE at this stage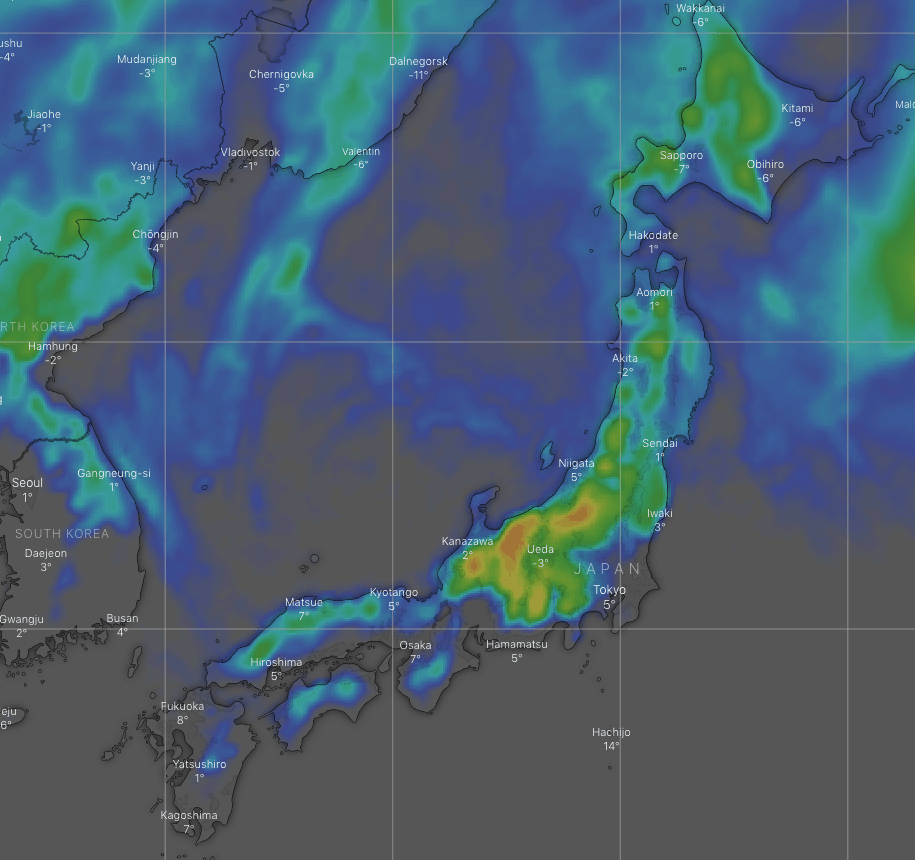 ECMWF 10-day snow accumulations. Source: windy.com
That's all from me for Japan this season. I won't be putting my feet up for long however, because the southern Hemisphere is starting to chill off, and you know what that means!
Weekly North America Forecast – Deep blower pow for most, but patient Sierras to reap the biggest reward
Valid Thursday 12th March to Thursday 19th March
This is it folks, my last forecast for the North American season. And what a way to sign off from an exceptional season; there is so much snow falling this week it was a real challenge putting it into words.
Significant low pressure stewing over the states will see an icy airmass descend southwards, providing deep blower powder for most. The big news, however, is the 60-120cm+ that is expected to fall in the Sierras. They say that a quiet winter will bring a busy spring, and that certainly looks to be the case this season.
Snow accumulations of 25-50cm+ can be found throughout the Rockies and Cascades, while the Coast Mountains of Canada will take a well-deserved breather with just a sprinkling of a few centimetres.
Thursday – Sunday
Low pressure boils up over states during the next few days. This drags a cold arctic airmass from the icy interior down over Canada, and into Idaho, Montana and Wyoming. Super fluffy, feather-like snow will follow suit.
Skies will mostly clear over these northern areas this weekend, giving you that amazing crispy winter feeling with powder to shred, but the snow will keep coming down over southern Idaho, Montana and Wyoming during Sunday and into Monday as this area marks the boundary between the icy easterly airstream, and warm moist southerlies to the south.
Sucked in by the low pressure, these warm, moist southerlies will dump snow over the southern Rockies during Friday night into Saturday. Snow accumulations will be around 15-30cm+, so a fairly decent dump indeed, although not as light and fluffy as we're used to.
Meanwhile, a sneaky low will tip-toe down the west coast, wrapping itself in that same icy airmass from the Arctic. High quality snow will spread down the Cascades and into the Sierras during Friday. Heavy snowfalls will shift from the Cascades to the Sierras during Saturday as the low continues south, and will continue through Sunday.
Monday – next Thursday
As skies clear up in most other places during Monday, it'll continue to dump in the Sierras. The eastern ranges of the Colorado will however, see some more snow late Monday.
The sneaky low will snoop farther inland from Tuesday onwards. Snow will become less widespread and button off in the Sierras, although not clear completely, while spreading inland to the Rockies south of Southern Idaho-Montana with some moderate-heavy falls expected.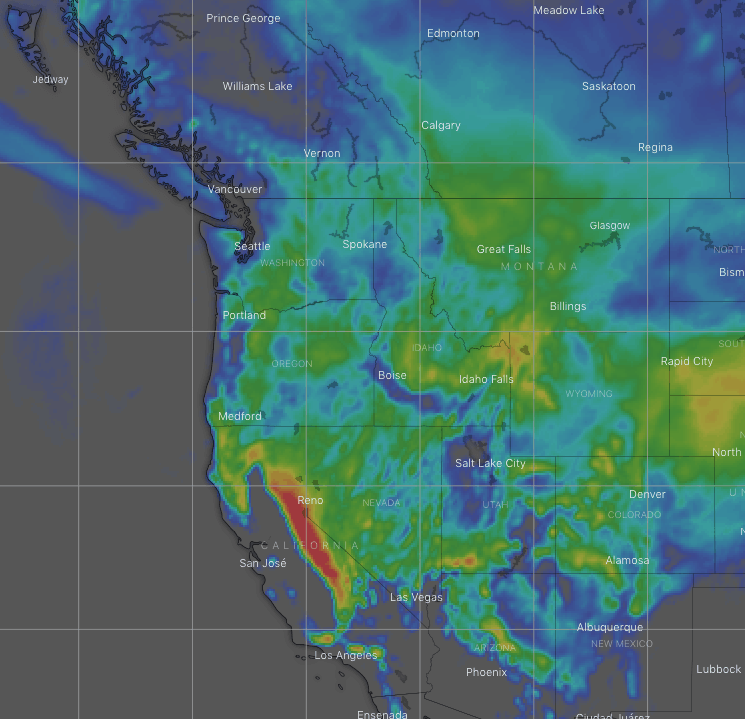 ECMWF model 10-day snow accumulations. Source: windy.com
That's all from me for North America this season. I won't be putting my feet up for long however, because the Southern Hemisphere is starting to chill off, and you know what that means!
1
2
3
…
14
Next »
Subscribe to the Grasshopper's dedicated emailing list and you'll be the first to know when he gets wind of a snowfall via the twitch of his hypersensitive snow antennae.
The Grasshopper. Some say he hatched one summer on a Himalayan plateau. As cold Autumn winds set in, he stumbled upon a scrap of goretex shed by some unfortunate climber and turned it into the smallest snowsuit ever. Then he strapped himself into a nearby leaf and carved his way down the mountains, hitching a ride with some hikers back to civilisation.
Now Mountainwatch's resident meteorology sensei, this season we can expect a lot from the little critter. His beloved monthly outlooks across Australia and New Zealand over the southern hemisphere winter are being replaced with outlooks for both Japan and North America over November and December leading into the northern hemisphere winter. From there, the little critter will go into overdrive producing weekly forecasts for Japan and North America from December through to March. No doubt he'll be run off his feet, so it's a good thing he has six.
EDITOR'S TOP TRAVEL PICKS