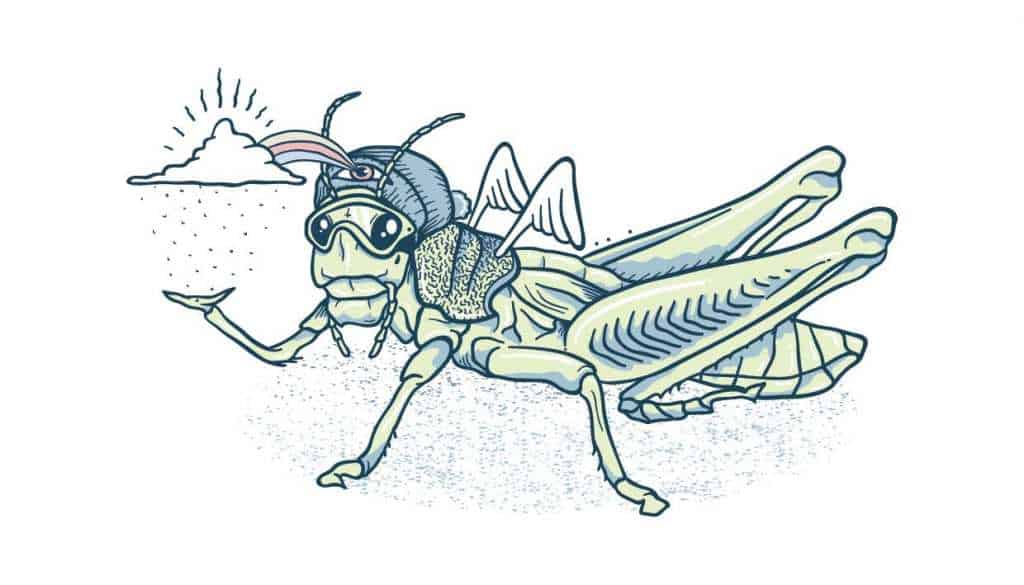 The Grasshopper – The Latest Snow Forecast
Australian Forecast – Conditions brightening for closing weekend despite lingering showers.
Valid Friday 30th September to Sunday 2nd October
Good morning all! This is to be my last forecast for the Australian weekend. It's always a little sad at this time, like good times gone forever. But we know that's not true; the snow will return next winter and I'll be back will bells on. Plus, in the mean time, the northern winter is fast approaching with loads of good times to be had up there if you can make it.
Today, we have a damp, dull day as southeasterlies push in a lot of muck although Mt Buller is again the exception where it is a bright sunny morning. Things will brighten up over closing weekend as the low in the Tasman heads over to drench NZ and the high to the south drifts closer to us, causing the southeasterlies to slowly abate.
However, we will see a little more drizzle and showers on Saturday, but only one or two on Sunday. Snow will fall mostly above 1800m, but will get as low as 1500-1600m in NSW Saturday morning.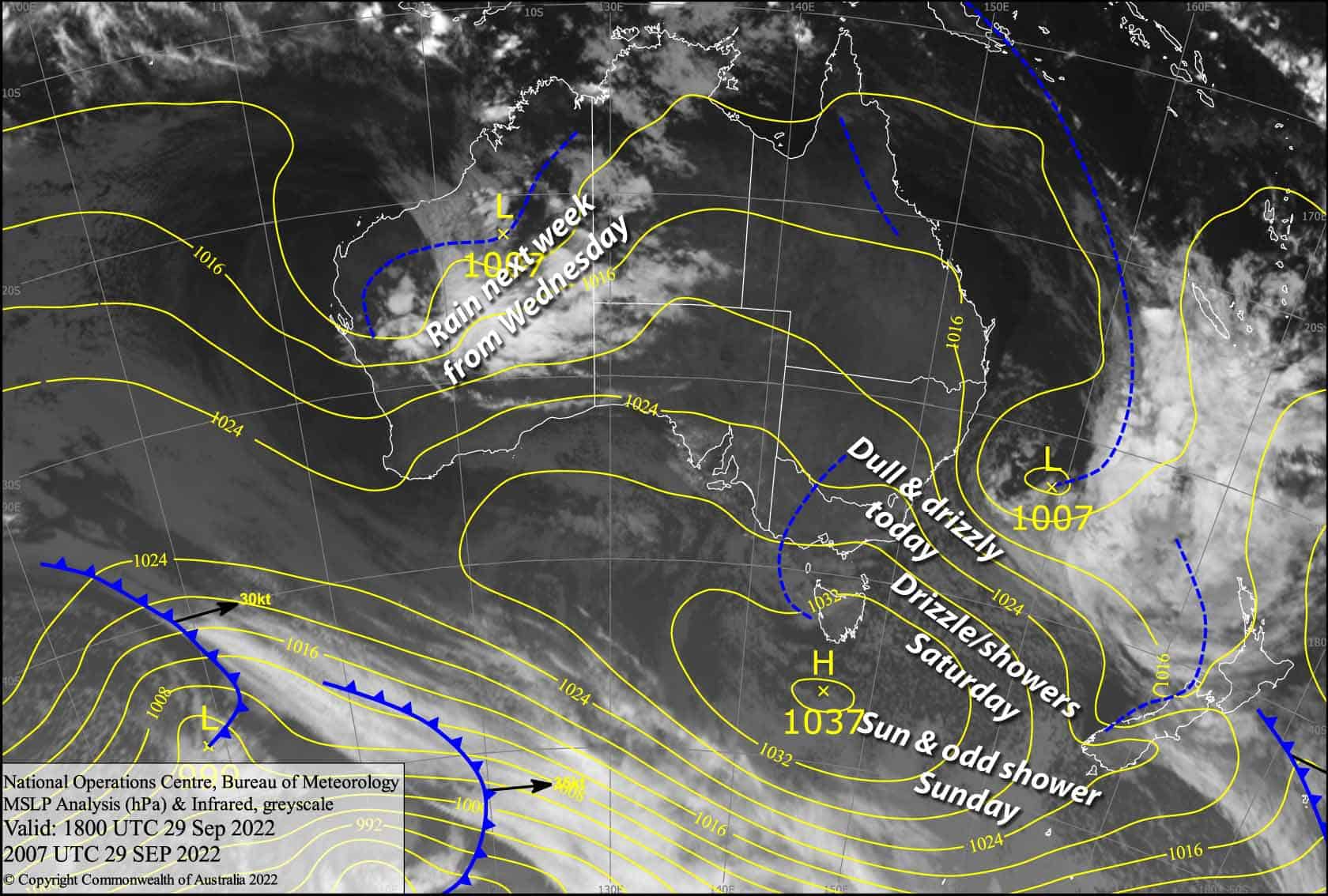 Latest pressure analysis and satellite image. Source: The BOM (vandalised by the Grasshopper)
Friday 30th
E-SE winds are pushing cloud hard up against the mountains, clagging up the slopes with poor visibility. Drizzly showers developing this morning, further adding to the dullness, falling as snow/frozen particles above 1800m.
Buller is the exception, and should remain mostly fine, with just a few showers possible around the middle of the day.
Saturday 1st
Cloud clagging up the slopes again at first with drizzle on the NSW side, falling as snow to 1500-1600m. As the day heats up, cloud will break up and become more vertically stacked, and drizzle will turn to showers, which will also show up in Victoria from midday, with snow lifting to 1800m or above. Light E-SE breezes.
Sunday 2nd
Mostly fine, but as the day heats up, so too will the cloud build, with a shower or two possible. A light westerly breeze turning to the S-SW.
Extended Forecast
If you're hitting the backcountry next week, a ridge of high pressure will keep skies mostly clear for Monday. Tuesday will also be pretty nice, with just S-SE winds during the afternoon pushing in some cloud and a few showers.
Conditions look to deteriorate during Wednesday as a low and it's front approach from the NW, with showers eventually turning to rain and N-NE winds strengthening. There could be heavy falls on Thursday as the front passes over, which will likely continue through Friday. Rain or showers next weekend gradually turn to snow as the low moves underneath us, sending a cold airmass up our way.
That's all from me today, folks. Make the most of the last days of the season, even if they aren't exactly blue bird, because it's a long time between turns otherwise. It's been a real blast, and I'll catch you soon with all the good for the northern hemisphere.
Grasshopper
New Zealand Weekly Forecast, Sept 12 – Cold Front to Deliver Wintry Weather and Snow on Tuesday
Valid September 12th – Sunday September 18th
Wintry weather continues this week as a pair of cold fronts sweep up the country. While South Island fields from Mount Hutt to Coronet Peak may see healthy snowfall accumulations, Hanmer and North Island ski fields are more likely to miss out on the action.
Tuesday brings the best chance for a snow dump this week to southern fields and Mount Hutt as a front delivers a reinvigorating blast of cold air and southwesterly snow showers, with limited amounts further north. High pressure brings chilly temperatures, clearing skies and easing winds on Wednesday and Thursday across South Island with the potential for bluebird days, while Thursday is looking best for Ruapehu.
Another burst of cool air spreads across New Zealand during Friday, but this system is short-lived with only a few snow showers expected. The weekend starts off with another mint weather day for Mount Hutt down to Coronet Peak on Saturday, but increasing northerly winds on Sunday could bring deteriorating conditions on the slopes. For the North Island fields, later Saturday into Sunday is your best bet to see blue skies and light winds.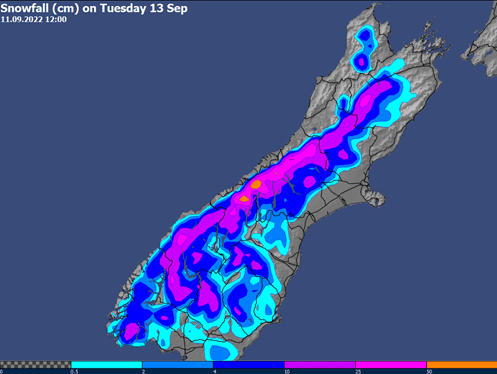 Tuesday 13thSept
All eyes will be on the South Island ski fields, as cold air streams over the country and northwesterly rain is replaced by gusty southerlies and snow showers. The most significant snow totals are expected for Mount Hutt, but southern fields are still likely to see some accumulation in this cold snap.
Strong westerlies and rain for the North Island fields.
Wednesday 14th– Thursday 15thSept
Bluebird skies for South Island fields from Mount Hutt to Coronet Peak. Whakapapa and Turoa could see a few snow showers Wednesday, with their bluebird day delayed until Thursday.
Friday 16thSept
A weak cold front brings minor snow accumulation to South Island with increasing southwesterlies, while a northern low brings strengthening southeasterlies and the potential for rain across North Island.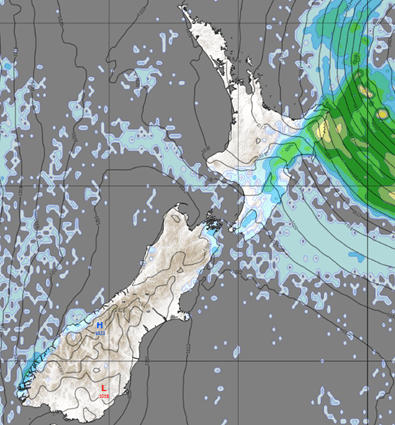 Saturday 17thSept
High pressure brings mint skiing weather in the south, with a bluebird day likely from Mount Hutt southwards. A few showers for Ruapehu, potentially falling as snow at high-levels, with gusty southeasterlies gradually easing.
Sunday 18thSept
A front approaches South Island from the west with strengthening northerlies, though largely dry conditions are possible through the first half of the day. Easing winds and clearing skies for the Ruapehu fields brings the potential for a bluebird day.
Extended Outlook
A front crosses over during Monday 19th, bringing rain to all ski fields, though some of this may fall as snow at high-levels across South Island. This is followed by another cold outbreak as southwesterlies push across the country with a few snow showers possible through mid-next-week.
Weekly Japan Forecast – Snow Today before Spring Sunshine Sets in Again
 Written Thursday 2nd of March (Japan Standard Time)
After good snowfall over the weekend, we've had a few very spring-like warm, clear days here in Japan. It's been great!
This week will roll out in a similar fashion, and, overall, it'll be a period of comparatively low snowfall, equating to about 15-40cm for central Honshu, and 10-25cm farther north.
The most significant snowfall will come later today as freezing levels drop, followed by mostly warm, sunny skies over central Honshu from Friday, and farther north from Sunday. A couple of weak fronts will also bring a spot of mixed precip to northern Honshu and Hokkaido Tuesday and Wednesday.
This is my last forecast for Japan this season. It's been a blast. Fortunately, there is still a month or two left to go before resorts shut their doors. With metres upon metres of snowpack built up over the winter months, and sunnier, more settled skies, spring is still a great time to hit the slopes here, as our very own Nadine Robb can attest to after hitting the slopes in northern Honshu (the Tohoku region). You can read about her trip here, but be warned – you'll be adding yet another ski trip to your bucket list if you do.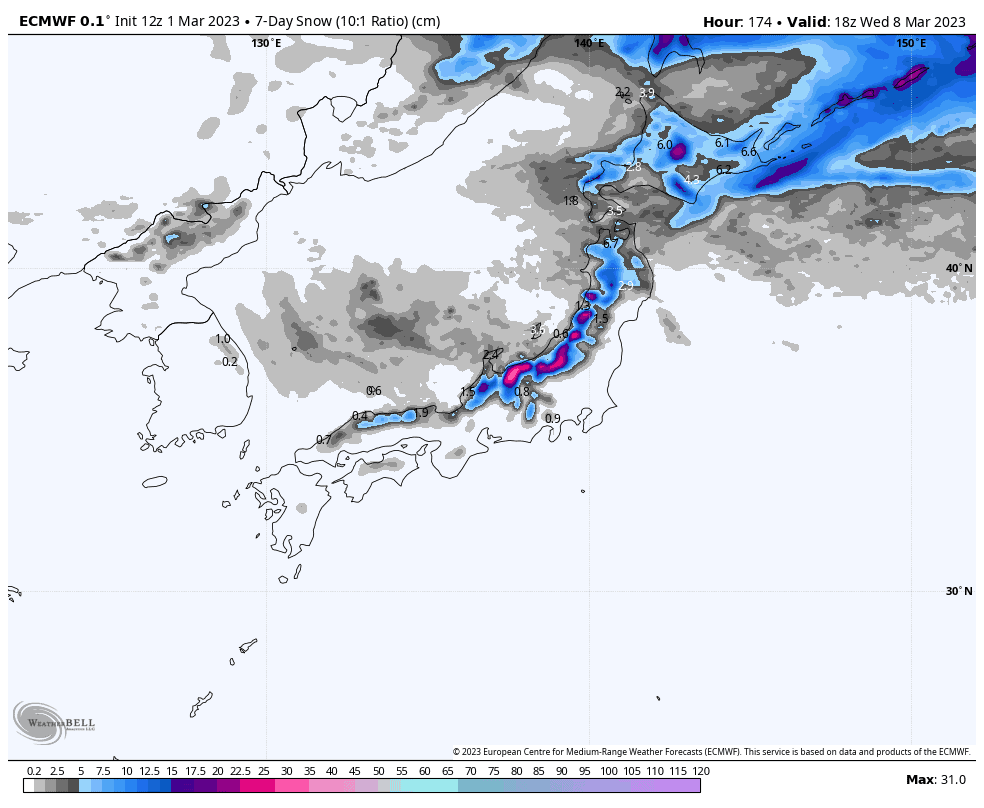 Thursday 2nd & Friday 3rd March
Today, a low will continue to skip away to the NE after having passed over Honshu last night. With the cold front still sitting just off the west coast, freezing levels over Honshu are currently up around 1000-1400m over the central region and about 600-900m in the north. Thus, we have a mix of rain + snow, which is falling rather heavily on central Honshu, especially the Hida Range.
Freezing levels will gradually drop and SW-W winds will turn to the NW as the cold front sweeps south over Honshu later today, with heavy snowfall reaching base levels of central Honshu, and light-moderate falls in the north, before it all starts to ease tonight.
Friday will be mostly sunny for much of central Honshu, but resorts in the east, as well as those in northern Honshu, will continue to see light flurries into the afternoon.
Up on Hokkaido meanwhile, a N-NE flow will see central and eastern areas copping light-moderate falls this morning, before colder NW winds clear things up this afternoon. Westerly winds during Friday will see snow showers building over central-western Hokkaido throughout the day.
Saturday 4th & Sunday 5th March
Saturday, a weakish low and cold front combo will bring mostly light-moderate snowfall to Hokkaido and northern Honshu during the morning, although a blob of heavier snowfall is likely in the north of northern Honshu. Light sprinkles should also reach the Echigo Range of central Honshu during the afternoon, while the rest of central Honshu will just see cloud after a mostly sunny morning.
Sunday, a dry high will bring sunny spring skies and lifting freezing levels – a great day out for whole the family. Winds will be calm over Honshu, but a stiff W-SW winds will blow over Hokkaido.
Monday 6th to Wednesday 8th March
Throughout this period, central Honshu will remain beautifully calm, sunny and warm, thanks to a ridge lingering over the area.
It'll be a similar story further north, but strong SW winds over Hokkaido will spread to northern Honshu during Tuesday as a weak cold front approaches. The front will bring a brief period of rain + snow to Hokkaido during Tuesday, with mostly just cloud reaching northern Honshu. Skies will be clear again for the first half of Wednesday, but another weak front will repeat the process during the latter half of the day.
 Next Thursday & beyond
The warm, fine spring weather is likely to continue until a low springs out from the west, possibly bringing a period of rain sometime next weekend. Cold air and snow should arrive early the following week, lasting for a day or three.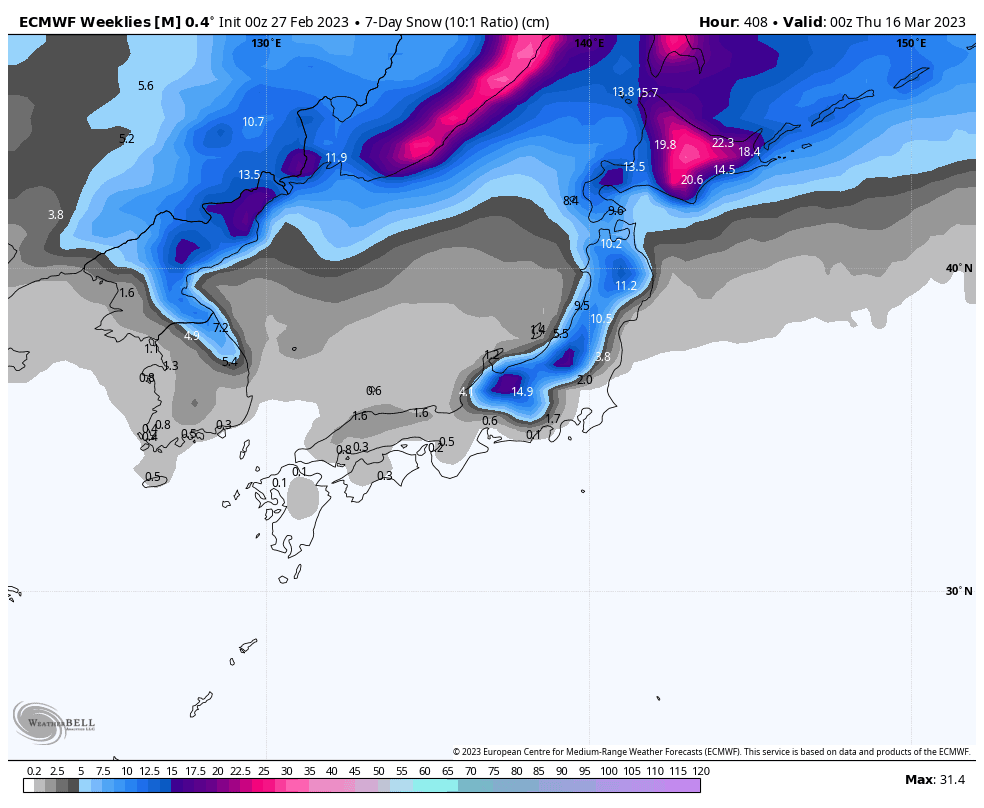 That's all from me guys. Keep an eye out for my 2023 Australian Snow Season Outlook due out in about a month.
Grasshopper
Weekly North American Forecast – Another Cold, Action-Packed Week Filled with Dry, High-Quality Powder
Written Wednesday 1st March (Pacific Standard Time)
Relentless storms rolling in from a very active north-eastern Pacific has seen resorts in western North America scoring deep, dry, high-quality powder to low levels. But it is the Californian resorts who have taken it to new heights, with Palisades Tahoe reporting that 365cm has fallen on its upper mountain over the last seven days… are you kidding me!!! I don't know if I've ever seen bigger weekly totals?! This has come at a cost, however, with blizzard conditions and avalanche risks causing some mountain closures.
This week, the rampant storm cycle continues with more of the same in store. Snow accumulations won't be as deep as last week, but they will still reach up to 0.75-1m along the Pacific Crest and up to 25-50cm elsewhere. No one will be spared, and it'll be a great week of cold temps and dry powder.
This is my last forecast for the North American snow season. However, as you can see, there are months' worth of skiing still to be done here. It's been one heck of a season that is bound to go down in the history books. So, if you can, now's the time to book in a trip here, and be part of history.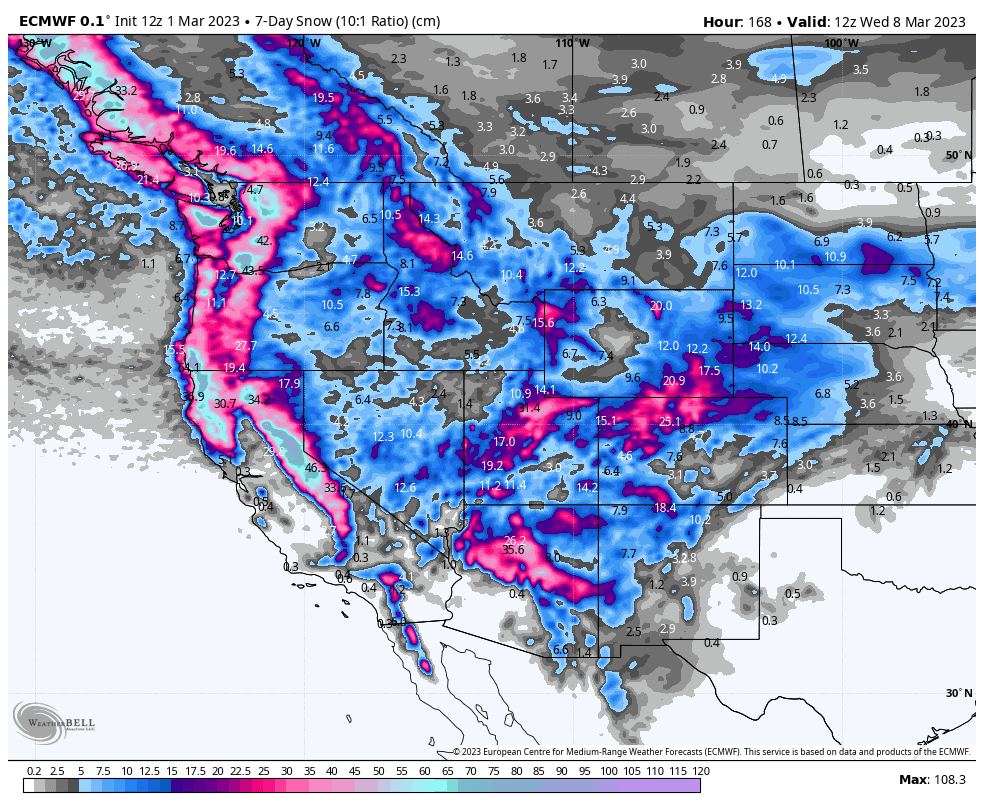 Thursday 2nd & Friday 3rd March
Thursday, snow will have cleared the Sierras and central Rockies, bringing much needed sunshine there. The heavy snowfall that has affected those areas will continue to dump snow over the Arizona, New Mexico and the south of Utah and Colorado, before clearing out during the latter half of the day.
A cold front bearing high quality powder will sweep down over Canada and the NW, reaching as far south and inland as Wyoming by the end of the day. This snowfall will ease Friday, while also trickling down into the central Rockies. However, a second cold front pushing into the Pacific NW will see snowfall there ramp up again late Friday.
Saturday 4th & Sunday 5th March
The second cold front will see snow spread south and inland for what will be a west-wide powdering this weekend, thanks to a stationary low off the NW coast continuously pumping in the goods. A powdering for all, baring Arizona and New Mexico where heavy falls are expected in the Sierras yet again, while the central Rockies will also see solid, moderate falls. Lighter snowfall is expected farther north.
Monday 5th to Wednesday 7th March
Mostly light scattered snowfall across most of the west will gradually peter out during Wednesday as the stationary low off the NW coast finally runs out of juice and weakens away.
However, wobbles in the isobars indicating an extra push of cold air should see the Sierras picking up slightly heavier, more moderate-looking falls late Monday into early Tuesday, as well as parts of the central Rockies of Utah, Wyoming and Colorado later on Tuesday.
Next Thursday & Beyond
Ensemble models expect the action will continue, with cold temps and unsettled weather delivering more of the same dry high-quality powder over the next seven-day period. Snow accumulations appear to be on par with this week's levels, which you could perhaps call a "moderate" amount.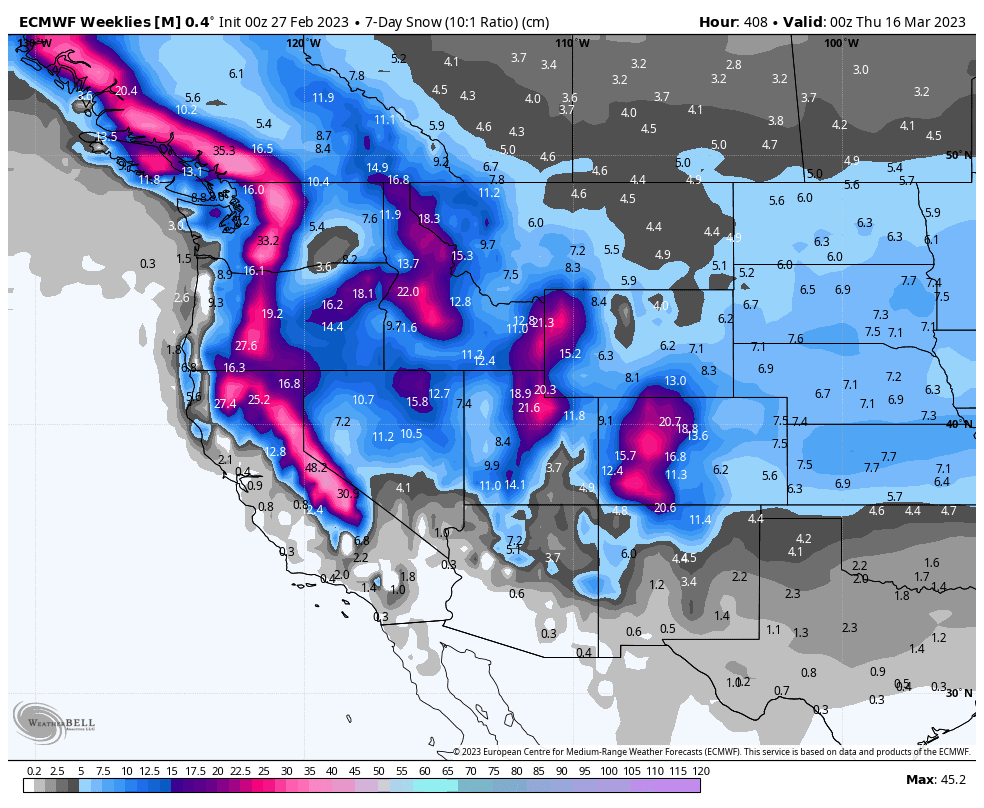 Well, that's all from me for a while guys and gals. Keep an eye out for my 2023 Australian Snow Season Outlook due out in about a month.
Grasshopper
1
2
3
…
36
Next »
Subscribe to the Grasshopper's dedicated emailing list and you'll be the first to know when he gets wind of a snowfall via the twitch of his hypersensitive snow antennae.
The Grasshopper. Some say he hatched one summer on a Himalayan plateau. As cold Autumn winds set in, he stumbled upon a scrap of goretex shed by some unfortunate climber and turned it into the smallest snowsuit ever. Then he strapped himself into a nearby leaf and carved his way down the mountains, hitching a ride with some hikers back to civilisation.
Now Mountainwatch's resident meteorology sensei, this season we can expect a lot from the little critter. His beloved monthly outlooks across Australia and New Zealand over the southern hemisphere winter are being replaced with outlooks for both Japan and North America over November and December leading into the northern hemisphere winter. From there, the little critter will go into overdrive producing weekly forecasts for Japan and North America from December through to March. No doubt he'll be run off his feet, so it's a good thing he has six.
EDITOR'S TOP TRAVEL PICKS