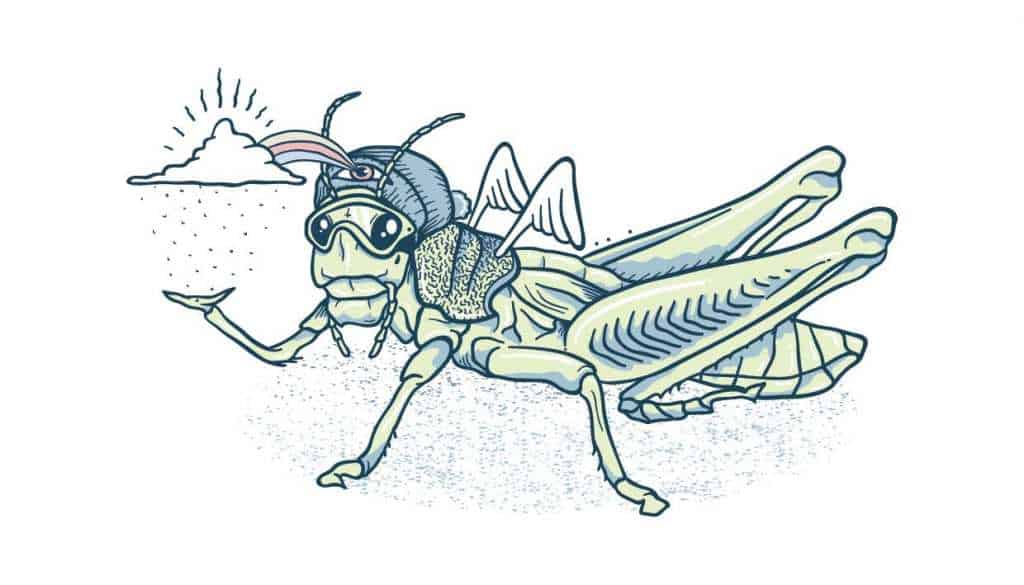 The Grasshopper – The Latest Snow Forecast
Australian Forecast – Conditions brightening for closing weekend despite lingering showers.
Valid Friday 30th September to Sunday 2nd October
Good morning all! This is to be my last forecast for the Australian weekend. It's always a little sad at this time, like good times gone forever. But we know that's not true; the snow will return next winter and I'll be back will bells on. Plus, in the mean time, the northern winter is fast approaching with loads of good times to be had up there if you can make it.
Today, we have a damp, dull day as southeasterlies push in a lot of muck although Mt Buller is again the exception where it is a bright sunny morning. Things will brighten up over closing weekend as the low in the Tasman heads over to drench NZ and the high to the south drifts closer to us, causing the southeasterlies to slowly abate.
However, we will see a little more drizzle and showers on Saturday, but only one or two on Sunday. Snow will fall mostly above 1800m, but will get as low as 1500-1600m in NSW Saturday morning.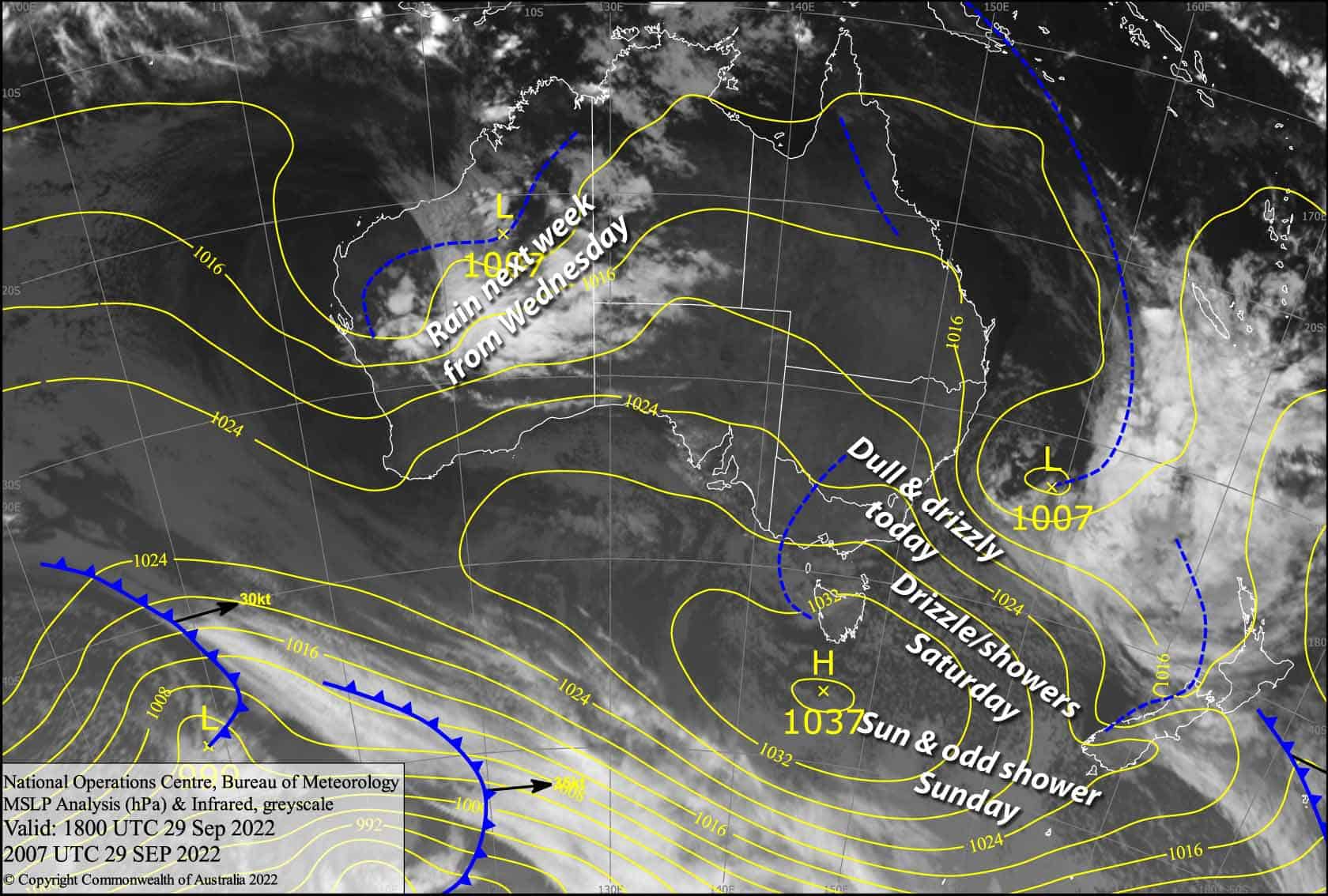 Latest pressure analysis and satellite image. Source: The BOM (vandalised by the Grasshopper)
Friday 30th
E-SE winds are pushing cloud hard up against the mountains, clagging up the slopes with poor visibility. Drizzly showers developing this morning, further adding to the dullness, falling as snow/frozen particles above 1800m.
Buller is the exception, and should remain mostly fine, with just a few showers possible around the middle of the day.
Saturday 1st
Cloud clagging up the slopes again at first with drizzle on the NSW side, falling as snow to 1500-1600m. As the day heats up, cloud will break up and become more vertically stacked, and drizzle will turn to showers, which will also show up in Victoria from midday, with snow lifting to 1800m or above. Light E-SE breezes.
Sunday 2nd
Mostly fine, but as the day heats up, so too will the cloud build, with a shower or two possible. A light westerly breeze turning to the S-SW.
Extended Forecast
If you're hitting the backcountry next week, a ridge of high pressure will keep skies mostly clear for Monday. Tuesday will also be pretty nice, with just S-SE winds during the afternoon pushing in some cloud and a few showers.
Conditions look to deteriorate during Wednesday as a low and it's front approach from the NW, with showers eventually turning to rain and N-NE winds strengthening. There could be heavy falls on Thursday as the front passes over, which will likely continue through Friday. Rain or showers next weekend gradually turn to snow as the low moves underneath us, sending a cold airmass up our way.
That's all from me today, folks. Make the most of the last days of the season, even if they aren't exactly blue bird, because it's a long time between turns otherwise. It's been a real blast, and I'll catch you soon with all the good for the northern hemisphere.
Grasshopper
New Zealand Weekly Forecast, Sept 12 – Cold Front to Deliver Wintry Weather and Snow on Tuesday
Valid September 12th – Sunday September 18th
Wintry weather continues this week as a pair of cold fronts sweep up the country. While South Island fields from Mount Hutt to Coronet Peak may see healthy snowfall accumulations, Hanmer and North Island ski fields are more likely to miss out on the action.
Tuesday brings the best chance for a snow dump this week to southern fields and Mount Hutt as a front delivers a reinvigorating blast of cold air and southwesterly snow showers, with limited amounts further north. High pressure brings chilly temperatures, clearing skies and easing winds on Wednesday and Thursday across South Island with the potential for bluebird days, while Thursday is looking best for Ruapehu.
Another burst of cool air spreads across New Zealand during Friday, but this system is short-lived with only a few snow showers expected. The weekend starts off with another mint weather day for Mount Hutt down to Coronet Peak on Saturday, but increasing northerly winds on Sunday could bring deteriorating conditions on the slopes. For the North Island fields, later Saturday into Sunday is your best bet to see blue skies and light winds.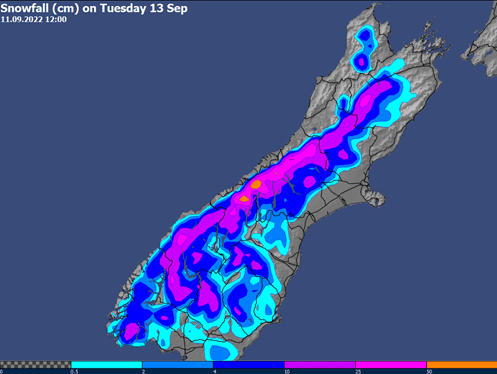 Tuesday 13thSept
All eyes will be on the South Island ski fields, as cold air streams over the country and northwesterly rain is replaced by gusty southerlies and snow showers. The most significant snow totals are expected for Mount Hutt, but southern fields are still likely to see some accumulation in this cold snap.
Strong westerlies and rain for the North Island fields.
Wednesday 14th– Thursday 15thSept
Bluebird skies for South Island fields from Mount Hutt to Coronet Peak. Whakapapa and Turoa could see a few snow showers Wednesday, with their bluebird day delayed until Thursday.
Friday 16thSept
A weak cold front brings minor snow accumulation to South Island with increasing southwesterlies, while a northern low brings strengthening southeasterlies and the potential for rain across North Island.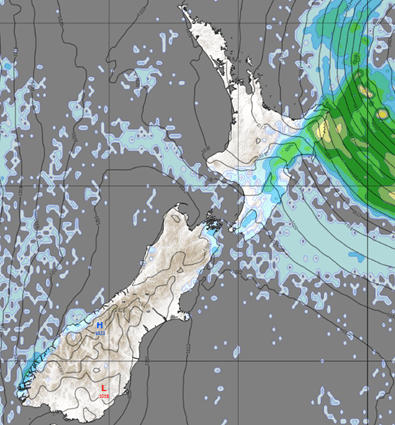 Saturday 17thSept
High pressure brings mint skiing weather in the south, with a bluebird day likely from Mount Hutt southwards. A few showers for Ruapehu, potentially falling as snow at high-levels, with gusty southeasterlies gradually easing.
Sunday 18thSept
A front approaches South Island from the west with strengthening northerlies, though largely dry conditions are possible through the first half of the day. Easing winds and clearing skies for the Ruapehu fields brings the potential for a bluebird day.
Extended Outlook
A front crosses over during Monday 19th, bringing rain to all ski fields, though some of this may fall as snow at high-levels across South Island. This is followed by another cold outbreak as southwesterlies push across the country with a few snow showers possible through mid-next-week.
Weekly Japan Forecast, Jan 26th – Another Epic Week with Back-To-Back Storms
 Written Thursday 26thJanuary (Japan Standard Time)
It's been a big couple of days in Japan after an intense snowstorm hit at the start of the week. Numbers from our own reporters around central Honshu were up and over 0.6-1m after heavy snowfall there Tuesday afternoon into the early hours of Wednesday. Resorts in northern Honshu and Hokkaido have also seen the powder piling up, while icy temperatures and strong winds have made for extremely adverse conditions and some operational and safety headaches.
The storm cycle will remain active over the coming seven-day period, as numerous back-to-back low-pressure systems should dump another 0.5-1m+ of powder on Honshu, and about half as much onto Hokkaido. We'll only see brief pauses in snowfall and glimpses of the sun between these storm systems, but it's going to be another epic week here in Japan.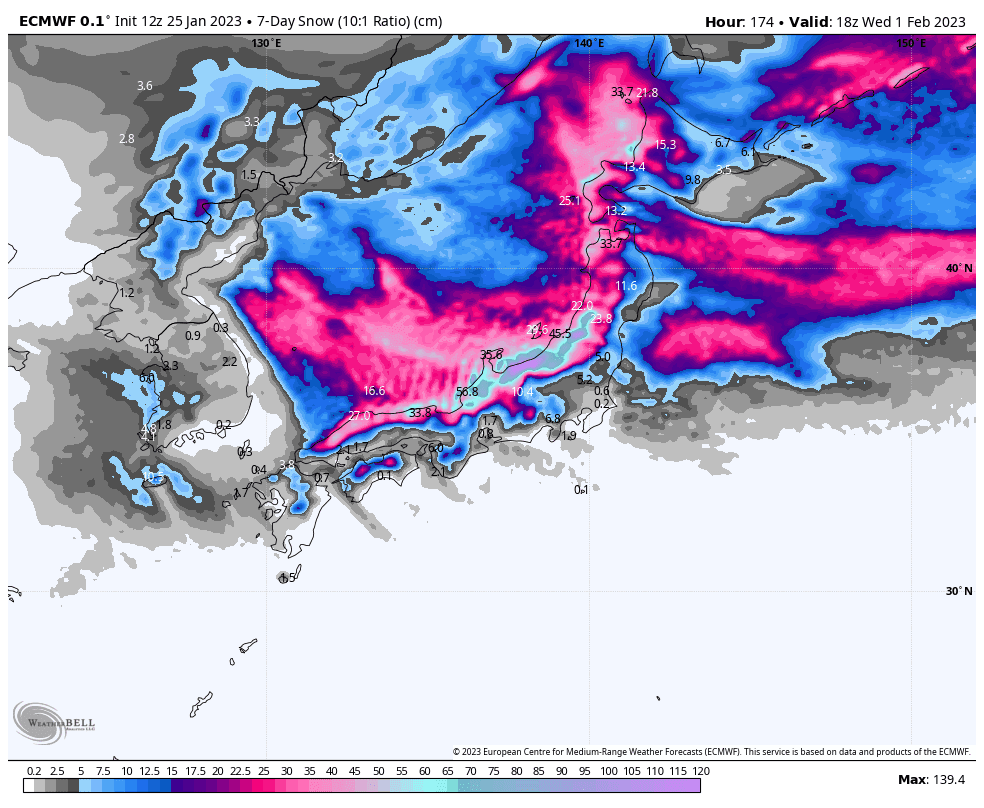 Thursday Jan 26th& Friday 27th
Thick, fluffy snowflakes will continue to fly in along the Sea of Japan side of the archipelago today, Thursday. To start with, the heaviest falls will be along the Echigo Range, with predominantly light falls elsewhere. The Hida Range of central Honshu will also see heavy falls this afternoon as W-SW winds there tilt a fraction more the NW.
Conditions, including the icy winds and snowfall, will abate during Friday morning as a low-pressure system straddling Honshu develops. It'll only be a temporary lull, however, as moderate-heavy snowfall will get underway again over central Honshu and the southern half of northern Honshu from afternoon as the low deepens and spins off into Pacific.
 Saturday Jan 28th & Sunday 29th
With the low mentioned above continuing to deepen as it heads NE in the Pacific, where it eventually joins forces with another in the Sea of Okhotsk, icy W-NW will once again blow over Japan throughout the weekend with good consistent snowfall. The heaviest falls will start out around the Hida range before gradually shifting eastwards to the Echigo range during Saturday into early Sunday.
Conditions should ease late Sunday as a weak, narrow ridge builds over the country.
Monday Jan 30th to Wednesday Feb 1st
Monday will bring another brief interlude as we transition from one snowstorm to another. Sunshine should break out over Honshu for a time, while light snow showers are likely to persist on Hokkaido. But later in the day, snow will start falling over Honshu again, lightly at first as the next low begins to make landfall, then becoming heavier during the overnight/early Tuesday period as the low crosses over into the Pacific.
Snowfall and conditions will start to abate during the second half of Tuesday, before clearing up early Wednesday with another sunny spell. The next snow storm is likely to hit Hokkaido late Wednesday and then Honshu early next Thursday.
Thursday Feb 2nd Feb
The last snow storm mentioned above will likely be at its zenith next Thursday before gradually backing off over the following couple of days. Ensemble models then indicate conditions across Japan will quieten down somewhat to more average-looking conditions after what would have been an intense wintry week.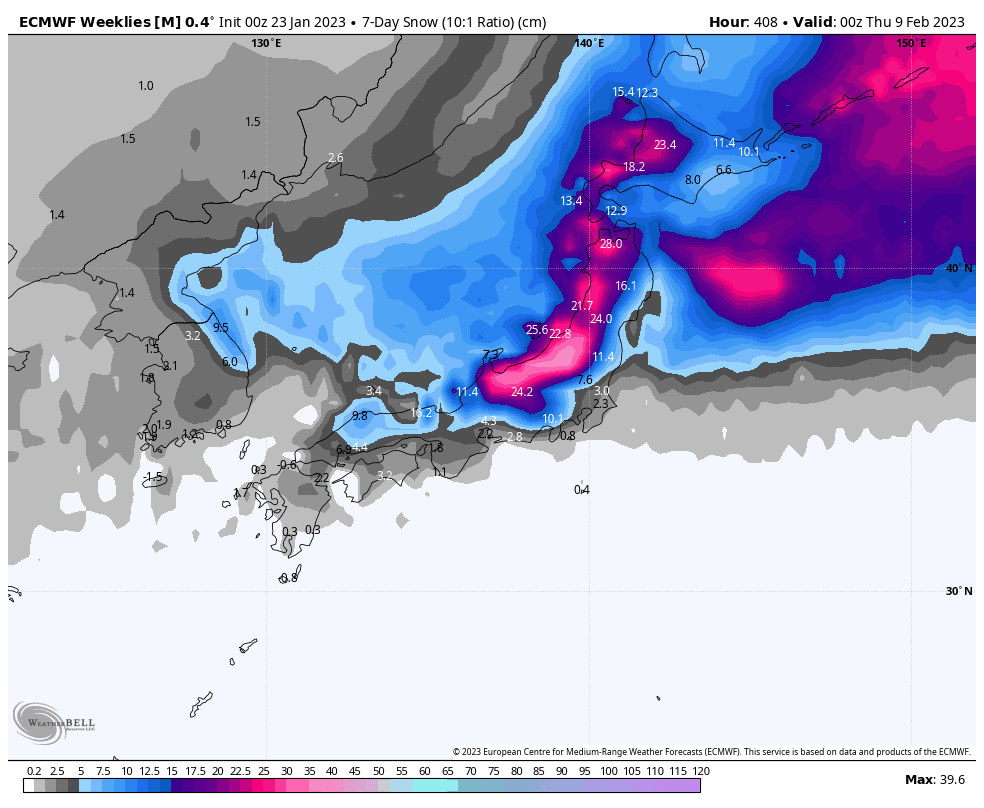 Remember, average in Japan is still good, whereas a heavy snow week can often cause a lot of headaches with operations and safety.
That's all from me this week guys, see you next week!
Grasshopper
Weekly North American Forecast – Snowfalls Favour the Northern Rockies as an Arctic Airmass Descends
Written Thursday 27th January (Pacific Standard Time)
It's going to be a great week for resorts in the northern Rockies who've had to watch from afar as resorts to the south have seen most of the action so far this season.
A belt of snowfall marking the edge of an Arctic airmass will slowly sink southwards over the next several days. Only New Mexico will likely miss out on the action in a westwide top-up, but it'll be resorts in Idaho, Montana, Wyoming and northern Colorado who will benefit the most with totals reaching 30-50cm. Resorts in the Canadian Rockies will also have a good showing with 15-30cm expected.
With sunny skies and cold temps in the wake of the snowfall, there will be excellent feel-good conditions to be had for those lucky enough to be in this part of the world.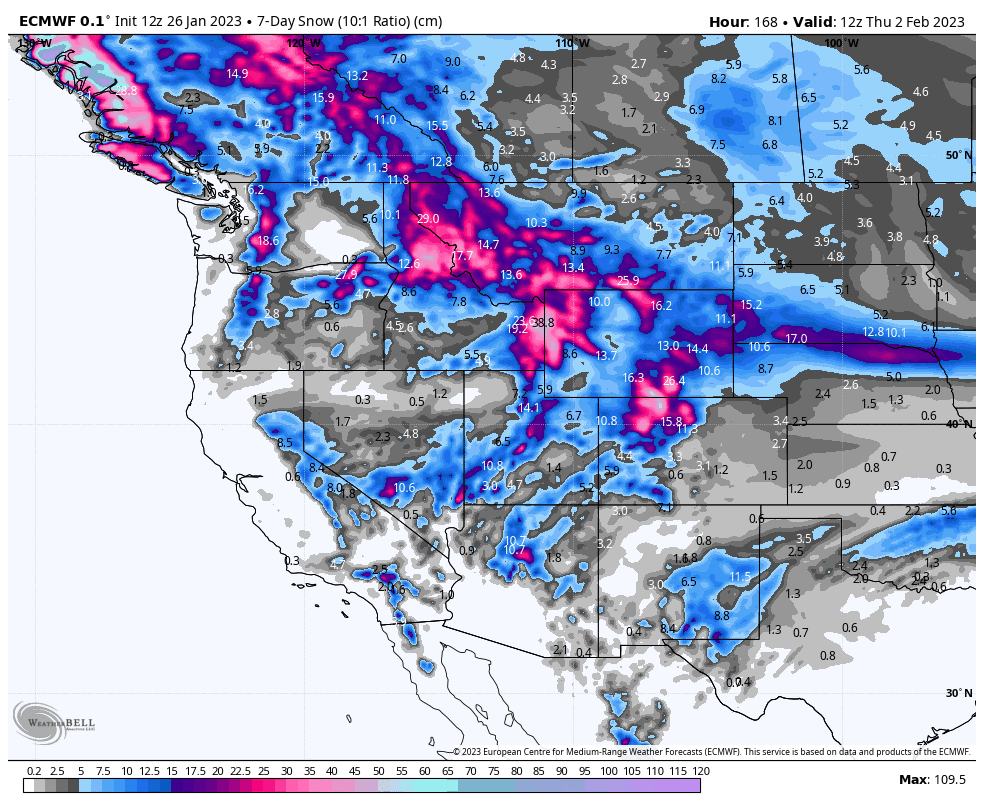 Thursday Jan 27th & Friday Jan 28th
A NW flow aloft has light scattered showers along the length of the Rockies as far south as northern Colorado. Temperatures are mild, however, so it'll be a wet mix of precip at low elevations.
Later today these showers will grow in vigor and breadth as some extra moisture from the Pacific runs into an Arctic airmass pushing in from the NE. There'll be periods of moderate to heavy falls persisting through Friday, especially in Idaho, Montana and Wyoming, with the Pacific NW also getting in on the action.  While the bulk of the snow is falling, temps will remain mild, so we'll continue to see that wet precip mix down low.
The Arctic airmass will start to sink southwards over Alberta late Friday with a significant improvement in snow quality before snowfalls begin to peter out as the atmosphere dries out.
Saturday Jan 29th & Sunday Jan 30th 
The Arctic airmass will continue to sink southwards throughout the weekend. The frontier of this airmass is marked by a band of light-moderate snowfall of the highest-quality light n' fluffy kind. Behind this band skies clear as the atmosphere dries up and pressures rise.
During Sunday, this snowfall band will eventually make its way down onto the Sierras, Utah and Colorado, while there will be excellent conditions to the north where resorts will have that perfect mix of sun, powder and icy temps.
Monday Jan 31st Jan to Wednesday Feb 1st 
The western edge of the snowfall band mentioned above will pivot southwards, leaving California early Monday while entering Arizona. The eastern edge, meanwhile, will remain in Colorado with persistent mostly light snowfall throughout the day.
While still situated over Arizona and Colorado, the band will dissipate into thin air during Tuesday, with only a few snowflakes leftover for New Mexico whose luck appears to have run out by missing all the action.
While all this is going on down south, cloud will creep in over the north with a period or two of light snow showers as the Arctic airmass is gradually replaced by more mild and humid Pacific air.
Next Thursday Feb 2nd & Beyond
At this point models expect a front to bring decent snowfall to the Pacific crest next Thursday and Friday, with lighter falls throughout the northern and central Rockies.
For the remainder of next week ensemble models expect any snowfall will predominantly fall in the north as Pacific air continues to flow in there. High pressure is likely to dominate further south, where dry, cold conditions should make for some great feel-good conditions.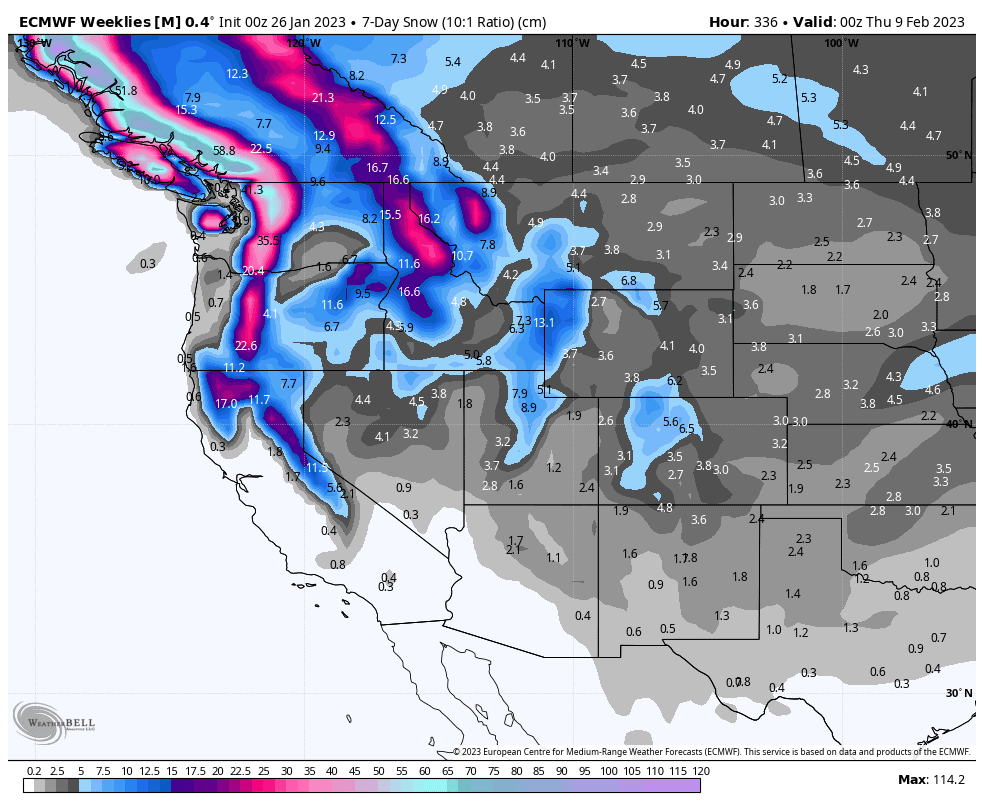 Well, that's all from me this week guys, see you next week.
1
2
3
…
34
Next »
Subscribe to the Grasshopper's dedicated emailing list and you'll be the first to know when he gets wind of a snowfall via the twitch of his hypersensitive snow antennae.
The Grasshopper. Some say he hatched one summer on a Himalayan plateau. As cold Autumn winds set in, he stumbled upon a scrap of goretex shed by some unfortunate climber and turned it into the smallest snowsuit ever. Then he strapped himself into a nearby leaf and carved his way down the mountains, hitching a ride with some hikers back to civilisation.
Now Mountainwatch's resident meteorology sensei, this season we can expect a lot from the little critter. His beloved monthly outlooks across Australia and New Zealand over the southern hemisphere winter are being replaced with outlooks for both Japan and North America over November and December leading into the northern hemisphere winter. From there, the little critter will go into overdrive producing weekly forecasts for Japan and North America from December through to March. No doubt he'll be run off his feet, so it's a good thing he has six.
EDITOR'S TOP TRAVEL PICKS