Wednesday 18 September – Sunny and settled through into Saturday
Synoptic Outlook
A happy high in the Tasman Sea will take the country under its wing today, providing nice settled conditions all the way through Saturday. Enjoy the sunshine!
Image of The Day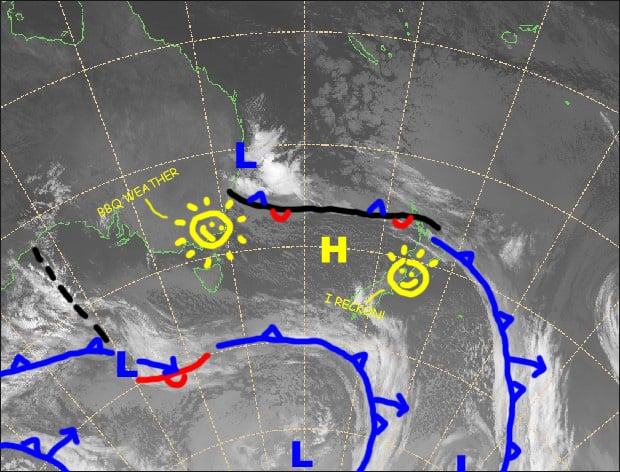 Nice settled weather today through Saturday thanks to the happy high in the Tasman Sea. Source: NZ Metservice (vandalised by the Grasshopper)
Wednesday 18 September
A mix of sun and cloud for the Southern Lakes with a strong and cold westerly.
Nothing but sun and fun in Canterbury with light winds.
Mostly mint on Ruapehu with light winds. There'll be some afternoon cloud though.
Thursday 19 September
Mostly sunny for the Southern Lakes with a fresh southwester.
Sunny as in Canterbury. A southwest breeze develops in the afternoon.
Some cloud about the lower slopes of Ruapehu, but clear higher up. Light winds.
Friday 20 September
Morning cloud clears the Southern Lakes, but lingers in Canterbury. Southerly winds ease.
Mostly fine on Ruapehu with some afternoon cloud and a stiff southeasterly.
Saturday 20 September
A beautiful, sunny spring day across the country with light winds.
Extended Outlook
Gale NW winds and rain will lash the country as a front passes overhead from late Sunday through Monday.
A low will then spin up along the front in the Tasman Sea, then cross central NZ during Tuesday. Fortunately, cold air on the south side and backside of the low should see Canterbury and Ruapehu receiving a nice wee top-up of fresh powder.
Cold Southwesterlies are likely to follow the low from next Thursday and beyond, with more fresh powder in store for all and sundry.
That's all from the Grasshopper. Wanna keep your finger on the pulse of all things snow? Join my weekly email list by filling in the box below. If you have a question or feedback for me, hit me up on facebook.