New Zealand Forecast Wednesday September 22 – Sunny in the South, Wet up North
Valid Wednesday September 22 – Friday September 24
There is some sun on track for southern regions of New Zealand over the next few days but a different story further north with a low-pressure system pictured below to the northwest of the country expected to move to the southeast, lashing the northern parts of the country with rain and winds.
Down south there is some precipitation which looks like including some good snow on the way for the start of the weekend, but for the next few days there will be some nice spring sunshine.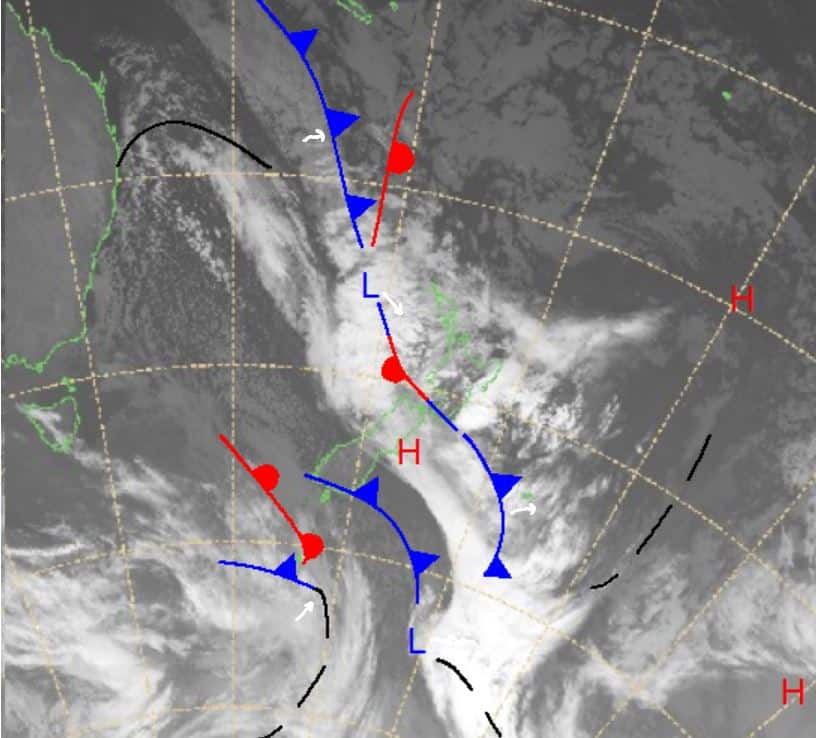 Wednesday September 22
Ruapehu: Cloudy around the north with some moderately strong northerly winds strengthening in the evening. Isolated flurries through the day possibly providing around 1-5cm.
South Island: For the Southern Lakes some early cloud expected to clear for a fine day. Winds expected to be light. Fine weather around Canterbury with moderate northwesterly winds turning westerly.
Thursday September 23
Ruapehu: Strong northerlies turning northeasterly through the late afternoon then easing later in the evening. Some significant precipitation forecast with a mixture of snow and rain expected. Totals 7-20+cm possible but amongst rain it is hard to pick.
South Island: Partly cloudy around the Southern Lakes with some sun. Westerly winds mainly  strengthening through the evening. Westerly winds throughout the day for Canterbury strengthening into the evening. Possible flurries through the day.
Friday September 24
Ruapehu: Relatively light westerlies  pick up strength and turn southwesterly before easing in the late afternoon heading into the evening. Some small snowfalls in the morning possibly 1-5cm.
South Island: Strong westerlies for the Southern Lakes easing in the late afternoon. Snow flurries possible through a partly cloudy day with snow developing in the evening could see nice totals fall overnight or early Saturday. More strong northwest winds for Canterbury accompanying a sunny day.
Extended Forecast
Relatively mild weather for the next few days around the south is expected to change with snow arriving over the weekend. Some big numbers are possible for Saturday with falls maybe starting late on Friday. There is some disagreement in the models about just how much may fall but there does look to be something in it, giving a boost to spring conditions around the Southern Lakes and some parts of Canterbury.
Up North a persistent pattern of rain should clear on Saturday with some sun before more precipitation arrives Sunday with a what looks like a good chance of snow on Monday.
Overall, winter is still alive, take care, get out and make the most of it.
Grasshopper