Friday 23 August – A couple of spring-like days, then a nice dusting early Sunday
Synoptic Outlook
The freshies we received early yesterday will turn soft and squidgy today as a ridge of high pressure provides us with a spring-like day where temps will soar. It'll be much the same tomorrow with the addition of warm NW winds, which will get stuck into our snowpack
Before too much of our snowpack trickles down the mountain, a cold front early Sunday will bring a breath of fresh air and a nice wee dusting of snow. Temps will stay chilly enough through Monday as a ridge of high pressure provides a nice calm day to start the week.
Image of The Day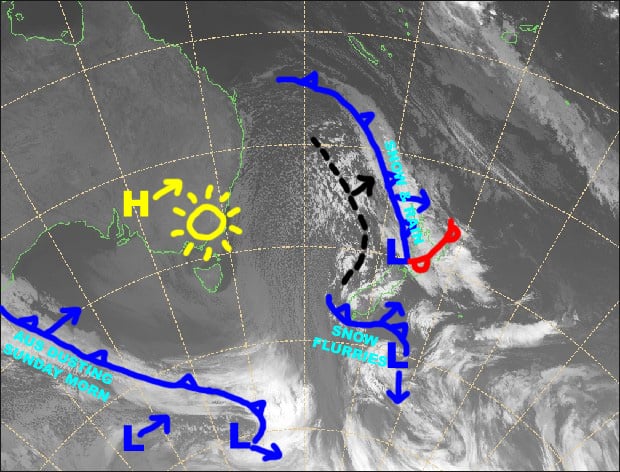 A ridge of high pressure drifts over the Aussie Alps while temps soar, reminding us that spring is just around the corner. Source: NZ Metservice (vandalised by the Grasshopper)
Friday 23 August
A sunny spring-like day, where temps will get positively balmy as the SW breeze clocks around to the NW.
Saturday 24 August
Another sunny spring-like day, although some cloud will puff up through the afternoon as NW winds blow a gale.
Sunday 25 August
A chilly southwesterly change will cross the Aussie Alps during the first half of the day, preceded by a brief dollop of rain before a period of snow. Cloud will then break up as winds ease, with some sunshine coming through for a great afternoon.
Monday 26 August
Fine apart from afternoon cloud. The SW breeze turns to the south and dies out.
Extended Outlook
High pressure and settled conditions should see us through the start of next week, before a potential wee top-up of snow some time on Wednesday into Thursday.
That's all from the Grasshopper. Wanna keep your finger on the pulse of all things snow? Join my weekly email list by filling in the box below. If you have a question or feedback for me, hit me up on facebook.