Weekly Japanese Forecast – A mix of sunshine and light snow, but an intense low on Tuesday brings heavy rain & snow.
Valid Thursday 25th February – Thursday 4th March
The rollercoaster ride of the last couple of weeks is starting to get bumpier as we roll into spring. Weather systems are becoming more mobile, providing big climbs and steep drop-offs in temperature and weather.
This week in particular we are seeing a greater influence of high-pressure systems, three to be precise, providing plenty of sunshine and mostly light snowfall. We're lucky this weekend as we narrowly avoid the ravages of a Pacific low, which should stay well offshore.
Tuesday and early Wednesday, however, will provide the most entertainment in terms of weather this week. An intense low will bring a short and sharp downpour of both rain and snow. Snow totals could be quite large on Hokkaido, possibly 30-50cm, while Honshu may cop a tidy 15-25cm.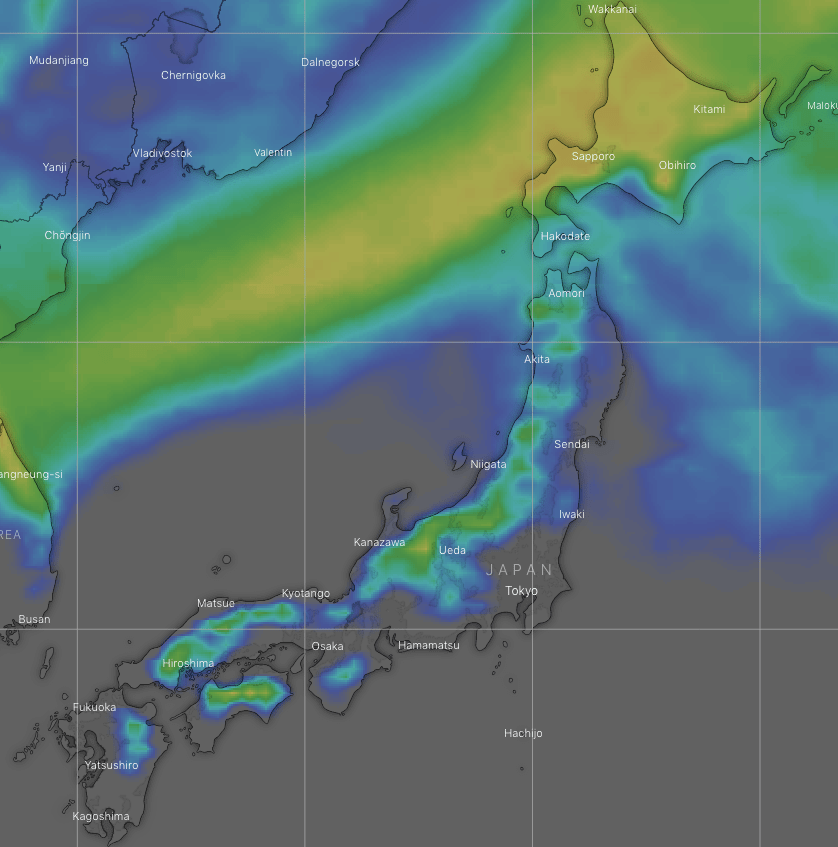 ECMWF 10-day snow accumulations. Source: windy.com
Forecast
A high passes over Honshu today, breaking up cloud cover to let some sunshine in. A chilly W-NW wind over Hokkaido will see light snowfalls there, mostly this morning and evening.
On Friday, a cold front sweeping south will bring a period of light snowfall to northern Honshu before dawn, then flurries to central Honshu during the morning and afternoon. Meanwhile, cold W-NW winds will continue to push light snow showers over Hokkaido.
Count your lucky stars, because this weekend we narrowly avoid a Pacific low, which earlier model runs had running amok over Honshu. Instead, the low stays well offshore, and a cold northerly flow brings light snowfall to much of the country during the first half of Saturday.
Skies will then clear during the latter half of Saturday before another high passes over Honshu during Sunday, bringing beautiful, clear sunny skies. However, temperatures will start to rise, while cloud and warm SW winds build over Hokkaido later in the day.
Temperatures will really soar during Monday as warm S-SW winds get going on the backside of the high. Cloud will start to increase over the country during the second half of the day and we may see a mix of rain+snow cropping up over Hokkaido later.
Tuesday will be rather ugly, as an intense low quickly crosses the Sea of Japan to passes over northern Honshu. Those warm southerly winds will blow a gale as the low approaches, with a period of heavy rainfall (falling as a mix of rain+snow on Hokkaido) just before cold northerlies hit sometime during the second half of the day, dumping a heavy load of snow.
The snowfall will be short-lived, however, and skies will part yet again for more sunshine during the latter half of Wednesday and next Thursday as another high passes over the country.
Extended Outlook
Next weekend may hold more light snowfalls with the passage of a weak cold front. Then models pick another intense, rapidly moving storm to affect the country next Tuesday and Wednesday, bringing a downpour of rain followed by a dump of snow, all in quick succession.
Although snowfalls rapidly taper off during spring, the season as whole looks to be less conducive for snowfall than usual, so we can expect average or below snowfall for this time of year.
That's all from me guys and gals, this the last forecast for the Japanese season. It has been a great season in terms of snowfall and snow quality, above average for sure, despite travel restrictions and all. Hopefully we'll all be back on Japan's slopes next season. The southern hemisphere's snow season is a little over three months away; we'll be amongst it before you know it! Until then, enjoy spring or autumn wherever you are. Ja ne!
The Grasshopper